5

/

5

(

1

rating)
Tuscany Road Bike Tour
Italy Bike Tours
Bike in Tuscany and discover Italy's artistic heritage and stand-out cities!
Cycling in Tuscany is an experience unlike any other, a cyclist's dream come true! You will explore the full range of this region's wonderful landscape; the hilly Volterra area, the Mediterranean Sea, the Chianti region, where the "Chianti Classico" comes from, and wonderful Crete, in the south of Siena. Biking Tuscany's hills is the perfect place to begin or end a cycling season; the temperatures are perfect to cycle all year round, so much so that many professional teams (incl. T-Mobile Team) arrive in February to prepare for the cycling season.

Want to see more bicycle tours in Italy?

2017

Price £ 914 $ 1,458 € 960 NOK 9600 kr 8862 $ 1,152

Single supplement: £ 238 $ 380 € 250 NOK 2500 kr 2308 $ 300

Supplement for single traveler: £ 143 $ 228 € 150 NOK 1500 kr 1385 $ 180

extra

options

2017

Half board: £ 186 $ 296 € 195 NOK 1950 kr 1800 $ 234

Extra night in Montecatini Terme (3/4 star hotel): £ 62 $ 99 € 65 NOK 650 kr 600 $ 78

Single supplement: £ 19 $ 30 € 20 NOK 200 kr 185 $ 24

Transfer (advanced reservation required, payment is made directly to driver): 

Florence to Montecatini Terme: £ 105 $ 167 € 110 NOK 1100 kr 1015 $ 132

Pisa to Montecatini Terme: £ 105 $ 167 € 110 NOK 1100 kr 1015 $ 132

please

note

Rates are based on double occupancy.

Information to read before you book.

We recommend purchasing bike trip insurance.

† Currency exchange rate set 90 days before travel.

Travel

Fly to Rome, Florence, or Pisa. Train transfer to Montecatini Terme

Local Travel

From Florence or Pisa airports, train to Montecatini Terme, about a 45 minute ride and approximately €5.

Climate

Average high temperatures in °F for the area are: April 68º, May 75º, June, 84º, July, 89º, August, 89º, September 81º, and October 69º .

---
Skill
Level
This is a moderate to difficult self-guided tour. Cyclists in good physical condition can cycle the tour quite well. Biking in Tuscany means many hills, so be prepared for that as well as some longer climbs interspersed throughout. The routes are on mostly hard roads with light traffic. You may encounter more traffic when entering/leaving cities.
Where
You'll Stay
3 star and 4 star hotels
What's
Included
Accommodations in 3 and 4 star hotels
7 x breakfasts
Tour information
Road bike (please bring your own pedals)
Luggage transfer
Detailed route descriptions & maps (one set per room)
7 Day Service Hotline
GPS tracks on request
What's
Not Included
Travel expenses
Lunches and all meals that are not listed as included
Local hotel tax from 1 to 2 Euros per day
Extra
Stay
Extra nights possible in Montecatini Terme
Tour
Dates
2017
Arrival every Friday and Saturday from March 24 to July 1 and from August 18 to October 21, 2017
Day-To-Day
Itinerary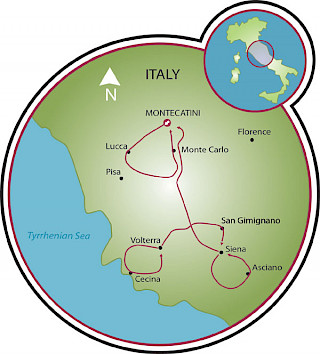 DAY 1: Arrival in Montecatini Terme.
DAY 2: Montecatini Terme – round trip tour, 44 or 50 mi. (70 or 80 km)
DAY 3: Montecatini Terme - Volterra (90 km/1.300 hm or 110 km/1.600 hm)
DAY 4: Volterra – Marina di Cecina (Mediterranean Sea) - Volterra (90 km/1.400 hm or 105 km/1.400 hm)
DAY 5: Volterra - Siena (80 km/1.200 hm or 95 km/1.500 hm)
DAY 6: Siena - Asciano - Siena (90 km/ 1.400 hm or 110 km/1.700 hm)
DAY 7: Siena – Montecatini Terme (110 km/1.200 hm or 120 km/1.450 hm)
DAY 8: Departure from Montecatini Terme
Day 1: Individual arrival at Montecatini Terme
Your tour information will be waiting for you at your first hotel.
The arrival place: Montecatini Terme
Montecatini Terme is one of the most important spring towns in Italy. Many important people, like Giacomo Puccini and Giuseppe Verdi, were used to spend their time in the little town to enjoy the curative properties of this already in ancient times famous water. In Montecatini it is possible to visit the gorgeous "Terme Tettuccio" or to take one of the oldest funicular in Italy "Funicolare"(1898), visiting the old town Montecatini Alto. From there you can enjoy the wonderful view on the "Val di Nievole" valley and on the Apennines Mountains. The old, charming, medieval square "Piazza Giusti" offers you the possibility to drink a good glass of wine or to enjoy a delicious "gelato", choosing the best way to end your cycling day!
Day 2: Montecatini Terme - roundtrip tour (70 km/600 hm or 80 km/ 800 hm)
From the spring town Montecatini Terme, in the north of Tuscany, you cycle to medieval city of Montecarlo surrounded with vineyards. First you will cycle in the flat lands of the nature reserve of "Padule di Fucecchio" and then cycling on through the light hilly Montecarlo area with his vineyards and olive groves. The longer tours leads you to Massa and to the beginning of the Apennin mountains. 
Day 3: Montecatini Terme - Volterra (90 km/1.300 hm or 110 km/1.600 hm)
Today's stage leads through nature reserves and wooded countries, passing the "Arno valley" and little medieval town. Enjoying the typical Tuscan landscape, you reach your destination Volterra (531m/ about 1742feet).
Stage destination: Volterra – The city of alabaster
The medieval city Volterra is very famous for its art handicraft with alabaster. The city discloses the Tuscan history from the Etruscan, through the Romans to the late middle ages and the Renaissance. The city is situated on the back of a mountain right in the middle of the Tuscan landscape. Thanks to its impressive position, according to the weather, you can enjoy a wonderful view from the Apuan Alps to the Tyrrhenian Sea. 
Day 4: Volterra – Marina di Cecina (Mediterranean Sea) - Volterra (90 km/1.400 hm or 105 km/1.400 hm)
Enjoying the wonderful view, you cycle from Volterra through the "Cecina" valley to the Etruscan Coast "Costa degli Etruschi". The beach and the blue Mediterranean Sea in Marina di Cecina will welcome you after the efforts of this first part of the tour! 
Day 5: Volterra - Siena (80 km/1.200 hm or 95 km/1.500 hm)
The stage of today leads first to the city "of the Gender Towers " San Gimignano. The so called "Manhattan of Tuscany" is a little medieval town, which you will want to further explore! The second stage leads you through the vineyards "Colli Senesi", passing by the castle of Monteriggioni to your destination Siena.
Stage destination: Siena – The city of the Gothic
Siena is a UNESCO World Heritage site and just few cities could preserve their medieval aspect so intact like Siena. The Gothic cathedral "Santa Maria" is just one of the many sights that Siena offers. You can appreciate its magnificent facade and admire the paintings inside, that make it the richest Church of the Christianity. In the middle of the city alleys one of the greatest Italian medieval Squares, the "Piazza del Campo", opens out, like a theatre. The famous horserace "Palio" takes place in this square twice a year. 
Day 6: Siena - Asciano - Siena (90 km/ 1.400 hm or 110 km/1.700 hm)
Cycle to the south of Siena, discovering the bizarre landscape of the Crete. You ride on remote asphalt roads while enjoying the wonderful view through Asciano to the wooded country "Montagnola". During the last few miles, you'll be able to see your destination, Siena, the city of "Palio". 
Day 7: Siena – Montecatini Terme (110 km/1.200 hm or 120 km/1.450 hm)
Cycle through the wine region of "Chianti Classico" which is like a great garden of wine mountains, forest, cypress, and olive groves. In the afternoon you will stop in the birth village of Leonardo da Vinci and explore the region of Montalbano. The day ends back in Montecatini Terme. 
Day 8: Departure or extension of your stay. 
You can view all of our bike tours in Europe or look at our featured bike trips, specials, and news.
Email or Call 800-951-4384 +1 570-965-2064
---