5

/

5

(

1

review)
Tuscany Road Bike Tour
Italy Bike Tours
Bike in Tuscany and discover Italy's artistic heritage and stand-out cities!
Cycling in Tuscany is an experience unlike any other, a challenge, for sure, but a road cyclist's dream come true! You will explore the full range of this region's wonderful landscape, the hilly Volterra area, the Mediterranean Sea, the Chianti region, where the "Chianti Classico" comes from, and wonderful Crete, in the south of Siena. Biking Tuscany's hills is the perfect place to begin or end a cycling season, the temperatures are perfect to cycle all year round, so much so that many professional teams (incl. T-Mobile Team) arrive in February to prepare for the cycling season.

Highlights:

Montecatini Terme and the art nouveau Parco delle Terme spa complex
The challenge of the Tuscan hills
Volterra, the city of Alabaster
Marina de Cecina
Etruscan Coast
Siena, the city of the Gothic

Want to see more bicycle tours in Italy?

2020


Arrival March 13 to June 27 and September 18 to October 24: $ 2023 £ 1002 $ 1,749 € 1095 $ 2065 kr 12344 $ 1,247 Single supplement: $ 471 £ 233 $ 407 € 255 $ 481 kr 2875 $ 290

July 3 to September 12: $ 1968 £ 974 $ 1,701 € 1065 $ 2009 kr 12005 $ 1,213 Single supplement: $ 443 £ 220 $ 383 € 240 $ 453 kr 2705 $ 273

Solo traveler additional supplement: $ 360 £ 178 $ 312 € 195 $ 368 kr 2198 $ 222  

extra

options

Dinners (7) included: $ 416 £ 206 $ 359 € 225 $ 424 kr 2536 $ 256 * *Dinners are mostly served within your hotel accommodation. There is one night when you will dine outside your overnight hotel.
Extra night in Montecatini Terme (3/4 star hotel):
Double/twin:  $ 133 £ 66 $ 115 € 72 $ 136 kr 812 $ 82 Single supplement: $ 37 £ 18 $ 32 € 20 $ 38 kr 225 $ 23 Extra day bike rental: $ 46 £ 23 $ 40 € 25 $ 47 kr 282 $ 28

Transfer (advanced reservation required, payment is made directly to driver): 
Florence to Montecatini Terme, total to be shared among participants: $ 286 £ 142 $ 248 € 155 $ 292 kr 1747 $ 177 Pisa to Montecatini Terme, total to be shared among participants: $ 286 £ 142 $ 248 € 155 $ 292 kr 1747 $ 177

please

note

Rates are per person based on double occupancy.

A non-refundable admin fee of 20 Euros per person is included in the deposit amount.

Information to read before you book.

We recommend purchasing bike trip insurance.

† Currency exchange rate set 90 days before travel.

Travel

You have three options for your arrival depending on your own personal travel plans.


Option A: Flying into Florence Airport (FLR)
Option B: : Flying into Pisa International Airport Galileo Galilei(PSA)
Option C: Flying into Rome International Leonardo da Vinci Airport

Local Travel

From Rome, train to Montecatini Terme is just under 2 hours and 40 minutes. From Florence or Pisa airports, train to Montecatini Terme, is about a 45 minute ride.

Climate

The climate in Tuscany is generally mild with differences depending on the geography of each area. The coast and valleys tend to have hotter summers than the hills or mountains although the coast benefits from breezes off the sea for cooler temperatures even in those warmer months. Please check local conditions before your arrival. A good website to explore weather-related facts including average high/low temperatures and average rainfall is weatherbase.com.

Remarks

Please indicate the pedal system that you desire when you book the tour. If you prefer to bring your own pedals, our local partner will upon request, assist you in attaching. Bike protection is important with this tour as your rental is a carbon roadbike frame and you are i responsible for Please do not forget to bring your cycling shoes and pedals!

DOCUMENTS

Before you travel, please check your country's passport and visa requirements and the passport and visa requirements of the country/countries you plan to visit. For US citizens, the US Department of State website is a good source of information. The Country Information tab in the International Travel section provides details about passport validity, blank passport pages required, etc. For our other international clients, please be sure that you research your own country's travel requirements. It is each traveler's responsibility to ensure proper documentation.

*Important note: Beginning July 1, 2021, additional documentation from the European Travel Information and Authorization System (ETIAS) will be required to visit any of the 26 Schengen-member countries for tourism, business, medical, or transit. This is an additional check on security rather than a visa.

---
Skill
Level
This is a difficult self-guided road bike tour. Biking in Tuscany means many hills with longer climbs interspersed throughout. This is a tour for experienced cyclists. You can choose between two routes from about 70 km up to about 115 km every day. The difference in altitude will be from 7.100 meters up to 8.500 meters. The routes are on mostly hard roads with light traffic. You may encounter more traffic when entering/leaving cities.With the excellent route descriptions and signposting on the route, it will be a real pleasure to cycle on this tour. and because you will have two overnights in each location, you can explore or rest and will not have to pack every day.
Where
You'll Stay
3 star and 4 star hotels
What's
Included
Accommodations in 3 and 4 star hotels
7 x breakfasts
Tour information
Carbon Road bike (please bring your own pedals or indicate clipless pedal system required)
Luggage transfer
Detailed route descriptions & maps (one set per room)
7 Day Service Hotline
GPS tracks on request
What's
Not Included
Lunches
Dinners (can be included for supplement. See pricing.)
Local hotel tax from 1 to 2 Euros per day
Extra
Stay
Extra nights possible in Montecatini Terme
Tour
Dates
Arrival every Friday and Saturday from March 13 to October 24, 2020
Other tour start days may be possible on request. Supplement may apply.
(Please note that it can be very hot in July and August)
Day-To-Day
Itinerary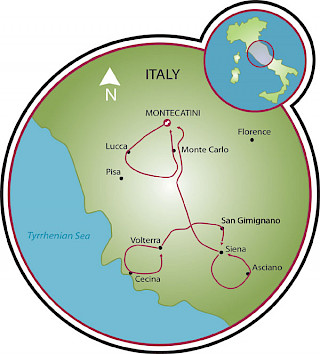 Day 1: Arrival in Montecatini Terme.
Day 2: Montecatini Terme - round trip tour, 44 or 50 mi. (70 or 80 km) / 600 or 800 hm
Day 3: Montecatini Terme - Volterra (90 km/1.300 hm or 110 km/1.600 hm)
Day 4: Volterra - Marina di Cecina (Mediterranean Sea) - Volterra (90 km/1.400 hm or 105 km/1.400 hm)
Day 5: Volterra - Siena (80 km/1.200 hm or 95 km/1.500 hm)
Day 6: Siena - Asciano - Siena (90 km/ 1.400 hm or 110 km/1.700 hm)
Day 7: Siena - Montecatini Terme (110 km/1.200 hm or 120 km/1.450 hm)
Day 8: Departure from Montecatini Terme
This tour can also be booked as a 7 day/6 night tour. Please ask!
All distances are approximate. Due to circumstances beyond control, such as weather conditions or provisions issued by local authorities, the itinerary may be subject to some changes before and/or during your holiday. For example, along the way you may find temporary deviations/detours caused by roadwork, In this case please follow the directions posted on site.
Day 1: Individual arrival at Montecatini Terme
Your tour information will be waiting for you at your first hotel. Montecatini Terme is one of the most important spring towns in Italy. Many important people, like Giacomo Puccini and Giuseppe Verdi, were used to spend their time in the little town to enjoy the curative properties of this already in ancient times famous water. In Montecatini it is possible to visit the gorgeous "Terme Tettuccio" or to take one of the oldest funicular in Italy "Funicolare"(1898), visiting the old town Montecatini Alto. From there you can enjoy the wonderful view on the "Val di Nievole" valley and on the Apennines Mountains. The old, charming, medieval square "Piazza Giusti" offers you the possibility to drink a good glass of wine or to enjoy a delicious "gelato", choosing the best way to end your cycling day!
Day 2: Montecatini Terme - roundtrip tour (70 km/600 hm or 80 km/ 800 hm)
From the spring town Montecatini Terme, in the north of Tuscany, you cycle to medieval city of Montecarlo surrounded with vineyards. First you will cycle in the flatlands of the nature reserve of "Padule di Fucecchio" and then cycling on through the light hilly Montecarlo area with his vineyards and olive groves. The longer tours leads you to Massa and to the beginning of the Apennine mountains. 
Day 3: Montecatini Terme - Volterra (90 km/1.300 hm or 110 km/1.600 hm)
Today's stage leads through nature reserves and wooded countries, passing the "Arno valley" and little medieval town. Enjoying the typical Tuscan landscape, you reach your destination Volterra (531 m about 1742 feet). The medieval city Volterra is very famous for its art handicraft with alabaster. The city discloses the Tuscan history from the Etruscan, through the Romans to the late middle ages and the Renaissance. The city is situated on the back of a mountain right in the middle of the Tuscan landscape. Thanks to its impressive position, according to the weather, you can enjoy a wonderful view from the Apuan Alps to the Tyrrhenian Sea. 
Day 4: Volterra - Marina di Cecina (Mediterranean Sea) - Volterra (90 km/1.400 hm or 105 km/1.400 hm)
Enjoying the wonderful view, you cycle from Volterra through the "Cecina" valley to the Etruscan Coast "Costa degli Etruschi". The beach and the blue Mediterranean Sea in Marina di Cecina will welcome you after the efforts of this first part of the tour! 
Day 5: Volterra - Siena (80 km/1.200 hm or 95 km/1.500 hm)
Today's stage  leads first to the city "of the Gender Towers " San Gimignano. The so called "Manhattan of Tuscany" is a little medieval town, which you will want to further explore! The second stage leads you through the vineyards "Colli Senesi", passing by the castle of Monteriggioni to your destination Siena. Siena is a UNESCO World Heritage site and just few cities could preserve their medieval aspect so intact like Siena. The Gothic cathedral "Santa Maria" is just one of the many sights that Siena offers. You can appreciate its magnificent facade and admire the paintings inside, that make it the richest Church of the Christianity. In the middle of the city alleys one of the greatest Italian medieval Squares, the "Piazza del Campo", opens out, like a theatre. The famous horserace "Palio" takes place in this square twice a year. 
Day 6: Siena - Asciano - Siena (90 km/ 1.400 hm or 110 km/1.700 hm)
Cycle to the south of Siena, discovering the bizarre landscape of the Crete. You ride on remote asphalt roads while enjoying the wonderful view through Asciano to the wooded country "Montagnola". During the last few miles, you'll be able to see your destination, Siena, the city of "Palio". 
Day 7: Siena - Montecatini Terme (110 km/1.200 hm or 120 km/1.450 hm)
Cycle through the wine region of "Chianti Classico" which is like a great garden of wine mountains, forest, cypress, and olive groves. In the afternoon you will stop in the birth village of Leonardo da Vinci and explore the region of Montalbano. The day ends back in Montecatini Terme. 
Day 8: Departure or extension of your stay. 
All distances are approximate.
You can view all of our bike tours in Europe or look at our featured bike trips, specials, and news.
Email or Call 800-951-4384 +1 570-965-2064
---