4

/

5

(

1

review)
Florence to Rome - Self Guided Bike Tour
Italy Bike Tours
Cycle in Italy and discover it's "green heart"!
Cycle Florence to Rome and in between, discover a new side of Italy; a quiet, almost mystical side. On this Italian bike tour, you will also explore the cities of Assisi, Perugia, Spoleto, and Narni, all with innumerable artistic treasures and remnants of medieval times.

You will cycle back roads through the valleys of the rugged and magical Apennines Mountains, over the soft, rolling hills of Lake Trasimeno cycle through Umbria and the solitude of its small villages. Raging rivers, fascinating gorges, and the flocks of roaming sheep define this part of Italy.

You will begin your bike tour in Florence, the birthplace of the Italian Renaissance and, like the saying, "all roads lead to Rome", you too will end your vacation in the eternal city.

Highlights:

Ponte Vecchio in Florence
Art and sculpture
Lake Trasimeno
Olive groves and Italian wine

Be sure to check out our full list of bicycle tours in Italy or all of our bike tours in Tuscany.

Season 1:  $ 1902 £ 943 $ 1,650 € 1034 $ 1941 kr 11664 $ 1,175

Season 2: $ 1957 £ 971 $ 1,698 € 1064 $ 1998 kr 12002 $ 1,209

Single supplement: $ 550 £ 273 $ 477 € 299 $ 561 kr 3373 $ 340

Season 1: April 4 to May 8 and September 26 to October 10, 2020
Season 2: May 9 to July 4 and August 29 to September 25, 2020

extra

options

Electric bicycle rental: $ 191 £ 95 $ 166 € 104 $ 195 kr 1173 $ 118

*Rental Bike Plus: $ 81 £ 40 $ 70 € 44 $ 83 kr 496 $ 50

Extra nights (price is per person/per night): 
Florence: $ 212 £ 105 $ 184 € 115 $ 216 kr 1297 $ 131 Single supplement: $ 164 £ 81 $ 142 € 89 $ 167 kr 1004 $ 101

Rome: $ 145 £ 72 $ 126 € 79 $ 148 kr 891 $ 90 Single supplement: $ 101 £ 50 $ 88 € 55 $ 103 kr 620 $ 62

please

note

*Rental Bike Plus is a higher quality Rental Bike (with hydraulic Magura breaks HS 11, Shimano Deore XT) allows for a slightly sportier sitting posture, 27 gears offer the highest flexibility and a high-quality Suntour suspension fork provides the best possible comfort across all surfaces)

Rates are per person based on double occupancy.

A non-refundable admin fee of 20 Euros per person is included in the deposit amount.

Information to read before you book.

We recommend purchasing bike trip insurance.

† Currency exchange rate set 90 days before travel.

Travel

Fly to Rome or Florence.

Local Travel

Train from Rome airport to Florence, 2½ hr. A taxi from Florence airport to first hotel is approx. € 20.

Climate

Average high/low temperatures in °F for Florence are: April 68°/46°, May 75°/53°, June 84°/58°, August 88°/62°, and September 81°/58°. A good website to research average high/low temperatures and other important weather-related facts is weatherbase.com

Recommended

Extra nights in Florence or Rome.

Remarks

Electric bike available!

DOCUMENTS

Before you travel, please check your country's passport and visa requirements and the passport and visa requirements of the country/countries you plan to visit. For US citizens, the US Department of State website is a good source of information. The Country Information tab in the International Travel section provides details about passport validity, blank passport pages required, etc. For our other international clients, please be sure that you research your own country's travel requirements. It is each traveler's responsibility to ensure proper documentation.

*Important note: Beginning July 1, 2021, additional documentation from the European Travel Information and Authorization System (ETIAS) will be required to visit any of the 26 Schengen-member countries for tourism, business, medical, or transit. This is an additional check on security rather than a visa.

---
Skill
Level
This is a moderate self-guided hotel tour with distances averaging about 27 miles per day over rolling hills with some steep climbs. The stages from Florence to Assisi are mostly flat with some hills. Routes make use of mainly small streets, country lanes, and lightly-trafficked side streets. Only some very short sections are on the main streets. There are fascinating stages along the bank of the Trasimeno Lake, along rivers, and through the untainted nature of Umbria.
Where
You'll Stay
Very nice 3-star to 4-star hotels, in Narni, a simple but central hotel at 3-star level is used.
What's
Included
Hotel accommodations for 7 nights
Breakfast buffets or extensive breakfast
21-speed hybrid bicycle
Luggage transfer
Personal tour information
Route descriptions and maps
Train tickets Florence to Arezzo (bike included)
Train tickets Poggio Mirteto to Rome (bike not included as you leave your bike in Poggio Mirteto)
Sign posted route
Bike protection
GPS data is available with advanced reservation
7-day service hotline
What's
Not Included
Visitor's Tax (to be paid upon arrival) approx. € 15-20 per person
Lunches
Dinners
Extra
Stay
Extra nights in Florence (3-star hotel) and Rome (3-star hotel) possible.
Tour
Dates
2020
Arrival possible on Saturdays April 4 to July 4 and August 29 to October 10, 2020
Day-To-Day
Itinerary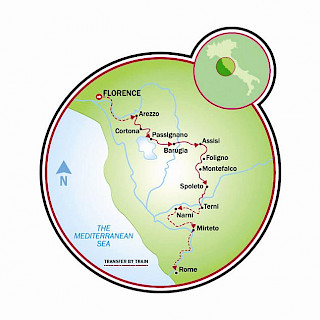 Day 1: Arrival in Florence
Day 2: Florence - Passignano sul Trasimeno, 37 mi. (60 km) + train ride
Day 3: Passignano sul Trasimeno - Perugia, 22 mi. (35 km)
Day 4: Perugia - Assisi, 19 mi. (30 km)
Day 5: Assisi - Spoleto, 34 mi. (55 km)
Day 6: Spoleto - Terni - Narni 28 mi. (45 km)
Day 7: Narni - Rome, 37 mi. (60 km) + train
Day 8: Departure from Rome
*All distances are approximate.
DAY 1: Arrival in Florence
After you arrive in Florence, there is a tour briefing and distribution of your bike. A visit to the beautiful center of Florence is recommended.
DAY 2: Florence - Passignano sul Trasimeno, 37 mi. (60 km) + train ride
In the morning, you will take a trip to Arezzo by train. Visit the splendid churches and palaces in this city of antiquities and gold. You cycle on beautiful lanes through the wide plain of Valdichiana, constantly accompanied by the hill and mountain silhouettes of Southern Tuscany. You pass Cortona, up to the Trasimeno Lake, and the battlefield where Hannibal fought against the Romans. Enjoy the wonderful view of Trasimeno Lake. Overnight in Passignano.
DAY 3: Passignano sul Trasimeno - Perugia, 22 mi. (35 km)
Cycling along the lake to Torricella, on secluded lanes, through wide fields, rolling hills, and idyllic villages, the tour leads to Perugia, a well-known artistic center of Italy. Take a stroll through one of the nicest shopping streets in Italy to the Cathedral of San Lorenzo, the Palazzo dei Priori, or the Arco Etrusco, this Umbrian capital will fascinate you. 
DAY 4: Perugia - Assisi, 19 mi. (30 km)
After having crossed the Tiber River, it is only a few kilometers to the home town of St. Francis, Assisi, the "City of Peace". Before starting up to the mystical city, there is an excursion to one of the most beautiful sanctuaries of Umbria, S.M. degli Angeli! In Assisi, you can immerse yourself in the colorful world of the medieval frescoes by Giotto. 
DAY 5: Assisi - Spoleto, 34 mi. (55 km)
Today's route leads along the enormous mountain base of Mount Subasio to the wonderfully preserved medieval town of Spello and then you will continue through the Valle Umbra to Spoleto. Towns like Montefalco, Trevi, and Campello  dot the surrounding hills. From the aqueduct which is over 80 meters high, you can enjoy a wonderful view of the Tessino Canyon, Mount Luco, and the Rocca Albornoz (papal fortress).
DAY 6: Spoleto - Terni - Narni 28 mi. (45 km)
Nestled between mountains and through a wonderful landscape, the tour leads to Terni. From there, you ride on small country lanes up to Narni, a medieval town rarely explored by tourists. Dark houses crowd together in stepped alleys to form picturesque squares. The imaginary land of Narnia, described in the works of C. S. Lewis, is said to have been named after Narni, after he came across the name in an atlas as a child.
DAY 7: Narni - Rome, 37 mi. (60 km) + train
"All roads lead to Rome", it is said! In the middle of the green heart of Umbria, the first stage from Narni to Calvi is quite hilly. Enjoy the calmness and seclusion of the small Umbrian town at the foot of the 'Sabine Mountains', before, by train, you arrive in the busy city of Rome. Overnight stay near the Tiburtina station. 
DAY 8: Departure from Rome
Individual departure or extend your stay!
You can view all of our bike tours in Europe or look at our featured bike trips, specials, and news.
Email or Call 800-951-4384 +1 570-965-2064
---