My first experience on an electric bike
There is power in the battery!
Are you like me and too stubborn (or proud) to resort to an electric bike?
There is nothing wrong with trying to stay on a regular hybrid touring bike or road bike as long as you can and as long as you are having fun! But when it becomes just a bit too difficult, or you really want to experience the beauty of a tour that is rated beyond your ability, it is time to think about your options. Afterall, we all want to continue to cycle as long as we can!
Let me first explain what an electric bike is.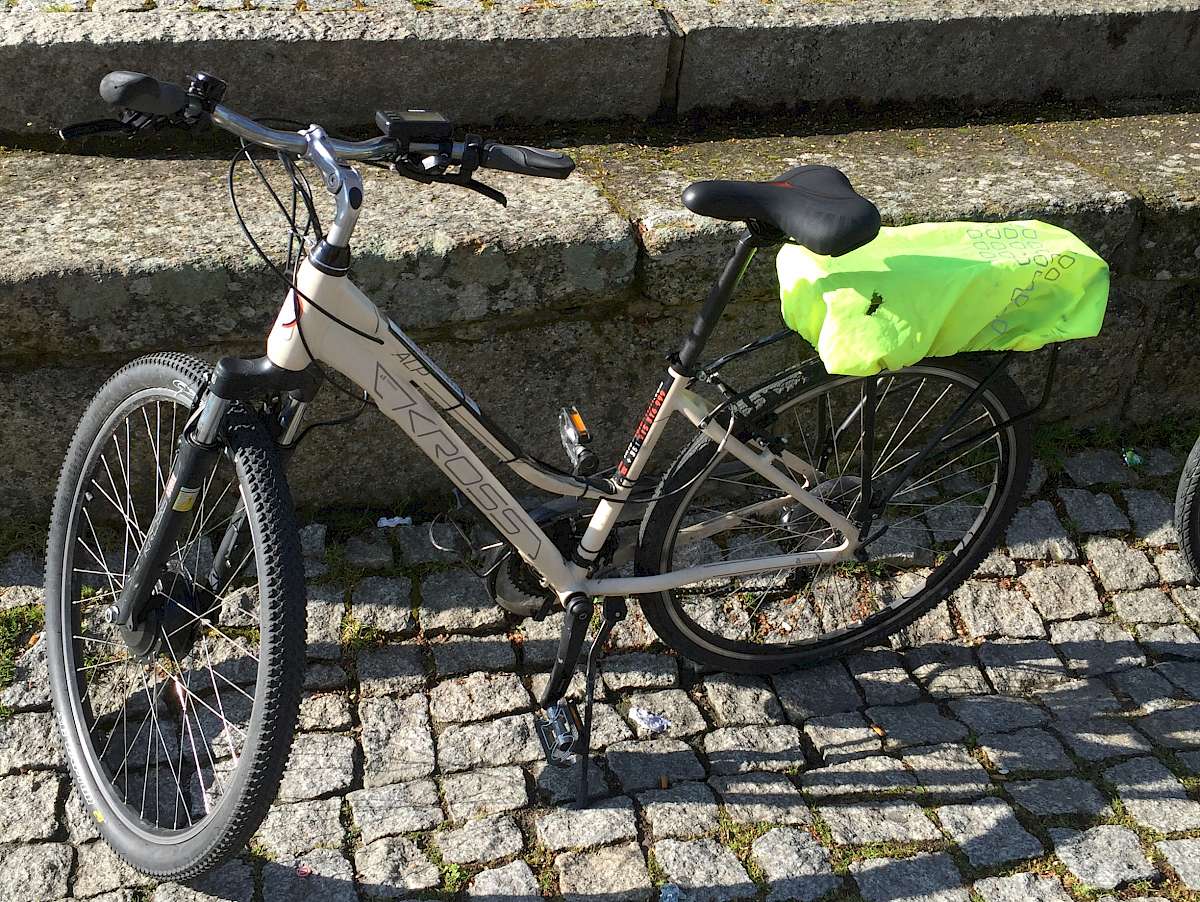 This was the e-bike I used. But there are different brands and systems...
An e-bike is a battery assisted electric bike. The battery is located on or under the back rack and provides different levels of assistance, depending on how you adjust the available settings. There has been a lot of progress in recent years in the development of the e-bike. The first e-bikes (many years ago) were quite heavy and the battery didn't last much more than 25 km on flat terrain. These days the battery will last around 50-60 km on flat terrain, depending on how much assistance/power you use.
Now, let me point out what an electric bike is not:
One misconception that people have is that an electric bike is a motorized bike. This is simply not true. On an electric bike, you still have to pedal. How hard and fast depends on you!
I have often told clients that it feels like having a tailwind at all times.
I had never used an e-bike until recently and that day in March 2016 was historic.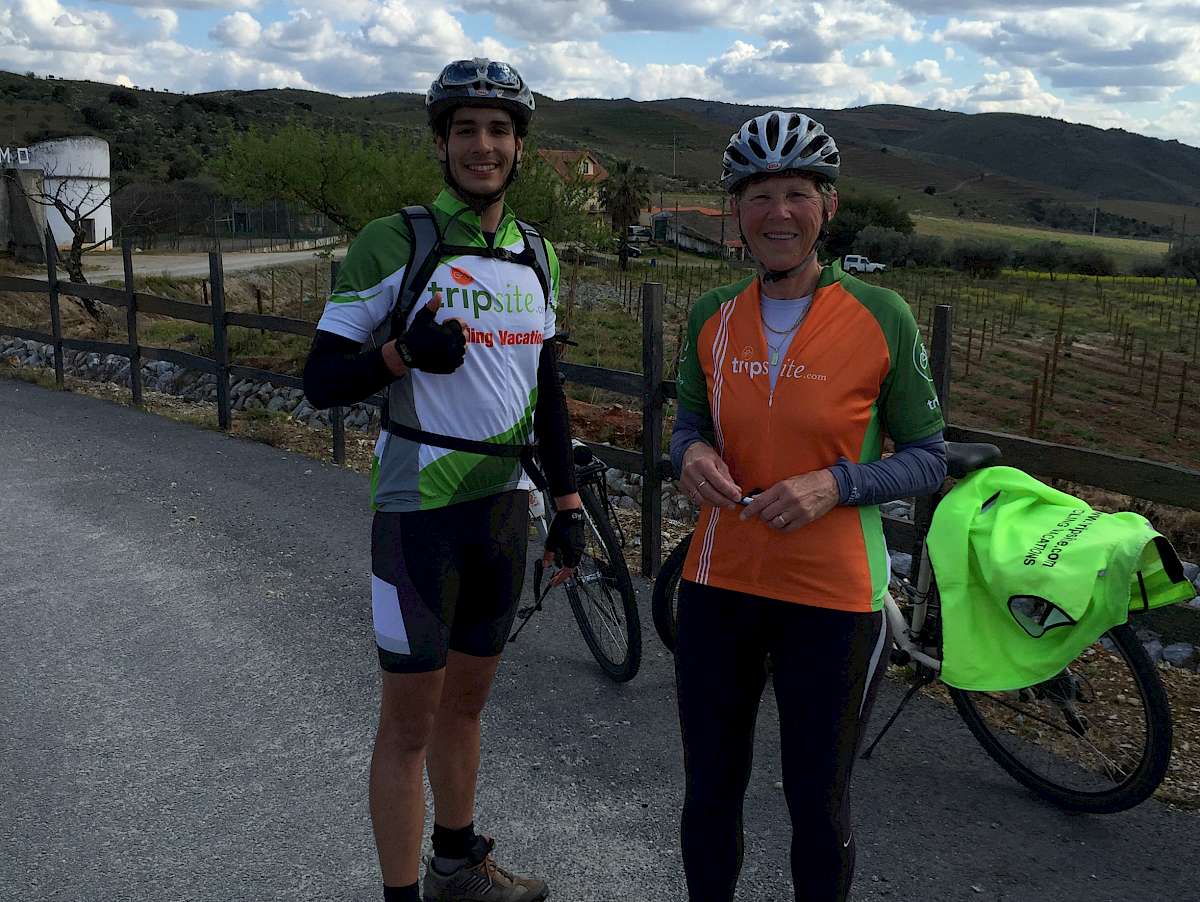 With my guide Guilherme | Picture by Sergio Marques
I was deep in the Douro Valley in Portugal, a Unesco World Heritage site, exploring our brand new tour Douro Valley Wine Tour. It is a breathtaking area and for me to enjoy this beautiful part of Portugal, I realized, for the first time in my life, that I had to use an e-bike. The area is not just hilly, it is mountainous, but, it is too beautiful to pass up.
I was also accompanied by a young, strong, guide. If I had been stubborn, and remained on the touring bike, it wouldn't have been fun for him and it would have been torture for me.
On my electric bike, I had a wonderful ride, taking in the gorgeous views without being totally spent, and yet, I still had a good work-out. (I only used half of the power available. You can use more or less, depending on your own fitness level.) I was informed by my guide and I could see that would be the case, that changing a flat tire on an electric bike is a bit more complicated than on a regular hybrid touring bike or road bike. So self-guided e bikers, take note.


Another gorgeous view near Vila Nova de Foz Côa | Picture by Sergio Marques
Bottom line, regarding our brand new tour, Douro Valley Wine Tour, first, you must go. It is a once in a life time tour. If you are used to climbing steeper and longer hills easily and quite often and want a serious challenge, then you can opt for a hybrid or road bike.
However, for those of you, like me, that love to cycle, love the hills, but want to enjoy the riding as well, the good news is that high-quality electric bikes are available for this tour (and the majority of our tours) so do not let the difficulty rating keep you at home.
Swallow your pride, get on a battery assisted bike, and climb. The views are waiting at the top of the hills.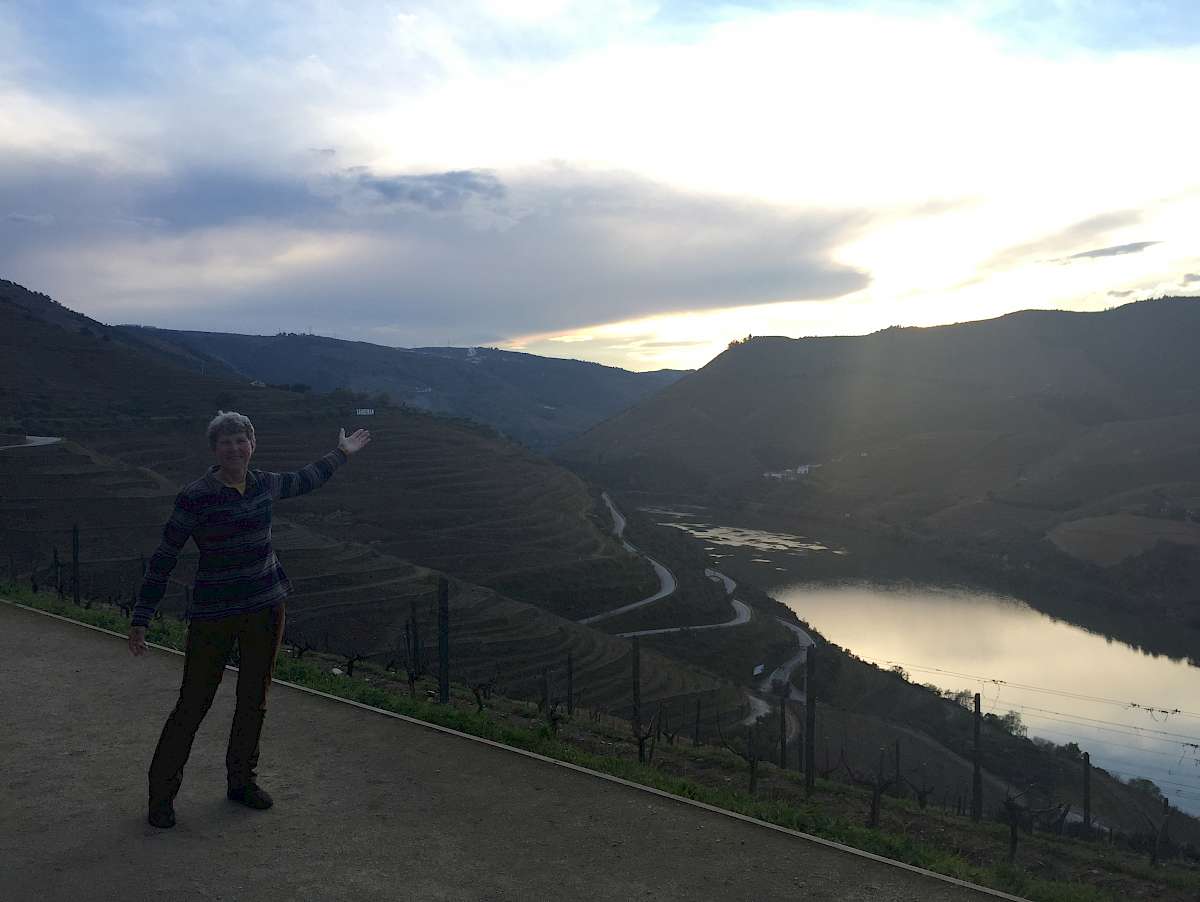 Near Tabuaço - Valença do Douro | Picture by Sergio Marques
You don't have to take my word for it. Here are what our clients are saying...
(Click to view tours)






NOTE: The majority of our tours now have e-bike options. Feel free to check out some of our favorite tours with e-bike options on our Electric Bike Page.
---
Comments
Post Comment