A Bike & Boat Tour in Poland's Lake District: the Young, the Old, and the New
By: Mary
About a year ago, we had a request come in for a bike and boat tour in Poland. Somebody had talked with somebody who had heard that there was such a tour. We searched... and we found it. Not a tour on the Baltic Sea as you would expect, but an obscure tour, undiscovered by most, in the Masurian Lake District. Over 15% of the area is covered by water and another 30% by forest. There are 2000 lakes, many interconnected, so a perfect place for a bike and boat tour and our first on lakes. My husband, Mark and I went to explore.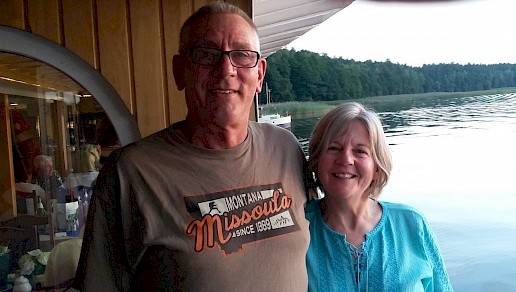 The tour is designed and organized by a German company. That was my first clue to the fascinating nuances of this tour. Picture this, if you can, two Americans, on board a boat full of Germans, in Poland.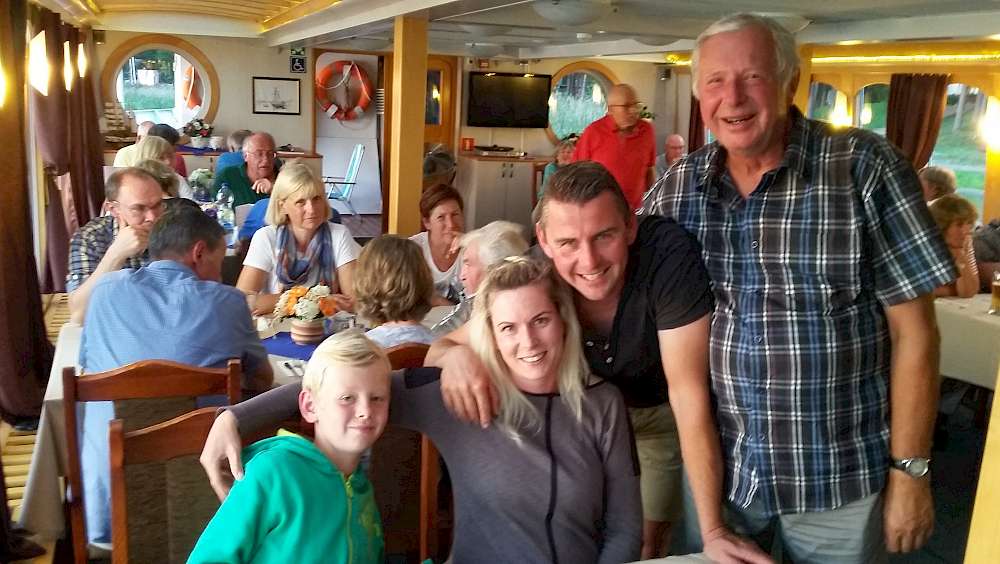 THE NEW
I had been on bike and boat tours before, so I knew the protocol (see "What is a Bike and Barge Tour?") yet, I went with zero expectations. We landed in Warsaw on Friday afternoon and found a surprisingly modern, international city, very clean, and bustling.

I am not sure why I was surprised. Perhaps I thought I would see the scars of the war-torn city it once was. They were not immediately apparent. You have to look for those in the shadows beneath the new high-rises of glass and steel and in the backstreets.
THE OLD
Though jet-lagged, the next morning we went to the Warsaw Uprising Museum, a tribute to the residents who fought and died for an independent Poland and its free capital. Their efforts were doomed from the start, but rather than do nothing, they chose to fight. It was one of the most courageous events out of many, from that horrific time.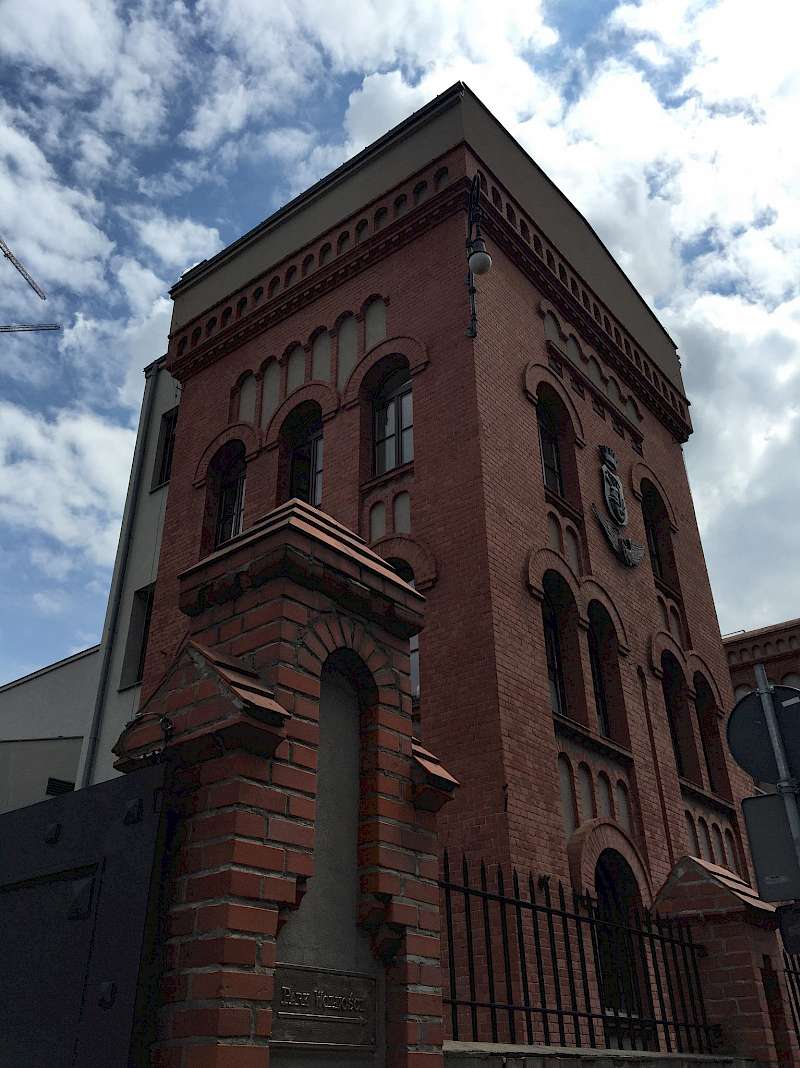 I was deeply impacted by my visit, especially the viewing of the video of devastated Warsaw by air. A quick synopsis can be found here.
This set the tone for the rest of my time in Poland and was a constant backdrop as I cycled through the gorgeous landscape and simple farms and also, as I sat to write this blog. I found myself constantly thinking of a country occupied and brutalized, and the evil, well-organized intent on obliterating an entire people. I thought of how history flows...but also, how history ebbs.
On Day 1 of our tour, we were transferred from Warsaw to Piaski by bus to begin our bike and boat tour on the MS Classic Lady.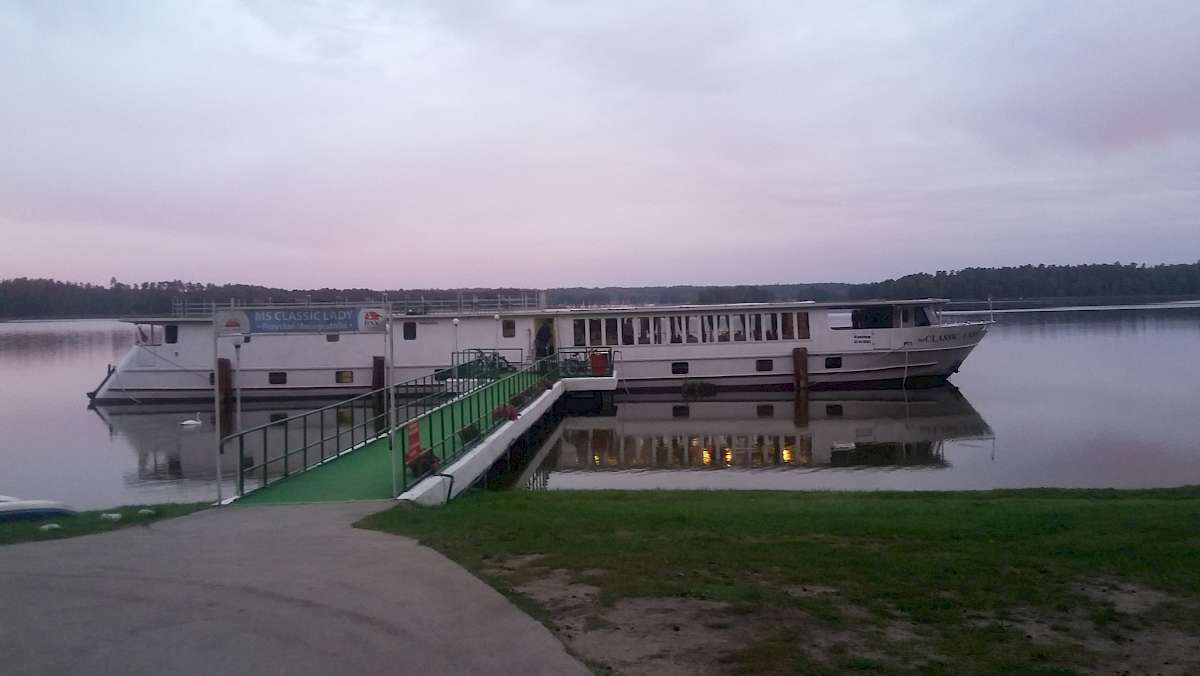 The bus ride was approximately 3 hours through lovely Polish farmland. More than sixty percent of Poland's total land area is agricultural. The Masurian Lake District occupies an area of roughly 20,000 square miles.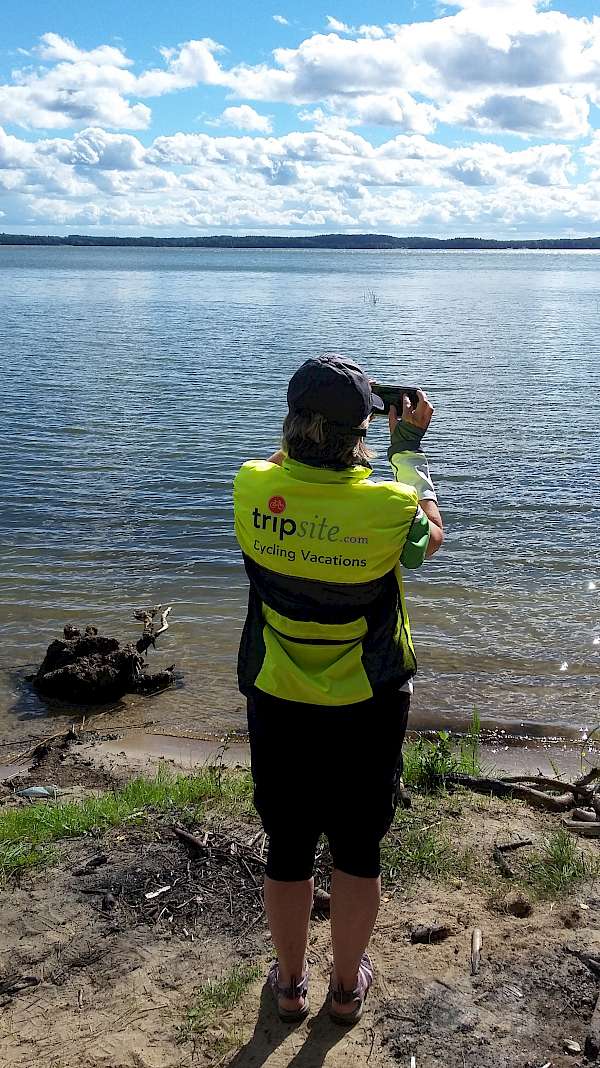 It is a paradise for those who love rural cycling, lakes, and forests. This is not a tour for those who want to cycle through picturesque villages replete with cafes, trendy shops, and towering cathedrals every 10 km. There are overnights in which you feel you are secluded in the forest, such as in Piaski.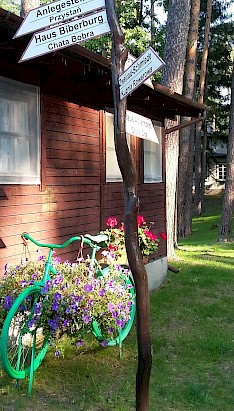 In Nikolaiken, the quaint downtown is a short bike ride away and in Wilkasy, an easy walk, but ancient alleyway meandering through medieval villages are not a part of this tour.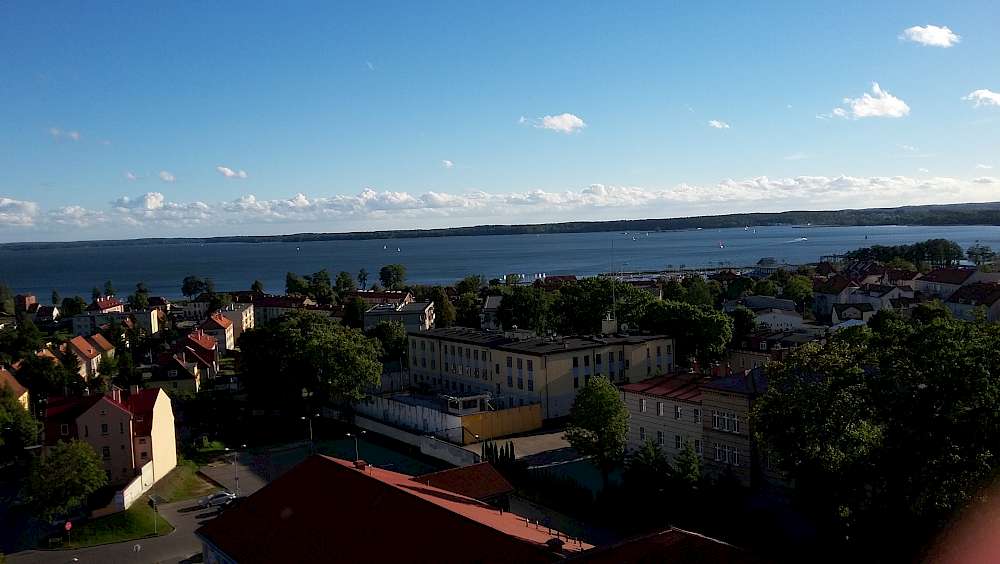 If you love history, there is much to research and explore. There is an opportunity to visit Adolf Hitler's primary command headquarters on the Eastern Front near the town of Kętrzyn.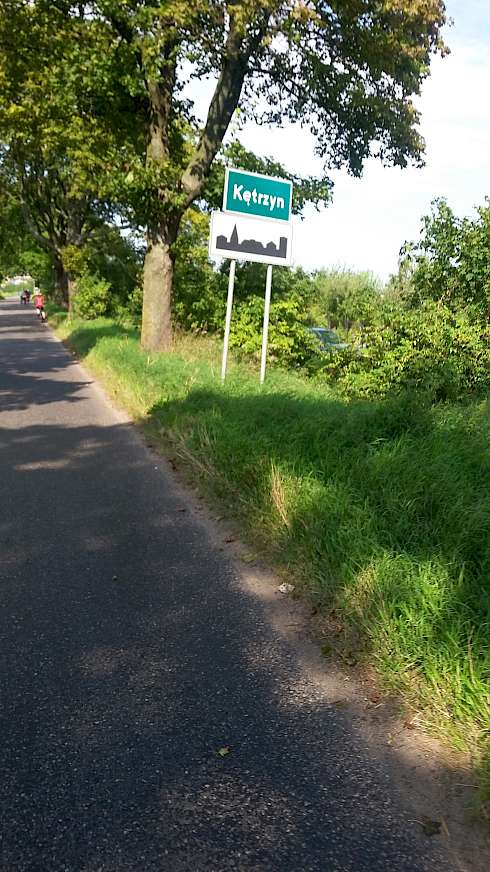 Hitler called this complex the "Wolfschanze," or "Wolf's Lair". It was the largest of Hitler's field headquarters and he spent more time there during World War II than at any other command site.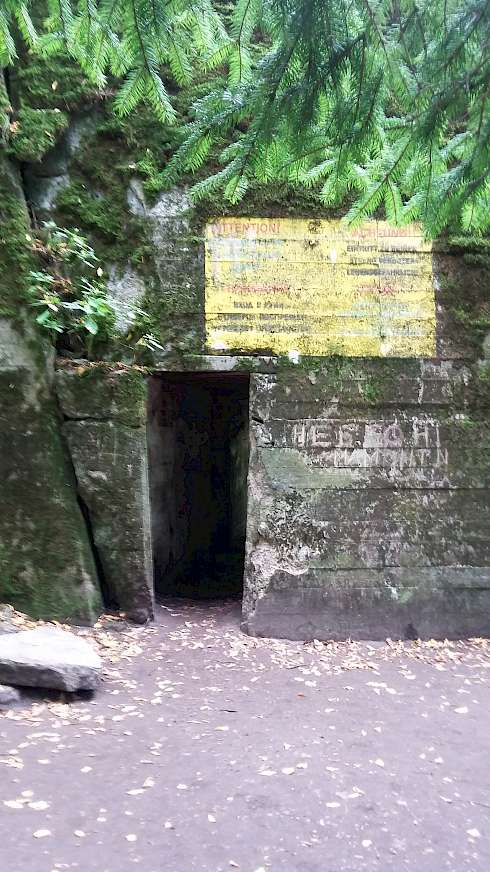 The city of Warsaw offers many enriching opportunities for history buffs.
Apart from the history, I loved cycling past the simple homes and farms, each proudly adorned and ablaze with the glorious colors of flowers and vegetable gardens.
Stopping for a break, I gazed through a wrought iron gate as an elderly man worked in his little piece of paradise. I shouted that I loved his garden. Language was a barrier but he knew I was enjoying his yard. It is important to note that in the backcountry, you will not readily find those who speak English. Through our guide, the man communicated that he had just lost his wife. I reached through his fence and squeezed his hand. As I cycled away, he blew a kiss. Some communication is universal.
THE YOUNG AND THE OLD
In our group, the oldest member was 82 and the youngest was 8, underscoring how biking and boating is for everyone.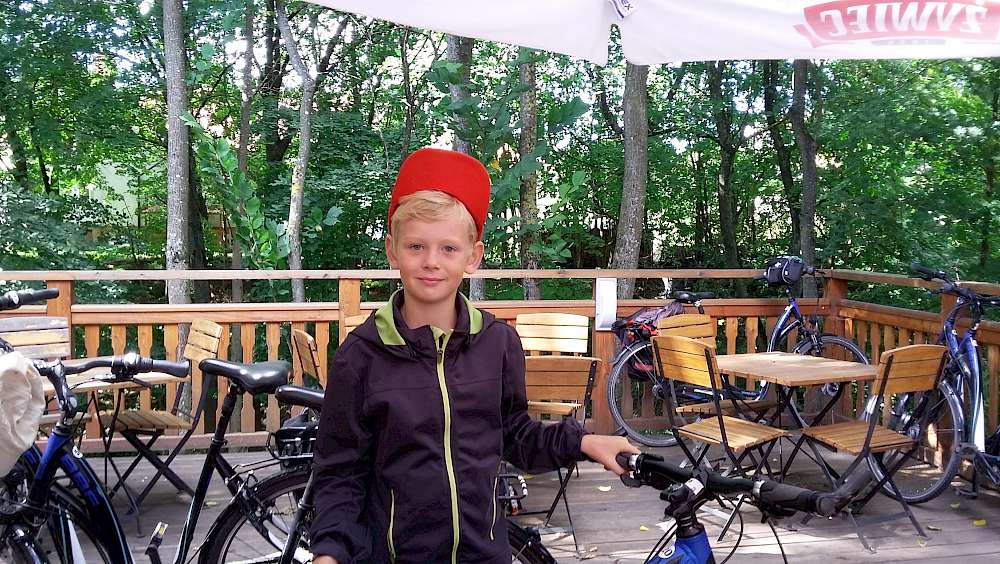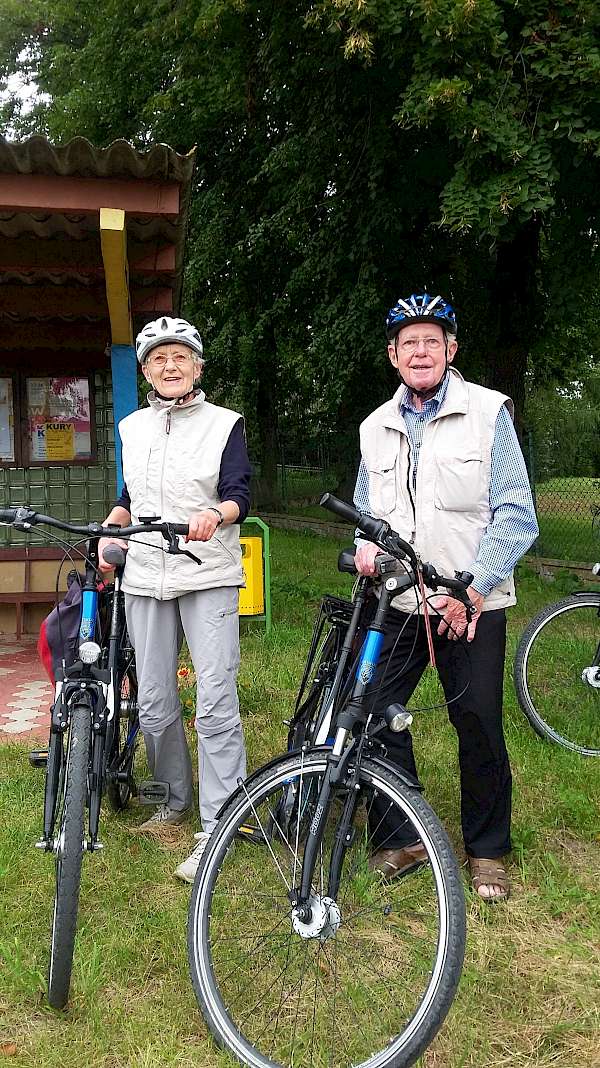 The cycling was excellent on varied terrain. There were paved country roads with rolling hills, urban cycling in which you will share the road with town traffic, and sandy forest paths through national parkland. Weather can greatly affect this type of terrain so keep this in mind. You may find there are times when you must walk your bike if conditions are extremely dry or extremely wet.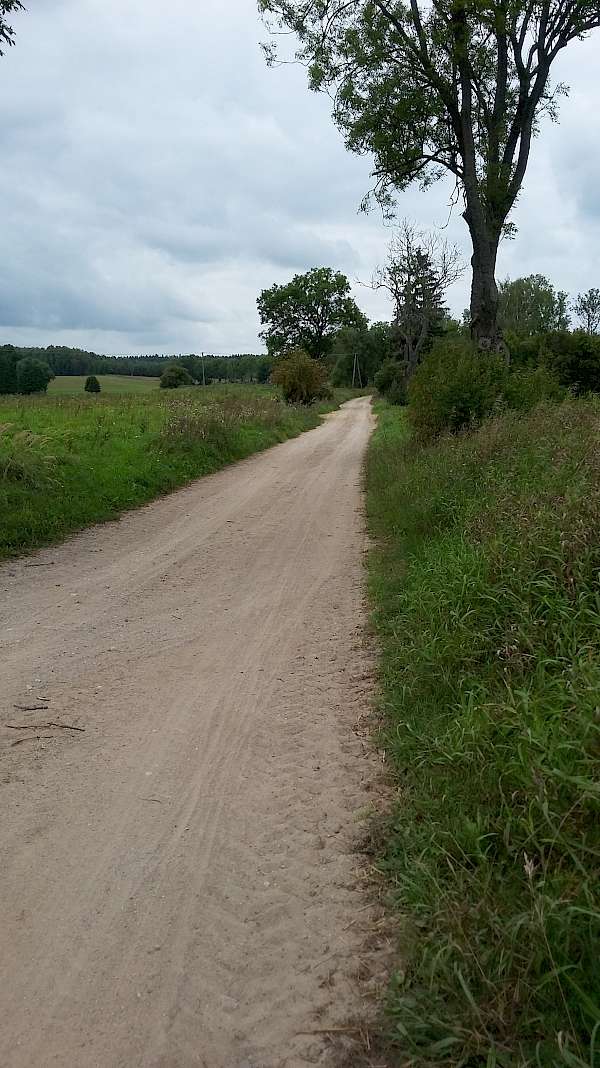 The average daily distance was 35 miles. Mark and I thoroughly enjoyed our youngest participant, Nick, whose youth infused the group with energy, and a sense of community. His "how much longer?" questions were interspersed with his exuberant and exaggerated skidding at stops. Our oldest couple was an inspiration, as well, and their age and wisdom also infused energy and camaraderie. Their sheer enjoyment of cycling and traveling was contagious.
I loved watching Nick's Dad reach over to give a steady hand and a push when needed by his determined son.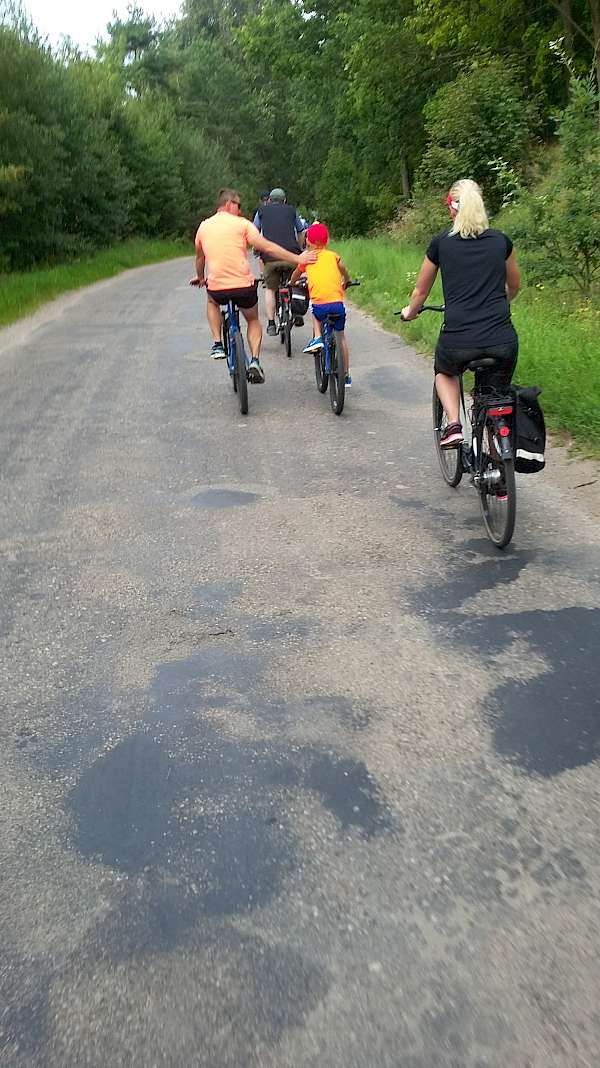 I was touched when I also saw one of our group reach over to give the oldest member a helping hand as well. They did not know each other before, but that simple gesture, brought them together.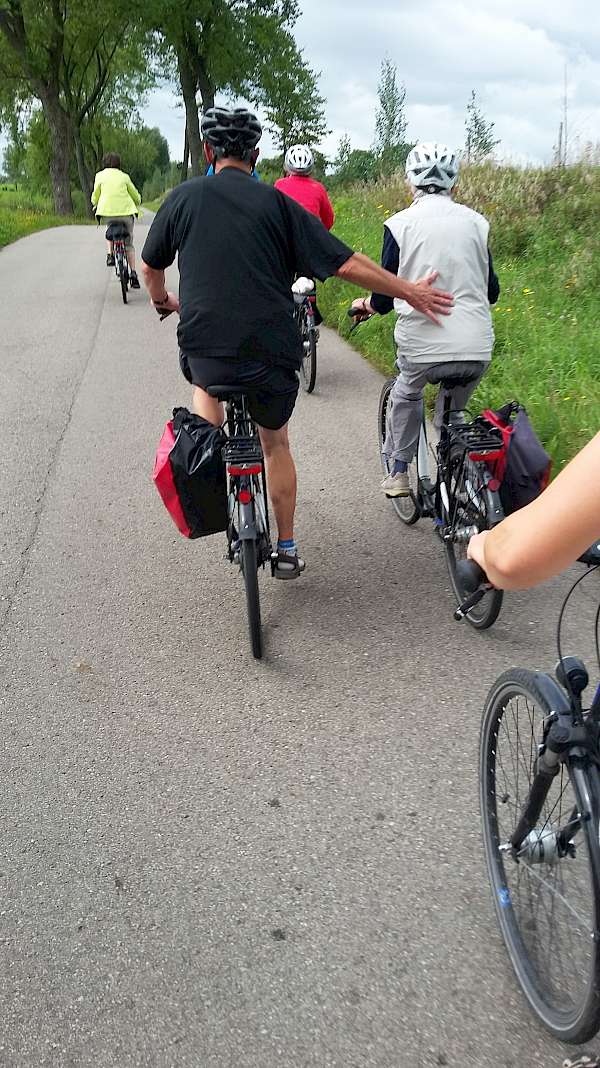 Though I found my experience onboard the MS Classic Lady fascinating, it is important to be aware of a few things. The crew, though friendly and very accommodating, speaks very little English. However, you can request for a supplement an exclusive English speaking guide. Some of the attractions do not have English material available but your guide will be knowledgeable and able to fill in gaps. I found myself researching and supplementing the tour material as I went. For example, we stopped at a breeding facility for the Konik Horse, a Polish horse descendant from very hardy horses from the Biłgoraj region. My own research revealed some fascinating information. Hitler's experiments to achieve "purity" extended to the animal kingdom as well as he sponsored programs for experimentation inbreeding to obtain perfect specimens of horses and cows. Later that day, cycling through the Białowieża Forest and marshland, we came across a herd of semi-wild Konik horses. It was beautiful.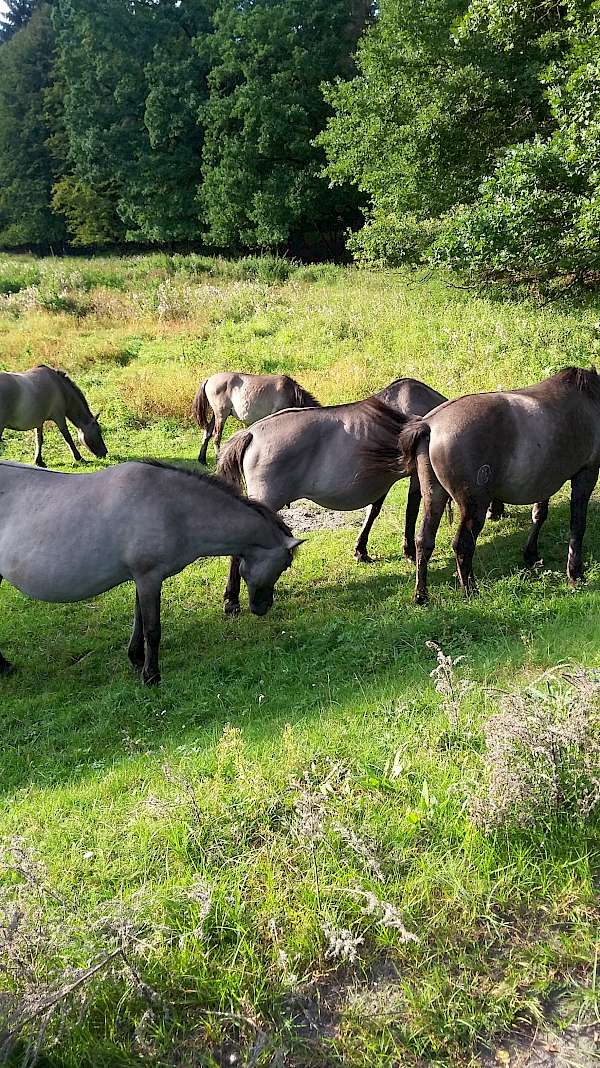 I am told that I must always include something about food. I am not a foodie so I asked my dinner companions their opinion and they reported they would rate the food a 4 out of 5.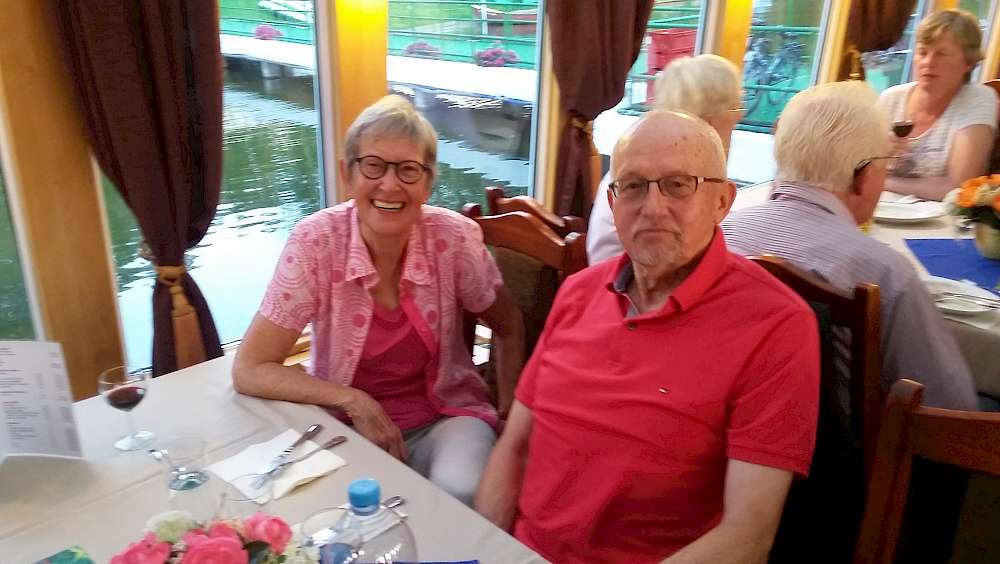 It was simple cuisine, with lovely soups and salads every evening as well as an entree and dessert. My favorites were a stinging nettle soup and the abundance of cabbage slaw and greens.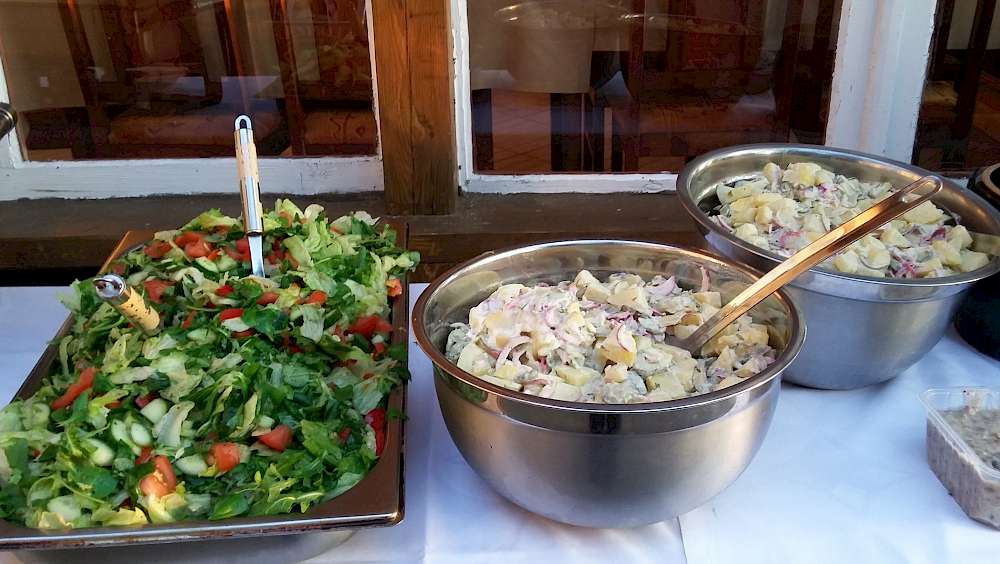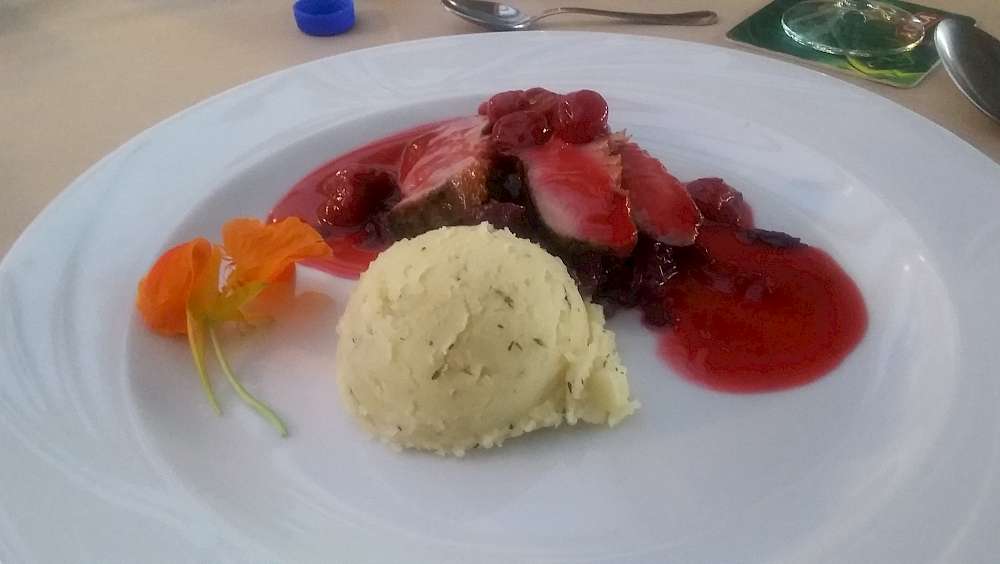 Lunch was not provided, but I wondered if it was even necessary as breakfast was lovely and very filling! Each day we did stop at a pre-selected cafe or restaurant for lunch and with the help of our guide, were able to order and sample traditional polish food.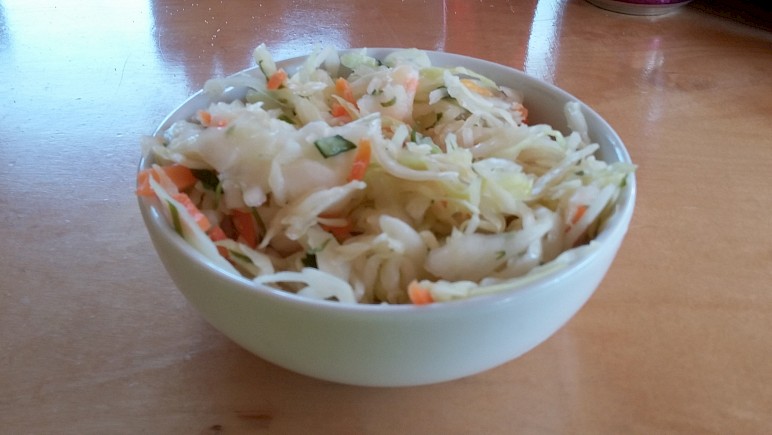 SUMMARY
This bike and boat tour in the beautiful Mazurian Lake District is not for everyone. Poland, though part of the European Union, is still Eastern Europe (some would argue Central Europe) but regardless, is often overlooked as a travel destination. Once out of the major cities, you will most likely find a language barrier. That only adds to the experience for me. You cannot travel here without being ever mindful of the complicated existence and complex historical mosaic of the country. (Perhaps we should never travel without being mindful of the complicated existence of a destination.)
I would also say that in my opinion, it is important to supplement the tour with at least two days or more in Warsaw to get the full experience and perhaps schedule a day trip to Auschwitz. It would be especially interesting to compare Warsaw with Krakow which was relatively untouched during the war.
We ended our time in Poland back in Warsaw participating in a three-hour bike ride through Jewish Warsaw. Our guide began our tour by saying that we would need to use our imagination as he led us back in time because Jewish Warsaw was virtually destroyed The Polish capital lost its Jewish community and many material traces of its presence.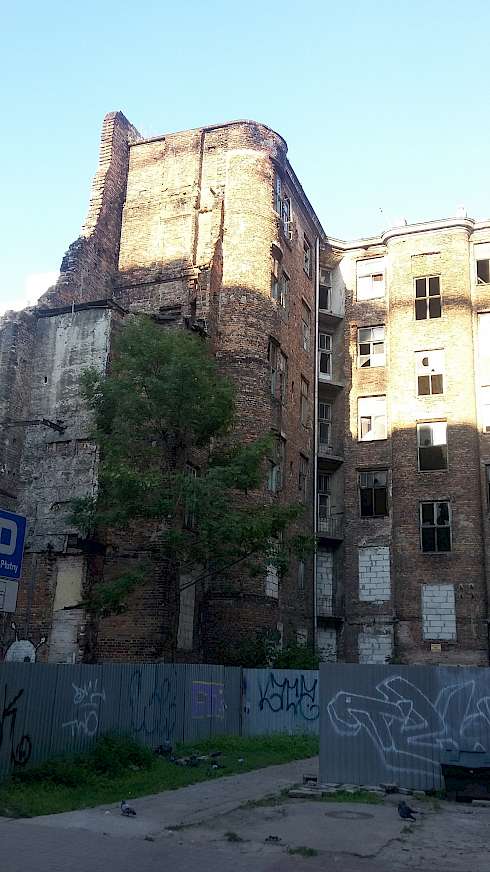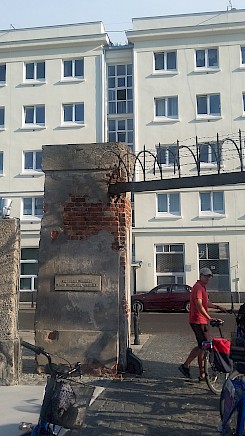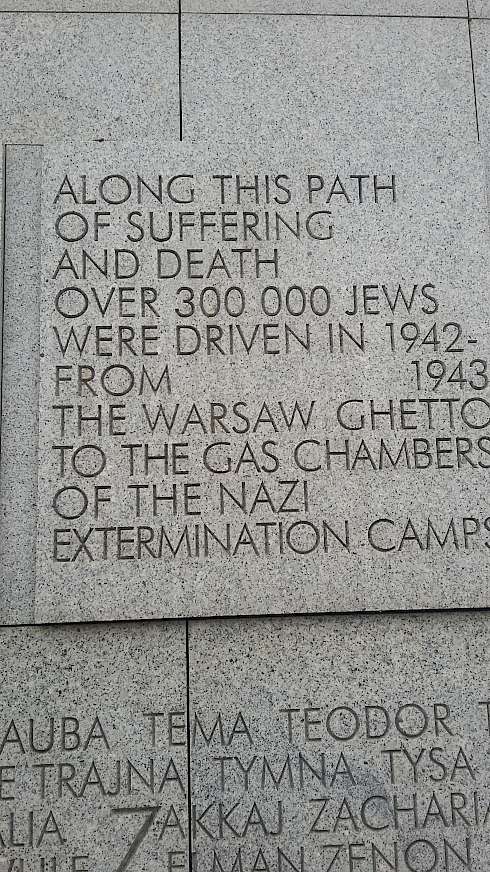 I began and ended my time in Poland deeply moved. We rode our bikes in the present through a country paradise and vibrant city on the same rural roads and city streets of the past. Each stop at a historical site helped us remember this past, to commit not to forget, and marvel at the strength of a nation and a people to embrace the present and look to the future. And I am so glad they have!
We wait for your questions and the MS Classic Lady waits to welcome you on board. If biking and boating is not your thing, we have other bike tours in Poland, both guided and self guided that might interest you.
Click here for recommended reading on this fascinating country.
---
Comments
Post Comment