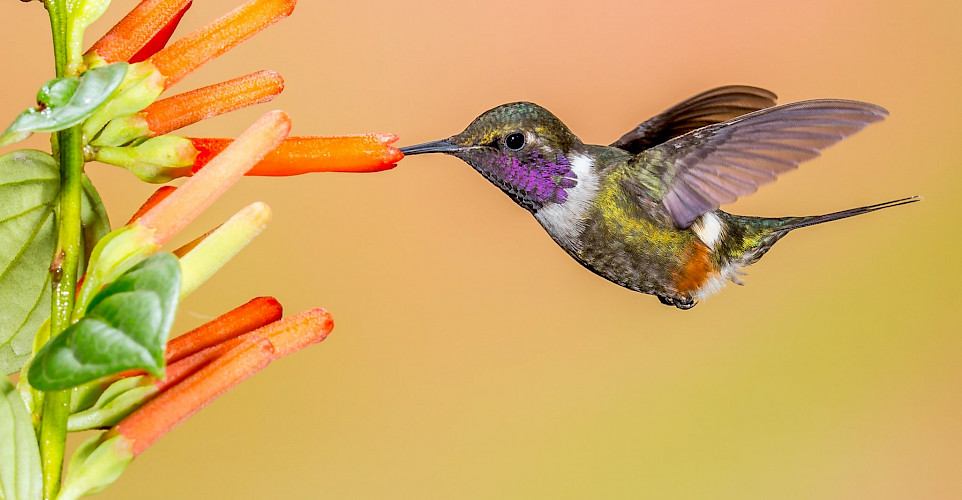 Birding in Colombia's Coffee Region & Cali
Welcome to the world's premier birdwatching destination!
Overview

This birding tour in Colombia will not disappoint. This exotic country is the second most megadiverse in South America, holding nearly 10% of global biodiversity within its borders. Of the over 1,900 recorded species of birds found here, 80 are endemic.

Starting in the Coffee Region, you and your expert English-speaking guide will explore the Tinamú Birding Reserve where you may catch a glimpse of the Red-crowned Woodpecker, the Brown Violetear, or the Steely-vented Hummingbird, which are among the hundreds of recorded species of birds in this area.

Los Nevados National park, besides holding such treasures as the Andean Condor and the Shining Sunbeam, is a paradise on earth where you can relax in the natural thermal springs while looking at the snowy peaks of Volcano del Ruiz.

Moving south to the Tatamá National Park, you will have the opportunity to spot the Gold-ringed Tanager and the Alto-Pisones Tapaculo who call this place home. Dozens of other endemic and near-endemic species await you. Unique cultural experiences, incredible flora and fauna, and delicious local cuisine add to the magic that is Colombia.

Highlights

Tinamú Birding Reserve, with 260+ registered bird species
Los Nevados National Park, a hidden treasure with its snow-capped volcanos
Otún Flora and Fauna Sanctuary for a chance to spot a Hooded Antpitta, a Wattled Guan, or maybe an Andean Cock-of-the-Rock!
Tatamá National Park, a very diverse area with cloud forest, waterfalls, lakes, and indigenous villages
Montezuma, home to the Choco and Nariño Tapaculos, the Tanager Finch, and the Orange-breasted Fruiteater among other near-endemic species
Cali, the Salsa dancing capital of the world

Itinerary

Bienvenidos a Colombia - Welcome to Colombia! 

You will be picked up by your English-speaking guide at the Matecaña International Airport in Pereira and transferred (approximately 2 hours) to the Hotel Tinamú at Tinamú Birding Reserve. Here you will enjoy a delicious lunch and dinner (depending on arrival time).

If you have any questions regarding the itinerary, feel free to ask your guide during this time. 

Accommodation: Hotel Tinamú
Meals: Lunch and dinner

Today you will spend the day at the Tinamú reserve where you can find over 230 species of birds. At the feeders, you will have an excellent opportunity to spot (and photograph, if you'd like) the following birds: Steely-vented Hummingbird, Rufous-tailed Hummingbird, Brown Violetear, Long-billed Starthroat, Grey-headed Tanager, White-shouldered Tanager, Scrub Tanager (near-endemic), Guira and Bay-headed Tanagers, Green Honeycreeper, Red-crowned Woodpecker, stunning Andean or Blue-crowned Motmot, and the Thick-billed Euphonia among many others. 

Out on the trail, you will also have the chance to see the Golden-Crowned Warbler, Cocoa Woodcreeper, Grey-headed Ground-Dove, Little Tinamous (after which the reserve is named), Spectacled Owl, Scaled Antpitta (difficult), Speckle-breasted Wren, Moustached Puffbird, and many, many flycatchers.

Accommodation: Hotel Tinamú
Meals: Breakfast, lunch, and dinner

You will have the opportunity to catch a glimpse of some of the birds you may have missed the day before, The Western Emerald at the feeders, Andean Emerald, Stripe-throated Hermit, Rufous-breasted Hermit, White-necked Jacobin, Grayish Piculet (endemic), Crimson-rumped Toucanet, Lineated Woodpecker, Blue-headed and Bronze-winged Parrots, Spectacled Parrotlet (near-endemic) and more.

If you want to take a break from birdwatching, there is opportunity to explore the Reserve grounds replete with coffee plants and plantain trees, butterflies, reptiles, and various other animals that inhabit this protected land.

Accommodation: Hotel Tinamú
Meals: Breakfast, lunch, and dinner

After a very early breakfast, you begin a full day of bird-watching adventures in the Nevados National Park and the surrounding area of Termales del Ruiz Hotel. 

The morning will be spent looking for all of the high-Andean specialties and endemics that can be found at the hotel's feeders, located along the old Manizales road and at the entrance of the National Park. Targets include the Andean Condor, Black-chested Buzzard-Eagle, Grey-breasted Mountain-Toucan, Rufous-fronted Parakeet, Buffy Helmetcrest, Tawny Antpitta, Golden-breasted Puffleg, Black-thighed Puffleg, Rainbow-bearded Thornbill, Crested Cotinga, Great Sapphirewing hummingbird, Shining Sunbeam, Buff-winged Starfontlet, and various mountain tanagers.

You will spend plenty of time at the feeders, stopping all along the road. You will also have some optional afternoon birding along the old Manizales – Los Nevados road and in the forests. Afterward, there is a 2.5-hour transfer to the Otún Quimbaya Reserve, to enjoy dinner at the lodge and possibly some night birding in hopes of spotting the tropical Screech-Owl and Common Pauraque.

Accommodation: Otún Quimbaya
Meals: Breakfast, lunch, and dinner

Once again an early start to your day, with a 5:30 am transfer (approx. 30 minutes) to El Cedral trailhead area, high up in the Otún River basin, one of Latin America's best-preserved regions. Be on the look-out for Andean forest specialties such as the Hooded Antpitta, Wattled Guan, Andean Cock-of-the-Rock, various tanagers such as Metallic-green, Beryl-spangled, Golden, Saffron-crowned, and Golden-naped and Bay-headed. Main targets include endemic Cauca Guan and Multicoloured Tanager, forest floor-dwelling Chestnut Wood-Quail, stunning Chestnut-breasted Wren, Black-winged Saltator, and the difficult Red-ruffed Fruitcrow. If you are fortunate, you may spot the Mountain Tapir which is also known to forage around the road at dawn.

Today's delicious lunch is enjoyed at the sanctuary Otún Quimbaya, then continuing your journey to Montezuma Ecolodge located in Tatamá National Park in the Andes/Choco Biogeographical region.

Accommodation: Montezuma Ecolodge
Meals: Breakfast, lunch, and dinner

You travel up the highest part of Montezuma Road, overlooking the 4,000m (13,123 ft) peaks of Tatamá's super-humid cloud forest. You'll concentrate on the mid to high altitudes of 1,700 to 2,600 masl (5,570 to 8,530 ft). What makes this location so special is its geographical proximity to the Choco Rainforest and Pacific slope of the Western Andes, of which this area is technically part. This confluence of humid Pacific air and Andes forest creates a perfect mix of rainfall and food supply, allowing speciation to occur over many millennia, resulting in a treasure-trove of birds with isolated ranges. In order to enjoy this area to the fullest, you will have two and half days on a 12 km trail looking for The Black-and-gold Tanager (endemic), Gold-ringed Tanager (endemic), Munchique Wood-Wren (endemic), Chestnut-bellied Flowerpiercer (endemic), Alto-Pisones Tapaculo (endemic), Velvet-purple Coronet (near-endemic), Empress Brilliant (near-endemic), Western Emerald, White-tailed Hillstar, Barred Hawk, Toucan Barbet (near-endemic), White-faced Nunbird (hard to see), Lanceolated Monklet (hard to see), Golden-headed Quetzal, and many more. 

Lunch will be enjoyed pic-nic style in the field where you'll continue to look for the Beautiful Jay (near-endemic), Black Solitaire (near-endemic), Yellow-collared Chlorophonia (near-endemic), Buffy Tuftedcheek and even possibly get to feed a rather confident group of Olive Finch. The rare and enigmatic Greater Scythebill has been recorded here on a few occasions.

Accommodation: Montezuma Ecolodge
Meals: Breakfast, lunch, and dinner

Your morning is spent around the Clarita sector and above, concentrating between 1,700 and 1,300 masl (5,577 ft to 4,265 ft), or further up depending on how the previous day went. You'll be looking for the Fulvous-dotted Treerunner, Yellow-breasted Antpitta (near-endemic and hard to see), Ochre-breasted Antpitta (hard to see), Choco Tapaculo (near-endemic), Nariño Tapaculo (near-endemic), Tanager Finch (near-endemic), Barred fruiteater (uncommon), Scaled Fruiteater (uncommon), Orange-breasted Fruiteater (near-endemic), Yellow-vented Woodpecker, Tricoloured Brush-Finch, Olivaceous Flatbill, Olivaceous Piha, Bronze-olive Pygmy-Tyrant, Uniform Antshrike, Chestnut-breasted Chlorophonia, Yellow-throated Bush-Tanager, the rare and local Lemon-browed Flycatcher, the stunning Club-winged Manakin (nearer the lodge), and countless more specialties in this dense, lush forest. Lunch today will also be enjoyed picnic-style, with dinner at the lodge. 

Accommodation: Montezuma Ecolodge
Meals: Breakfast, lunch, and dinner

At 5:30 am, you will drive to the Cajones area. You will have the whole morning to enjoy birdwatching and experience the truly lush, super-humid cloud forest of the Western Andes-Choco transition.

Then it is 3.5 hour drive to Laguna el Sonso, en route to Cali. On the road, you will enjoy a delicious lunch and in the afternoon, a bit of birding at Laguna de Sonso. This is an ancient oxbow lake of the Cauca River, one of the only remnant wetlands in the Cauca Valley. Here, species such as the Greyish Piculet, the spectacular Ruby-topaz hummingbird, Comb Duck, Masked Duck, Pinnated Bittern, and Horned Screamer can be found. 

Your day's final destination is Cali, the world's Salsa dancing capital (and of course, a birdwatcher's paradise). After check-in and a little downtime, you will have dinner at the hotel.

Accommodation: Hotel Hampton by Hilton
Meals: Breakfast, lunch, and dinner

In the morning, you will take a 50-minute transfer to the San Antonio Reserve. Along this road, you can expect to see: the Golden-headed Quetzal, the difficult and uncommon Crested Quetzal, Golden-rumped Euphonia, Spotted Barbtail, Chestnut-breasted Wren, Golden-winged Manakin, Lineated Foliage-gleaner, Andean Solitaire, Blue-winged Mountain-Tanager, Chestnut Wood-Quail (endemic), Golden-faced Tyrannulet, Barred Becard, the uncommon Scaled Fruiteater, Masked, Rusty and White-sided Flower piercers, skulking Grey-breasted Wood-Wren, and the even more elusive Moustached Wren! And as if this were not enough, other sitings are possible as well. Upon arriving at Don Raul's "Hummingbird Paradise", a farm where feeders attract a massive amount of local hummers, it is possible to sight the Fawn-breasted Brilliant, Blue-headed Sapphire, Bronzy Inca, Andean Emerald, Buff-tailed Coronet, Purple-throated Woodstar (near-endemic), Long-tailed Sylph, Brown Violetear, and the Booted Racket-tail. The main attraction is the sheer abundance of tanagers, with the Multicolored Tanager (endemic) being the most prized. Flocks of Beryl-spangled, Golden-naped, Saffron-crowned, Golden, Metallic-green, and Bay-headed Tanagers regularly visit along with the Hollywood pair of female and male Red-headed Barbets, Colombian Chachalacas (endemic), and the occasional coati. There have been recent reports of an Ornate Hawk-Eagle nesting nearby with the juvenile perching in prominent places above the farm. 

After a delicious lunch, you will transfer1 hour to La Minga. This uber-diverse cloud forest reserve is located in the village of Chicoral, famous for the only tea plantations in Colombia. Within this well-preserved cloud forest lies La Minga, formerly the vacation home of some local Caleños (people from Cali). This bird reserve has become an essential stop for serious birders and bird watchers alike. Its pleasant gardens are home to abundant birdlife with many Western Andes / Choco transition specialties appearing at the feeders. The perches are excellent for nature photographers. Here you can expect to see an exciting variety of hummingbirds such as the Purple-throated Woodstar (near-endemic), Western and Andean Emeralds, Booted Racket-tail, Long-tailed Sylph, Speckled Hummingbird, Bronzy Inca, White-necked Jacobin, and Buff-tailed Coronet. You may be very lucky to sight rare prize of the Velvet-purple Coronet (near-endemic) which has also begun to visit. You can also expect to find the Western Andes' main target - the stunning, endemic Multicolored Tanager, and other tanagers such as the White-sided Flowerpiercer and the stunning Blue-winged Mountain-Tanager. Along the entrance road, there is approximately 1km of excellent habitat. Special care should be taken to watch out for the Crested Quetzal and difficult Scaled Fruiteater, both of which are local to this forest. Other cloud forest specialties include the Collared Trogon, Andean Solitaire, Chestnut-breasted Wren, Crimson-rumped Toucanet, Sickle-winged Guan, and more. Tonight, you will enjoy dinner at Araucana Lodge.

Accommodation: Hotel Hampton by Hilton
Meals: Breakfast, lunch, and dinner

After a transfer of about 1.5 hours, you will arrive at El Queremal to visit the house of Doña Dora, a shining example of what hard work and a big heart can do in achieving what is now an ecotourism success story. The birdwatching today will start at a slightly higher altitude along the old road to Buenaventura. Be on the lookout for the Glistening-green Tanager (near-endemic), Purplish-mantled Tanager (near-endemic) and Crimson-rumped Toucanet before heading back to Doña Dora's to look for the Barred Hawk, Olive Finch, Tricoloured Brush-Finch, Black-headed Brush-Finch (near-endemic), Silvery-throated Tanager, Purple Honeycreeper, uncommon Golden-collared Honeycreeper (near-endemic), Toucan Barbet (near-endemic), Black-chinned Mountain-Tanager (near-endemic), Red-faced Spinetail, uncommon and local Green Thorntail, White-whiskered Hermit, nesting Chestnut-headed Oropendola and many, many more. Descending further down into the valley, you may sight birds such as the Ornate Flycatcher, Bright-rumped Attila, Long-tailed Tyrant, Cinnamon Becard, uncommon Slaty-capped Shrike-Vireo, and others.

Enjoy lunch at Doña Dora's before spending the afternoon at the feeders or heading further down the Anchicaya Road. Returning to Cali for the evening, you will enjoy your farewell dinner.

Accommodation: Hotel Hampton by Hilton
Meals: Breakfast, lunch, and dinner

Sadly, it is time to say goodbye to this beautiful country. Your guide will accompany you to Cali airport where you can connect to Bogota or continue your adventure in Colombia!

Map

Accommodation

The accommodations used on this tour include a mix of elegant hotels and unique and beautiful ecolodges.

Hotel Tinamú Birding Reserve (3 nights) - This small reserve is the culmination of 40 years of conservation within the heart of Colombia's Coffee Region. The reserve's owners – lifelong coffee cultivators – set aside a 37 acre patch of sub-tropical dry-forest which is home to a remarkable 240+ species of birds, which makes it a great base for birding in the Coffee Region. On the grounds are purpose-built lodge houses with large, comfortably furnished en-suite rooms, elegantly decorated with bird and nature themes both inside and outside.
Flora and Fauna Sanctuary Otún - Quimbaya (1 night) - This flora and fauna sanctuary, located in the remote Otún river basin offers basic yet comfortable rooms that are typical of an ecotourism lodge. The local community association Yarumo Blanco won the national sustainability award in 2014 for their work at the sanctuary and have also been shortlisted once again in the 2016 world's most sustainable locations.
Montezuma Ecolodge (3 nights) - Doña Leopoldina and daughters make this Western Andes cloud forest ecolodge a truly remarkable place. Aside from the untold amount of Andes/Choco birds, plants, and general wildlife that fill this excellently conserved tract of forest, Doña Leo provides (with the help of her friendly family) a very comfortable stay with great home-cooked food in this otherwise remote location. A home away from home that is perfect for exploring one of Colombia's top nature observation sites.
Hampton by Hilton (3 nights) - This is a very well located hotel, at the upmarket neighborhood of Santa Teresita in the west side of Cali. The hotel overlooks the Rio Cali and is surrounded by the best restaurant area of the city. It is only 40 minutes away from the airport, which is very convenient. The rooms are bright modern, stylish and very comfortable.

All accommodations are based on availability.

Inclusions

What's Included

10 nights accommodation in double rooms with private facilities
All meals & snacks
English speaking tour guide
All transfers as mentioned in the itinerary
Airport pick up in Pereira & drop off in Cali
Entrance fee to Termales del Ruiz
Entrance fee to Laguna de Sonso
Entrance fee to Finca Alejandria
Entrance fee to La Minga
Entrance fee to Doña Dora

What's Not Included

Arrival & departure flights
Excursions not mentioned in the itinerary
Drinks with meals
Birding equipment such as binoculars or cameras
Gratuities

Dates & Pricing

Dates

2023

Daily departures all year round. 

Please Note

Rates are per person, based on double occupancy
Tour prices are based on the fuel costs at time prices are set, often months or years in advance. In rare cases, additional fees may apply for fuel cost increases.

Pricing

2023

Ask us!

---

IMPORTANT NOTES:

Prices do not include the Colombian VAT tax (19%), as foreign travelers do not have to pay this.

Tours can only be confirmed based on availability. Participants must provide their passport information when booking. 

The mentioned rates might be modified due to currency devaluation.        

Extra Info

Skill Level — Easy

Birding in Colombia involves visits to a wide range of private reserves, national and regional parks, farms and private properties. Although transport is provided to and from the main birding sites, participants of this tour should be prepared for walking on paved/well-maintained trails, as well as uneven and sometimes steep terrain. At the end of the day, birdwatching can entail as little or as much walking as you want.

Airport Info

Fly into Matecaña International Airport in Pereira and out of Alfonso Bonilla Aragón International Airport in Cali.

Local Travel

Airport transfers to and from your last hotel are included. Major cities are never too far away from the main birding sites meaning that connections by both road and air are easy to coordinate. Infrastructure is generally excellent in the cities with it understandably lowering in level the more remote you go. Road connections are very good between major cities thanks to the construction of new highways, with most secondary and tertiary (unpaved) roads in good condition.

Climate

The Coffee Region has a moderate climate with temperatures that vary little throughout the year, with an average temperature of 72 F year-round. Rainfall is fairly constant at this altitude. Please refer to the averages below.

Recommended

While birding and bird watching does not require a huge investment or much equipment, we absolutely recommended a good pair of binoculars and comfortable boots or walking shoes. A field guide and note book are also a helpful addition, although your English speaking guide would be happy to identify the birds you see along the way.

Remarks

Meals: Most meals have been included as detailed in the day-by-day itinerary. Breakfasts will be generally early (around 5am most days) to ensure we maximize the best times for bird activity. Field or packed lunches will generally be locally prepared dishes with a meat, rice or pasta, salad and a natural fruit juice or water.


Activities: This is an extensive and well-paced birding itinerary, taking in a vast amount of birds across a wide variety of ecosystems. Expect final bird lists to be long and full of surprises. Most days will include a morning and afternoon session of birding, finishing before last light which tends to be around 5:30pm.


Guides: A bilingual Birding Tour Leader will lead the tour from beginning to end and will have great experience at all of the sites mentioned. Local guides will be employed wherever possible to aid in identification and also to involve the local communities as much as possible.

Important to know

Documents

Before you travel, please check the passport and visa requirements of the country/countries you plan to visit. US and Canadian citizens do not need a visa to enter Colombia for stays shorter than 90 days. For any other nationality, Colombia's Foreign Affairs website has a useful tool to determine if you will need a visa (scroll towards the middle/end of the page to the dropdown menu and select your home country).

---

Photos
Have you been on this tour?
Please leave your feedback