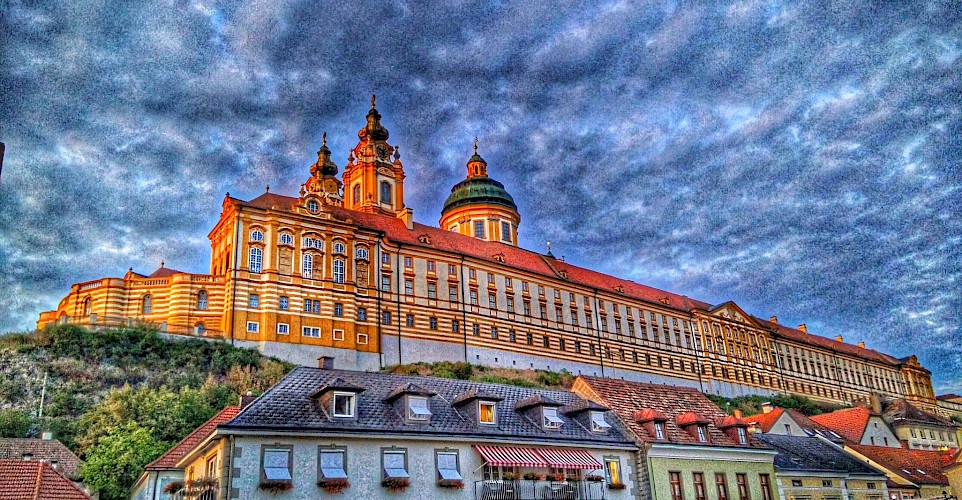 Hike & Boat on the Danube River
A hiking tour on Europe's second-longest river, the mighty Danube!
Overview

Combining river cruising and hiking, this guided tour on the Danube River is perfect for those looking for a different type of active vacation.

From Austria via Hungary to Slovakia, discover breathtaking views and stroll through places cemented in history such as Aggstein Castle, Devinska Kobyma Nature Reserve, or the Fortress of Visegrad. Returning to the boat each day, you will cruise in style with all the comforts of a luxury hotel.

Huge discounts are now available! Please check the pricing!

Highlights

Quality hiking trails
Melk Abbey
Budapest, the capital of Hungary
The Little Carpathian range
Bratislava, the youngest European metropolis
The Esztergom Basilica
Vienna, the city of music

Itinerary

Day 1: Arrival in Vienna
Day 2: Melk - Dürnstein, 4 hrs. hike
Day 3: Bratislava - Kalocsa
Day 4: Kalocsa - Budapest
Day 5: Budapest, 2.5 hrs. hike
Day 6: Esztergom - Vienna, 2 hrs. hike
Day 7: Vienna, 4 hrs. hike
Day 8: Departure from Vienna

All distances are approximate. The itinerary is subject to change, at times without prior notice.  Some waterways may be subject to occasional closures due to drought, storms, floods, canal or lock repairs, or other unforeseen circumstances that make navigation unsafe or impossible. The captain reserves the right to make any changes deemed necessary.

Day 1: Arrival in Vienna
The ship welcomes you on board at 6:00 p.m. After comfortably settling into your cabin, a welcome cocktail awaits while the crew introduces themselves and gives you further details on the tour. Dinner will be enjoyed on board. At 8:00 p.m., the ship sets off toward Melk.

Day 2: Melk - Dürnstein, 4 hrs. hike
Today you'll explore Melk Abbey. Situated on a hillside above the Danube river, the Melk Abbey is a colossal monument founded in 1089, featuring an exquisite marble hall, library, & church. You'll take in the sights and sounds before returning on board and cruising towards Dürnstein through the Wachau Valley.

You'll hike through the heart of the Wachau region visiting the ruins of Aggstein Castle. This castle dramatically perches on a cliff 300 meters above the River. It offers stunning views of the surrounding valleys and a great insight into life in the Middle Ages. After the visit, you'll hike through unspoiled scenery to Maria Longegg then transfer by coach to rejoin the boat in Dürnstein. You'll walk for around 4 hours, with a climb of approx. 1312 ft (400m).

Non-hikers' program: You'll discover Dürnstein. The town is famous for King Richard the Lionhearted having been held prisoner in its castle. It also has an abbey, glittering in light blue and white, which has one of the most beautiful baroque bell towers in all of Austria.

You'll return on board and cruise towards Bratislava.

Day 3: Bratislava - Kalocsa
Hike in the Little Carpathian mountain range, through Sandberg and the Devínska Kobyla National Nature Reserve to the ruins of Devín Castle (exterior only). This castle towers over the small village of Devín and the confluence of the Danube and the Morava rivers which form the border with Austria. 

Non-hikers' program: Visit the Slovak capital of Bratislava. Bratislava is a lively place, with bustling outdoor cafés, colorfully restored facades, and lots of medieval charm. 

You'll return to your floating hotel and head towards Kalocsa, in Hungary. Enjoy an evening of entertainment on board.

Day 4: Kalocsa - Budapest
You'll set off to visit the Puszta, also known as the "Great Hungarian Plain". This enormous flat prairie was the Hungarian Wild West during the 19th century. You'll return on board for lunch and start cruising towards Budapest.

Day 5: Budapest, 2.5 hrs. hike
Discover Budapest on a city tour. You'll walk along the paved streets by the castle, which is one of the few remaining examples of the city's medieval past. You'll return to the boat via public transport (not included) for lunch. The walk is around 2.5 hours, with a climb of approx. 328 ft (100m). In the afternoon, another opportunity to walk around this incredible city. Enjoy the Art Deco and Hungarian Art Nouveau buildings before returning to the boat via public transport or on foot.

Non-hikers' program: Experience a guided panoramic tour of Budapest via coach. You'll discover the upper part of the city, with its narrow winding streets, baroque buildings, & the Royal Palace. A rich mix of architectural styles is proudly displayed in this city. You'll have free time to explore this afternoon on your own. 

Day 6: Esztergom - Vienna, 2 hrs. hike
Early in the morning, you'll have some free time in Esztergom, the birthplace and coronation site of the first Hungarian king. The Esztergom Basilica towering at the highest point of the town is one of the most popular sights. The 100-meter-high cathedral, built in the Classical style, is among Europe's largest basilicas.

You'll hike to Visegrád Castle (exterior only) from where you can see the stunning Danube Bend. This is where you'll see the mighty Danube river change directions by 180 degrees, an incredible natural spectacle! The walk is about 2 hours with a climb of around 820 ft (250m).

The afternoon will be spent sailing. Tonight, you'll enjoy a gala dinner and an evening of dancing on board.

Day 7: Vienna, 4 hrs. hike
Set off on your guided tour of Vienna and the Schönbrunn Palace, the former summer residence of the imperial family. The grounds of Schönbrunn, a World Heritage Site, cover almost 400 acres and are one of Austria's most important cultural assets. The walk up to Leopoldsberg will bring you to one of the finest vantage points over the city. The tour is around 3 to 4 hours of hiking, with a climb of approx. 1115 ft (340m).

Non-hikers' program: Free time to discover Vienna on your own or take part in a guided visit of the Hofburg. The Hofburg, the former residence of Imperial family, is one of the biggest palace complexes in the world.

Afterward, you have the option of joining an excursion to enjoy a Viennese musical concert.

Day 8: Departure from Vienna
Enjoy one last buffet breakfast on board before disembarking at 9:00 am.

Boats

Inclusions

What's Included

Accommodation in cabin with private bathroom
All meals from dinner on day 1 to breakfast on day 8
Drinks on board (except for drinks from special list)
Welcome cocktail
Gala dinner
All excursions mentioned in the itinerary
Headsets for excursions
Transfers mentioned in the itinerary
Qualified guide and onboard multi-lingual host/hostess
All port fees
WiFi on board

What's Not Included

Arrival/departure to and from the boat
Drinks from special lists/drinks ordered during excursions or transfers
Viennese concert (to be reserved and paid for on-board)

Dates & Pricing

Dates

May 20, 2023

Please Note

Rates are per person, based on double occupancy
Tour prices are based on the fuel costs at time prices are set, often months or years in advance. In rare cases, additional fees may apply for fuel cost increases.

Pricing

Main deck

| | | |
| --- | --- | --- |
| Cabin type | Price per person* | Single supplement |
| Double bed, category A | $2798 | $937 |
| Double/Twin bed, category B | $2885 | $937 |
| Double/Twin bed, category a | $3041 | $937 |
| Double/Twin bed, category C | $2798 | $937 |

*Discounts of up to $800 per person are available! Ask us!

Middle deck

Sold out

Upper deck

Sold out

Extra Info

Airport Info

Fly to Vienna (VIE). Vienna International Airport is about 16 km east of the city of Vienna in Schwechat.

Local Travel

It is most convenient to arrive at the boat via taxi from the airport or main train station. Further details such as docking locations will be provided in the final travel documents sent prior to the tour departure.

Climate

The region has a moderate continental climate, generally experiencing pleasantly mild winters and relatively warm summers. Please check local conditions prior to your departure and remember that your tour will cover a significant distance and will stretch along the Danube from Vienna to Budapest.

Recommended

Viennese Music Concert
This concert can be reserved and paid for on board.

You'll head towards Vienna's Kursalon where the concert will take place. Famous waltz melodies will take you back to the era of Franz Joseph and Sisi. The first half of the concert will be devoted to Mozart compositions, and the second half to Strauss. The orchestra consists of eight to thirteen musicians, two singers and two dancers. During intermission, a free drink will be served (orange juice or sparkling Austrian wine). Return on board by coach.
Duration approx. 2.5 hrs, Please dress appropriately.

Remarks

You'll need a backpack for the hikes (max 8 gallons) to carry the things you'll need during the day. The backpack should easily hold a sweater, raincoat, picnic, bottle of water, & sunscreen.

Covid-19 Info

Country Entry Requirements

Due to the changing requirements for entry, it is imperative that you stay up to date on requirements set by the country/countries that you are visiting. Please visit our Travel Restrictions Tool page and the country/countries government webpage for this information.

---

Photos
Have you been on this tour?
Please leave your feedback