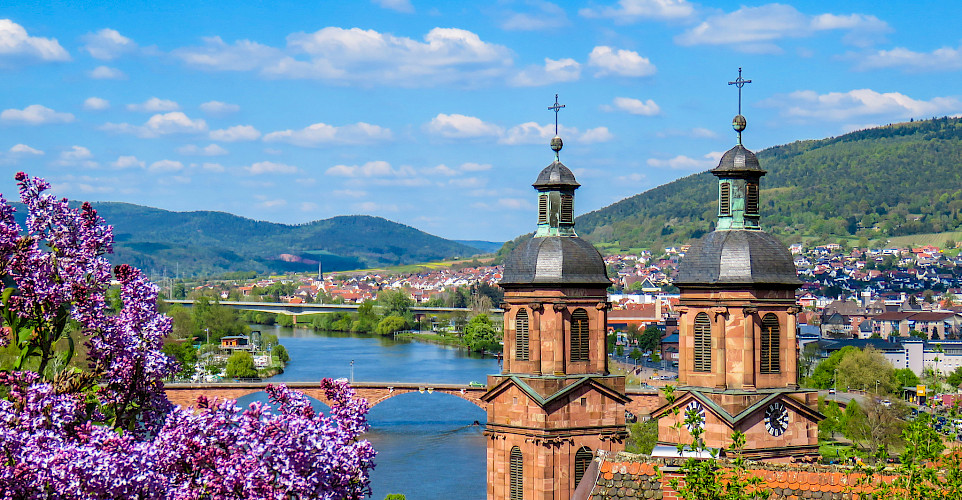 Aschaffenburg to Bamberg
Cycling in Bavaria!
Overview

Many cultural highlights await you on this bike and boat tour in Germany!

Welcome to Nothern Bavaria, the ancient kingdom of Franconia. This is the heart of old Germany. The bike path along the Main River is rated 5-stars by the German Federation of Cyclists. It's hands-down one of the best cycle routes in the country.

Highlights

Würzburg and the castle gardens
Bamberg and visit to the Duomo
Fishermen's quarter of "Little Venice"
Franconian wine (or beer!)
Cycling the Main River bike path

Don't forget to check out all our bike tours in Germany!

Itinerary

Below are the itineraries for both boats. Please be sure to check your itinerary carefully and what is included and not included on each boat. All distances are approximate. The above-planned itinerary is subject to change due to changing wind and weather conditions and other unforeseen circumstances having to do with mooring requirements, etc.

 

Day 1: Aschaffenburg - Miltenberg
Day 2: Miltenberg - Freudenberg - Marktheidenfeld, 31 mi. (50 km)
Day 3: Marktheidenfeld - Karlstadt, 31 mi. (50 km)
Day 4: Karlstadt - Würzburg, 16 mi. (25 km)
Day 5: Würzburg - Kitzingen, 25 mi. (40 km)
Day 6: Kitzingen - Volkach - Hassfurt, 31 mi.  (50 km)
Day 7: Hassfurt - Konigsberg in Bayern - Bamberg, 22 mi. (35 km)
Day 8: Bamberg

Day 1: Aschaffenburg to Miltenburg
Embarkation at 1:30 pm followed by immediate departure to Miltenberg. For this reason, it is recommended to book an extra night before your tour to visit the Johannisburg Castle.  The massive four-winged complex, build from 1605 to 1614 under Archbishop-Elector Johann Schweikard von Kronberg, is one of the most important examples of palace architecture from the German Renaissance era. You can also visit the Pompejanum, an idealized replica of a Roman Village, build in the 19th century. As the boat navigates toward Miltenberg, you will have a welcome speech and tour presentation, including crew introductions, safety presentation, and welcome drink. Dinner will be enjoyed as you sail. After the boat moors in Miltenberg, you can join the guide for a city walk. This city has a certain charm due to its meandering streets and alleys, old restored half-timber houses, and the monumental market square. Here, you can enjoy a local beer in one of the cozy pubs or on the terraces. 

Day 2: Miltenberg - Freudenberg - Marktheidenfeld, 31 mi. (50 km)
During a relaxing breakfast, the barge brings you to Freudenberg. First, you bike through the typical landscape of the Main to Wertheim, where the character of an old Frankish is preserved. There is much to see on the route to Marktheidenfeld, a beautiful old town with historic buildings and Franconian timbered houses.

Day 3: Marktheidenfeld - Karlstadt, 31 mi. (50 km)
Today you bike through a very beautiful part of the Main valley first to Lohr am Main and its Gothic and Baroque buildings. Then the bike tour goes to Gemünden, another charming village along the river. Today's destination is the Romantic old town of  Karlstadt. Explore the more than 800-year-old buildings in the by walls, towers and Gates surrounded old town.

Day 4: Karlstadt - Würzburg, 16 mi. (25 km)
Today offers a shorter bike tour, which gives ample time to visit the town of Würzburg. Würzburg's famous landmarks are the UNESCO World Heritage Residenz Palace, with its palace gardens and square, the Marienberg Citadel and the 180-meter-long Old Main Bridge, which is lined with impressive statues of saints. Straddling the banks of the Main river amid idyllic vineyards, the location alone is reason enough to visit Würzburg. Another reason is the local wine served in Bocksbeutel bottles, whose characteristic flattened round shape has become a trademark for the entire region. Today there is no dinner on board. You can select one of the local restaurants of Würzburg.

Day 5: Würzburg - Kitzingen, 37 mi. (57 km)
Today you will cycle along the Main cycle track from Wurzburg through the fruitful Ochsenfurt district to Ochsenfurt with its lance tower that is definitely worth seeing. Cycle through the historic village Marktbreit with its fine residences to Kitzingen.
Kitzingen has a reputation for producing some unique and flavorful white wines. Producers in the area use a distinctive wine bottle called a Bocksbeutel, which has a short neck and a wide body.

Day 6: Kitzingen - Volkach - Hassfurt 31 mi.  (50 km)
Via the wine-growing areas of Dettelbach and Schwarzach am Main you cycle first to Volkach. Here it is worth visiting the pilgrimage church of St. Maria in Weingarten. Then you go on Fahr via the Volkach loop in the Main river. Here the valley becomes narrower and narrower and the vineyards more and more numerous. From Schweinfurt, you will join the barge for a sailing dinner to Hassfurt. 

Day 7: Hassfurt – Bamberg, 22 mi. (35 km)
Hassfurt is famous for the late gothic Ritter chapel and the church full of valuable paintings such as 'John the Baptist' and 'Maria with Child' by artist Tilmann Riemenschneider. The easy option today follows the bike path along the river again to Bamberg. You can take the beautiful route through the hills to Konigsberg in Bayern. This medieval town is a romantic Franconian town right out of a picture book. It's protected historic center with half-timbered houses is a hidden gem, embedded in a countryside of forests, valleys, and hills. From Zeil am Main you will follow the river again to the final destination, Bamberg.
Bamberg, often referred to as Little Venice, is listed as a UNESCO World Heritage Site for its authentic medieval appearance. It is home to such wonders as the Bamberg Cathedral, a late Romanesque building with four impressive towers. This houses the world-famous Bamberg Horseman, an equestrian statue that inspired such poets as Stefan George and Claus Schenk Graf von Stauffenberg. Bamberg is also famous for brewing the best beer in Germany.

Day 8: Bamberg 
Departure after breakfast. 

Day 1: Bamberg -  Hassfurt, boarding at 2 pm
Day 2: Hassfurt - Schweinfurt -Volkach 
Day 3: Volkach - Kitzingen - Eibelstadt
Day 4: Eibelstadt - Würzburg
Day 5: Karlstadt - Marktheidenfeld
Day 6: Marktheidenfeld - Wertheim - Miltenberg
Day 7: Miltenberg - Aschaffenburg
Day 8: Aschaffenburg

*Daily mileage is between 25 and 30 miles a day.

The itinerary is subject to last-minute changes due to unforeseen circumstances such as wind, weather, mooring locations, etc.

Day 1: Bamberg -  Hassfurt, boarding at 2 pm
Wow, Bamberg! The entire old town is a UNESCO site. After exploring, you might need to quench your thirst. Take your pick from 9 breweries and 50 beer varieties in Bamberg alone. Once the seat of temporal and religious power in the 11th century, both an emperor and a pope are entombed here. The Imperial Cathedral showcases a wealth of art including the Bamberg Horseman, a medieval stone monument that (700 years later) inspired WWII resistance fighters like Claus von Stauffenberg, Hitler's would-be assassin. Stop and smell the roses at the prince-bishops palace. There's a lovely outdoor café overlooking the baroque gardens, tiled rooftops and city church spires. The "island district" features the only town hall in the world straddling a river. For centuries, Bamberg cultivated and traded licorice root, the sweet plant that flavors candy. But even more famous are the city suds. Try the "smoked beer" from Schlenkerla Brewery. You'll never forget your first sip.

The IRIS will be waiting for you in the harbor at 2 pm. You will meet up with other travelers, your guide(s) and the crew on the barge and start sailing at 3 pm. As you sail the River Main, you will enjoy your first dinner on board. Enjoy & settle in your home for the week!

Please be aware that visiting Bamberg is NOT part of our Program. We strongly recommend spending time in Bamberg before the start of your tour.

Day 2: Hassfurt - Schweinfurt -Volkach 
You can opt for a beautiful route through the hills to Konigsberg in Bayern. This medieval town is a romantic Franconian town right out of a picture book. It's protected historic center with half-timbered houses is a hidden gem, embedded in a countryside of forests, valleys and hills. If you opt for staying along the river bike path, you will pass little wine villages and fruit gardens. Schweinfurt is a modern little town, with museums and galleries. The IRIS will be waiting there for another sailing dinner, the destination being one of the most attractive little villages on the Main river: Volkach.

Day 3: Volkach - Kitzingen - Eibelstadt
You begin biking from Volkach, deep in the heart of Franconian wine country. Set atop the hill is a precious pilgrimage church called Maria in the Vineyard. Inside more hand-carvings by Riemenschneider and outside phenomenal photo-ops of the river valley and the river's famed Oxbow, a great u-shape and perfect pitch for growing grapes. You arrive in Kitzingen with its cock-eyed watchtower. One silly legend (every village has one) recalls the tower built with a mortar and wine mixture. This region is the largest wine producer in Bavaria. After a stroll through Kitzingen, you will continue to cycle along Ochsenfurt and Marktbreit to Eibelstadt, a quiet place to dock for the night!

Day 4: Eibelstadt - Würzburg
The destination today is Würzburg at only 10 km distance. Anytime you see the word "Burg" after a city name, it's going to be good. Burg = fortress. The imposing landmark of this city is the fortress (Marienburg) on the hill. Home of the once-powerful prince-bishops with monumental views over their ecclesiastic fiefdom. Vineyards slope down to the city ever since the Middle Ages providing wealth and good libation for this ancient arch-diocese. Famous writer Goethe preferred white wines from Würzburg. When the old fortress was deemed out-modish, these religious overlords built themselves an entirely new Residenz in the 1700s. All the big names around Europe were called in to collaborate. Here you will enjoy a guided tour. Imagine puffy powdered wigs, corsets and cleavage, birdcage hats, pastel tones, and gilded excess. This palace is considered one of the finest examples in Germany and UNESCO-approved. Connected by a bridge of saintly personalities, Würzburg spans both sides of the river where a festive mood lingers into the night. It might have to do with being surrounded by grape vines and a university.

Day 5: Würzburg - Karlstadt - Marktheidenfeld
An early morning sail brings you to Karlstadt, while having breakfast. Once on the bike, you skip from one medieval village to another, following the sweeping S-curves as the river weaves past Germany's great beech and oak forest known as Spessart Woods "woodpecker hills" and Charlemagne's imperial hunting grounds. Bandits and poachers roamed here for centuries looting caravans traveling on old salt and glass trade routes. It's the Sherwood Forest of Germany. And it is magical. Germans revere their forests. The route leads to Lohr am Main, a town with a colorful past; the plague in 1666 and witch hunts... the legendary home of real characters in Grimm's fairy tale Snow White and the Seven Dwarves. There will be much to see as you bike, castle ruins and dramatic rock formations. Overnight in Marktheidenfeld, in which, among other things, there's good ice cream

Day 6: Marktheidenfeld - Wertheim - Miltenberg
Today's destination is quintessential Miltenberg comes into sight. You'll discover crooked cobblestone alleys, medieval watchtowers and a village that looks like an Advent calendar lit up at night. The view across the river is a 14th century abbey cloaked in vineyards. Miltenberg is also home to Faust Beer and one of the oldest (continuously-operating) guesthouses in Germany. Since 1411, big names have stayed at Zum Riesen. Two of them are Napoléon and Elvis Presley! They would have eaten sausage, dumplings, potato salad too. The beer to wash it down comes from the brewery next door. Fresh and local.  You're in the heart of Germany and this is why you travel!

Day 7: Miltenberg - Aschaffenburg
The Main River path leads you along to Kloster Engelberg, a still functioning monastery, visited by walking quite some stairs…..with a Gastwirtschaft at the top and a great view on the river. At Park Schoenbusch you will find a classical English style Garden before you reach your final destination on this great tour: Aschaffenburg.

Aschaffenburg was mentioned in a charter drawn up by Emperor Otto II in 974 BC, and bygone centuries have fortunately lived on in its architecture to this day. The most fascinating buildings are the Stiftsbasilika, which was first documented in the 10th century, and the unique Pompejanum. Built in the mid-19th century for Ludwig I of Bavaria in accordance with the excavation plans of the "Castor and Pollux" villa in Pompeii, this Roman villa now houses important exhibits from the Bavarian antique collection. Archbishop and elector Johann Schweikard von Kronberg bequeathed Johannisburg castle to Aschaffenburg, which is one of the most important Renaissance castles of the western world. Empress Maria-Theresia, Napoleon Bonaparte and many heads of state appreciated and enjoyed their hospitality of the castle's owners.

Day 8: Aschaffenburg
Departure.

Looking for a different flavor?  Check out our entire list of bike and boat tours or view all our featured bike trips, news, and specials.

 

Boats

Accommodations aboard the Premium class vessel, the Iris, or the Deluxe class vessel, the Quo Vadis

Premium

4.7 out of 5 (10 Reviews)

Premium Class Barge

The Iris is a refitted freight barge that accommodates 24 overnight passengers. The interior of the Iris is fresh, tasteful, and comfortable. This vessel can navigate on most rivers and canals in the Netherlands, Belgium, and Germany. On the top deck, you will find the lounge, a roomy sitting area, a cozy bar, and a sun deck. The whole barge has central heating and air-conditioning.

Deluxe

5 out of 5 (10 Reviews)

Deluxe Class Barge

The beautiful MS Quo Vadis, a refurbished cargo barge, was put into service in April 2006 as a bike and boat vessel and continues to be lovingly maintained by her owners Jan de Waard and Ina Middelburg. The ship exudes a comfortable but stylish ambiance that will put you right at home. The upper deck with restaurant, bar, and terrace will find you relaxing and enjoying newfound camaraderie. Delicious dishes prepared with fresh, organically grown products, whenever possible, will be a highlight.

Inclusions

What's Included

7 nights accommodation
Climate-controlled cabins
Breakfast
6 three-course dinners on board
Packed lunches for bike trips
Coffee and tea on board
Tour guide

Iris: (from 18 guests, 2 guides)
Quo Vadis: 2 guides
Cabins cleaned daily
Bicycle rental

Iris: 11 gear hybrid touring bike rental, helmet, pannier, and water bottle. Bike protection is included.
Quo Vadis: VSF Fahrradmanufactur T-50 Shimano Nexus 8-speed trekking bike.
Wifi

Important to note, due to steel construction of the ship, cruising locations, and other factors, Wifi signal speed and strength may not be what you are accustomed to and may not meet your expectations. If you are dependent on a constant, strong, fast, and reliable signal at all times, please consider a personal hot spot.

What's Not Included

1 dinner
Entrance fees for museums, monuments, and other excursions not mentioned in the program
Beverages (other than mentioned) and other miscellaneous expenses
Electric bike rental available for a supplement. See pricing.
Gratuities
Bike protection (Quo Vadis)
Travel insurance

Dates & Pricing

Dates

Iris:

Aschaffenburg to Bamberg: August 22, 2020
Bamberg to Aschaffenburg: August 29, 2020

Quo Vadis:

Bamberg to Aschaffenburg: August 14, 2021

Iris:

Aschaffenburg to Bamberg: September 4, 2021

 

Please Note

Rates are based on double occupancy

Pricing

Iris: 

Twin:  $ 2432 £ 1343 $ 2,299 € 1470 $ 2577 kr 15629 $ 1,693 Single supplement on request

Quo Vadis:

 
Twin/double: $ 2308 £ 1274 $ 2,181 € 1395 $ 2445 kr 14832 $ 1,606 Single supplement on request

Iris

Twin: $ 2589 £ 1429 $ 2,447 € 1565 $ 2743 kr 16639 $ 1,802 Single supplement on request

 

Extra Options

Iris:

2020: Electric bike: $ 149 £ 82 $ 141 € 90 $ 158 kr 957 $ 104 2021: Electric bike: $ 157 £ 87 $ 149 € 95 $ 167 kr 1010 $ 109

Quo Vadis:

Electric bike:  $ 165 £ 91 $ 156 € 100 $ 175 kr 1063 $ 115  

Extra Info

Skill Level — Easy–Moderate

The majority of this route follows the Main River Cycle Path, given a 5-star rating by the German Association of Cyclists. Limited cycling along roads with traffic and necessary when entering or exiting villages and cities. The average distance is 40 km.

Travel

Fly to Frankfurt International Airport

Local Travel

From the Frankfurt International Airport, you can take a train to Aschaffenburg or Bamberg depending on your tour start and then a taxi to the boat. Train travel time to Aschaffenburg is approximately 45 minutes on a direct train and to Bamberg, it is about 2 hours and 45 minutes, generally with one transfer.

Climate

Please check local conditions before your arrival. A good web site to research regional weather including average high/low temperatures, average rainfall, and more is weatherbase.com.

Day of Rest

Any day can be used as a day of rest by remaining on board.

Remarks

Electric bicycles available.

Additional Travel Details

Documents:

Before you travel, please check your country's passport and visa requirements and the passport and visa requirements of the country/countries you plan to visit. For US citizens, the US Department of State website is a good source of information. The Country Information tab in the International Travel section provides details about passport validity, blank passport pages required, etc. For our other international clients, please be sure that you research your own country's travel requirements. It is each traveler's responsibility to ensure proper documentation.

*Important note: Beginning July 1, 2021, additional documentation from the European Travel Information and Authorization System (ETIAS) will be required to visit any of the 26 Schengen-member countries for tourism, business, medical, or transit. This is an additional check on security rather than a visa.

Photos
Have you been on this tour?
Please leave your feedback