5

/

5

(

3

reviews)
Merzig to Cochem
Germany Bike + Barge Tours
Bike and boat along the Saar and Moselle Rivers
Cycle along the Saar and Moselle rivers on this bike and barge tour in Germany through charming cities and villages. You begin in either Merzig, not far from the French border, or Cochem, a charming town along the Moselle. As you pedal to Saarburg, you pass through the Saarland, a small and somewhat mysterious region of Germany that possesses some of the most beautiful forests in all of Germany. Mountains laced with vineyards will be your backdrop as you travel this beautiful river landscape.

Other highlights of this tour include:

Saar loop
Trier
Mehring
Bernkastel

The entire Mosel area is simply enchanting, synonymous with magnificent landscapes, romantic wine villages, and lovely biking and boating!

Interested in our full list of bike and boat tours in Germany?

2020

Twin/double: $ 2744 £ 1352 $ 2,369 € 1495 $ 2825 kr 16679 $ 1,678 Single supplement: Only on request!

extra

options

Electric bicycle rental (per day, advanced reservation required): $ 55 £ 27 $ 48 € 30 $ 57 kr 335 $ 34

please

note

Rates are per person based on double occupancy.

A non-refundable admin fee of 20 Euros per person is included in the deposit amount.

Information to read before you book.

We recommend purchasing bike trip insurance.

† Currency exchange rate set 90 days before travel.

Travel

Fly to Frankfurt International Airport (FRA).

Local Travel

Frankfurt Airport is well connected by public transportation. Frankfurt Airport Train Station, located next to Terminal 1, offers connections to popular German cities via Deutsche Bahn, the national railway company of Germany. There are local S-Bahn lines (lines S8 and S9) that take travelers into central Frankfurt in about 10-15 minutes and to other cities in Germany. Train travel from the airport to Merzig is about 3 hours and will entail one or two transfers depending on the time of departure and type of train. Frankfurt to Cochem is approximately 2 1/4 hours with one or two transfers.

Climate

For those tours starting in October, this time of year is known as "Golden October" for good reason. If the weather cooperates, you will enjoy the colors of autumn. Cooler temperatures mean lovely brisk riding and fewer tourists as well! Do check local conditions prior to arrival. In most of Germany, the climate is moderately continental, with cold winters and warm summers. Please check local conditions before your arrival. A good website to research weather-related facts is weatherbase.com.

Remarks

Electric bikes are available onboard and can be rented on a per diem basis. Advanced reservation is required.

Documents

Before you travel, please check your country's passport and visa requirements and the passport and visa requirements of the country/countries you plan to visit. For US citizens, the US Department of State website is a good source of information. The Country Information tab in the International Travel section provides details about passport validity, blank passport pages required, etc. For our other international clients, please be sure that you research your own country's travel requirements. It is each traveler's responsibility to ensure proper documentation.

*Important note: Beginning July 1, 2021, additional documentation from the European Travel Information and Authorization System (ETIAS) will be required to visit any of the 26 Schengen-member countries for tourism, business, medical, or transit. This is an additional check on security rather than a visa.

---
Where
You'll Stay
Accommodations on the Deluxe class boat, the Merlijn
What's
Included
Accommodations for 6 nights
Breakfasts, packed lunches, and 5 dinners
City tour of Trier
Wine tasting in Traben Trarbach
Tour guide
Daily cleaning of rooms
27-speed hybrid bike of the brand Sensa, a famed Dutch company. Bikes come equipped with hydraulic disc brakes, waterproof pannier, water bottle, towel, and universal helmet
Unlimited coffee, tea, and hot chocolate
Harbor fees
†Wifi
†Important to note, due to steel construction of the ship, cruising locations, and other factors, Wifi signal speed and strength may not be what you are accustomed to and may not meet your expectations. If you are dependent on a constant, strong, fast, and reliable signal at all times, please consider a personal hot spot. See our FAQ page.
What's
Not Included
Drinks other than mentioned
One dinner
Excursions other than those mentioned
Gratuities
Tour
Dates
2020
Merzig to Cochem:
July 25, 2020
Cochem to Merzig
August 1, 2020
Skill
Level
This is an easy, guided bike and boat tour with average daily distances between 20 and 42 km
Tour
Boats
Day-To-Day
Itinerary
Merzig to Cochem
Day 1: Arrival in Merzig
Day 2: Merzig - Saarburg, 20 mi.  (32 km)
Day 3: Saarburg – Trier, 12 mi. (20 km)
Day 4: Trier – Bernkastel Kues, 26 mi. (42 km)
Day 5: Bernkastel Kues – Traben Trarbach
Day 6: Traben Trarbach – Cochem, 23 mi. (37 km)
Day 7: Departure from Cochem 
**All distances are approximate. The itinerary is subject to change, even on very short notice,  due to changing wind and weather conditions and other unforeseen circumstances having to do with mooring requirements, docking location changes, lock repairs,  etc.
Day 1: Arrival in Merzig
Embarkation begins in Merzig at 3:30 pm. The crew will welcome you on board and while you enjoy a welcome drink you will get information about the ship, the tours, and the bicycles. After dinner there is time for a stroll through Merzig, with edifices dating back over eight centuries and opportunity to visit museums as well.
Day 2: Merzig - Saarburg, 20 mi. (32 km) 
Today's tour takes you through the wonderful Saarland region. More than any other region, it symbolizes the "rendezvous in Saarland", junction of water and land. From Merzig it's about 10 km to the excellent viewpoint over the landscape and the Saar loop, the renowned river bend of the Saar. As the route continues to Saarburg, it passes through the village of Mettlach.
Once you arrive in Saarburg, you may complete your trip with a city tour and enjoy a splendid view over the city and the Saar valley. You will be impressed by the narrow alleys, framework houses, Baroque constructions, as well as the colorful fishermen and sailor houses. The master architect of Berlin, Karl Friedrich Schinkel, named the ensemble of romantic houses and small bridges on the Buttermarkt,  "Little Venice" in the 19th century. Dinner this evening will be at your own expense in one of the many restaurants in Saarburg. 
Day 3: Saarburg – Trier, 12 mi. (20 km) 
Your adventure continues by following the Saar River 'downstream'. At Konz the Saar meets the Mosel river, and along its banks, you continue your bike tour to Trier. A guided city tour through this magnificent city is on the agenda. Trier was the Roman capital of the western part of the Roman Empire. There are still many remainders such as the Porta Nigra, the gigantic city-gate, and the Roman Baths. 
Day 4: Trier – Bernkastel Kues, 26 mi. (42 km) 
Enjoy your breakfast while cruising from Trier to the holiday resort Mehring. The Roman poet Ausonius sang of the beautiful landscape more than 2000 years ago and the Romans built many splendid country villas here. After visiting Neumagen-Drohn, you will bike further on to Bernkastel-Kues, where magnificent framework houses line the marketplace. Overnight will be in this lovely city.
Day 5: Bernkastel Kues – Traben Trarbach 
Bernkastel is a lovely town and there is opportunity to explore a bit more in the morning. Back on the bike, the route leads again along the meandering Mosel river, passing charming villages and vineyards. Tonight Henk and Jantien, owners of the Merlijn and your host and hostess, will offer you a wine tasting at the winery Friedrich Storck. 
Day 6: Traben Trarbach – Cochem, 23 mi. (37 km) 
​As you enjoy breakfast, the barge takes you to Zell, famous for its vineyard Zeller Schwarze Katz. From here, the cycling begins along the Mosel and passses through many charming villages, such as Alf, Sankt Aldegund, with opportunity to visit a wine cellar. You'll also visit Bremm and finally Beilstein. After exploring this interesting medieval village the final biking will lead to Cochem, where the Merlijn will await. Farewell dinner and overnight stay in Cochem.
Day 7: Departure from Cochem 
Disembarkation at 9 am, after breakfast.
Cochem to Merzig
Day 1: Arrival in Cochem
Day 2: Cochem - Zell - Traben Trarbach, 28 mi. (45 km)
Day 3: Traben-Trarbach - Bernkastel Kues, 28 mi. (45 km)
Day 4: Bernkastel Kues - Trier, 28 mi. (45 km)
Day 5: Trier - Saarburg, 16 or 34 mi. (25 or 55 km)
Day 6: Saarburg - Merzig, 20 mi. (32 km)
Day 7: Departure
Detailed itinerary coming soon!
Be sure to check out all of our featured bike and boat tours or our full list of bicycle tours.
Email or Call 800-951-4384 +1 570-965-2064
---
Merzig to Cochem
Boats + Barges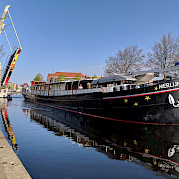 Merlijn Germany, Netherlands Deluxe Class Boat "The Divine Miss M" as we lovingly call the Merlijn is a diva, for sure. What can we say? Is it the luxurious cabins with most comfortable beds you have ever slept in? Is it the lovely dining area with the large windows and skylight that let the air, light, and sun pour in? Or perhaps it is the sun deck, where you can relax with newfound friends, sharing good wine and good conversation. We think you will find it is the entire divine package! Step onboard and discover for yourself!