Mur Cycle Path
Austria's Tuscany, from Gentian to Riesling
When rivers were the easiest way to travel, traders followed the Mur River on their way south from Salzburg to the Slovenian border. On this self-guided bike tour, you too will follow the river course through nature at her loveliest where more than 200 different bird species flourish surrounded by mountains towering 9000'.

Contrasted with stunning nature, will be your tour through Graz, the beautiful and historic capital of Styria, infused with the wisdom and relics of old and the vibrancy of youth, thanks to the many universities there.

Your tour will end in the fertile plains of South Styria, often called Austria's Tuscany, whose vineyards rival those of Italy. Be sure to enjoy the thermal spas in Bad Radkersburg.

Highlights:

Landscape of the Mur River
Graz, Unesco World Heritage Site
South Tyrolean wine by lake Calterio
Remote farms of the Lungau mountain farmers

Want to see more bike tours in Austria?

 
Cat. A
Cat. B
Season 1

£

700

$

1,103

€

735

NOK

7350

kr

6785

$

882

£

595

$

938

€

625

NOK

6250

kr

5769

$

750

Season 2

£

748

$

1,178

€

785

NOK

7850

kr

7246

$

942

£

643

$

1,013

€

675

NOK

6750

kr

6231

$

810

Single supplement

£

142

$

224

€

149

NOK

1490

kr

1375

$

179

£

119

$

188

€

125

NOK

1250

kr

1154

$

150

Dinners included

£

152

$

240

€

160

NOK

1600

kr

1477

$

192

£

116

$

183

€

122

NOK

1220

kr

1126

$

146

Season 1: April 29 to May 26 and September 2 and October 7, 2017
Season 2: May 27 to September 1, 2017

extra

options

Electric bicycle: £ 95 $ 150 € 100 NOK 1000 kr 923 $ 120

Extra nights available in every city, please ask us for pricing!
 

please

note

Rates are based on double occupancy.

Information to read before you book.

We recommend purchasing bike trip insurance.

† Currency exchange rate set 90 days before travel.
Skill
Level
From the spring of the Mur River to the Slovenian border, the Mur cycle path inclines by a total of 1,700 meters in altitude at a length of about 365 kilometers. From St. Michael to Bad Radkersburg you will cycle downhill another 870 meters in altitude. This clearly shows that the Mur cycle path mostly leads downhill. Some slight climbs have to be cycled during the first two stages, but you will always find yourself on tranquil bike paths. Route is well signposted and almost completely devoid of traffic. Daily distances are from 15 to 40 miles.
Where
You'll Stay
Option A: 3 star and 4 star hotels and guest houses
Option B: 3 star hotels, guesthouses and inns
What's
Included
Hotel accommodations for 6 nights in selected category
Breakfast buffets
Personal tour information upon arrival
Luggage transfer from hotel to hotel
Detailed route descriptions and documentation (maps, route-book, points of interest, important phone numbers)
7 day service hotline
21-speed hybrid bicycle
GPS tracks (must be requested in advance)
Bicycle protection
What's
Not Included
Remaining meals
Visitor's tax approx. €4-7 per person (payable upon arrival)
Extra
Stay
Possible in St. Michael and Bad Radkersburg upon request. Spa entrance included with extra night in Bad Radkersburg. (Option A)
Tour
Dates
Daily arrival from April 29 to October 7, 2017
---
Season 1: April 29 to May 26 and September 2 to October 7, 2017
Season 2: May 27 to September 1, 2017
Day-To-Day
Itinerary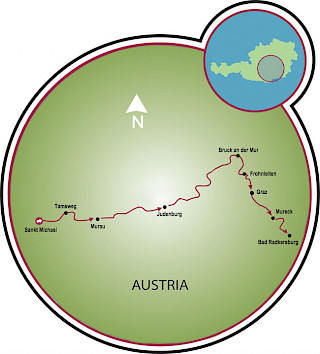 Day 1: Arrival in St. Michael in Lungau
Day 2: St Michael - Murau, 35 mi. (55 km)
Day 3: Murau - Judenburg/surroundings, 43 mi. (65 km)
Day 4: Judenburg/surroundings - Bruck an der Mur/Oberaich, 37 mi. (60 km)
Day 5: Bruck an der Mur/Oberaich - Graz, 37 mi. (60 km)
Day 6: Graz - Mureck, 41 mi. (65 km)
Day 7: Mureck - Bad Radkersburg, 16 mi. (25 km)
All distances are approximate.
DAY 1: Arrival in St. Michael im Lungau
Welcome briefing and distribution of tour information and rental bicycles. The market town of St. Michael's on the upper Mura river used to be a miners' settlement originating in the 12th century. Lungau is actually the most remote district of the state of Salzburg.
DAY 2: St. Michael - Murau, 35 miles (55 km)
Passing first through Tamsweg, an historic market town with a Rathaus (old town) from 1570, and a Baroque parish church from about 1741, you will also find an interesting local museum exhibiting items from peasant life. You will spend the night in the old town of Murau, nestled amid extensive forests in the upper valley of the Mura River. Murau is nestled at the foot of the Stolzalpe mountain, which rises to over 5900'. Sights in Murau, other than the spectacular scenery surrounding you, include the 13th century Murau Castle, the Gothic church and the Leonhard Temple. Every year in July, the European Shakespeare Days take place here, where you can watch the performances in English.
DAY 3: Murau - Judenburg/surroundings, 43 miles (65 km)
At the foot of the ragged peaks of Niedere Tauern, the river valley narrows. Passing through Frojach, you might want to visit the railway museum; in Frauenburg, the ruins of the fortress where Ulrich von Liechtenstein, medieval nobleman, knight and politician, lived and died. Cycling through Sauerbrunn, there is an ancient mineral water spring used during Roman times and still in use today. The final destination of the day is in Judenburg. Located on a plateau above the Mura River, it is an old hill town with many historical sites. The 14th century Magdalene Church, with its beautiful stained glass dating from 1370-1420 is worth a visit. At the southern end of the town's main square, stands the Town Tower, built in the late 1400's. It is 246' high and provides a lovely view of the town. On the banks of the Mura are the remains of a medieval castle worth exploring.
DAY 4: Judenburg/surroundings - Bruck an der Mur/Oberaich, 37 miles (60 km)
Bruck an der Mur is located at the confluence of the Mura and Murz rivers. It was founded in 1263 and was once a medieval trade center. You will want to visit the Göss Abbey, a former nunnery founded in 1004. The church is a large late Gothic building containing an early Romanesque crypt beneath the choir, some important early Gothic frescoes in the chapel of Saint Michael and an imposing roof. Also very interesting is the town hall and the medieval house of the corn merchants.
DAY 5: Bruck an der Mur/Oberaich - Graz, 37 miles (60 km)
Through the lush green that is Styria, this bike tour in Austria follows first to Frohnleiten, a typical example of a medieval market which has grown into a roadside village. Then, passing ancient farm buildings surrounded by old fruit orchards, you cycle by the fortress of Rabenstein into the Tanneben pine forest. Austria's largest stalactite cave, Lurgrotte, is located here. Also, the Austrian Open Air Museum, Stuebing, is very interesting. It is among the 10 largest and most spectacular open-air museums in Europe. There are original, historic rural buildings from all over Austria. Stuebing gives an insight into the peasant culture of Austria in the past. You will spend the night in Graz, the second largest city in Austria, overlooked by the prominent hill, the Schlossberg. Graz is known for its value on education as manifested by the six universities that are located here. The roots of Graz can be traced back to Roman times, when a small fort was built where the city center is today; Slovenians later built a larger fortress in the same place. You will want to visit the clock tower on the Schlossberg hill, also, Castle Eggenberg, which is the oldest family owned brewery in Austria. It dates back at least to the year 999 A.D. At this time the beer was brewed only for the inhabitants of the surrounding villages. Since 1681 the Castle Brewery Eggenberg has been brewing on a commercial basis. About 200 years ago the ancestors of the present owner bought the castle. There are also several museums in Graz that are worth a visit. The Old Town of Graz was added to the UNESCO World Heritage list in 1999 due to the blend of typical buildings from different time periods and architectural styles.
DAY 6: Graz - Mureck, 41 miles (65 km)
A highlight today will be the Seggau Castle, rising above Southern Styria's wine growing area. It can be seen for miles around. Its history goes back to Roman times and the lover of such will find satisfaction in the royal room with its perfectly preserved baroque furnishings, considered a true artistic treasure. The wine connoisseur will covet the 300 year old wine cellar stocked with wooden barrels. The castle's vineyard was once an episcopal vineyard, dating back to the baroque period. Be sure to visit the unique river mill, the church and the town hall. Or perhaps venture to neighboring Slovenia and the Obermureck castle.
DAY 7: Mureck - Bad Radkersburg, 16 miles (25 km)
This is your short final stage with the Mura River as your constant companion. Bad Radkersburg is a spa town, sporting a thermal spring with a temperature of 80°C. It has the longest sunshine duration in Austria. To really appreciate the history of the town, start with the Heimatmuseum or town museum. Then make your way to the parish church which dates back to the 15th century. Its cemetery still contains several tombs of noblemen from the era when the town was an important defensive point against Turkish threat. Meander then to the main square. Most of the houses surrounding were built in the 15th and 16th century. You can see the traces of prosperity that the merchants of the town once enjoyed due to the significance of the River Mur. You will surely be tempted to extend your stay a day or two.
Additional Options:
Trip to the Spring of the River Mur approx. 35 mi. (55 km)
There is little traffic on the way along the river Mur to the national park town Muhr. You will cycle past colourful meadows to the car park Muritzen (transfer possibility for €70,- for up to 4 people incl. bikes, € 60,- for up to 4 people excl. bikes, 5-8 people: € 90,- incl. bike). From there, you will cycle uphill, on a partly very steep route (gradients of 12 % and 19 %) to the Stickler alpine hut. The last part of the way, you will walk to the spring of the river Mur on 1898 metres in altitude (about one hour hike). Then, you will ride your bike downhill back to St. Michael. Transfer possibilities depend on the weather and operate from the end of May at the earliest! Due to varying weather conditions, the information about transfer possibilities is subject to change.
Wine package in the wine trail of South Styria (only bookable from Monday till Saturday)
Spend a whole day under the banner of wine at Mansuet Troicher and it's Hotel Pension Steirerland. Start the day with a delicious breakfast and then take a walk through the reparian forest of Mureck. After a light lunch you get transferred by taxi to the wine trail of the winery Polz, who is one of the best wine growers of Austria. Here a wine tasting may not be missed! In the evening return to the accommodation where a 7 course dinner including a corresponding wine accompaniment is awaiting you. Then you can round off the evening in a leisurely manner at the in-house wine cellar. The package includes one night plus breakfast at the Hotel Pension Steirerland at Mureck, a light lunch, taxi transfer to the wine trail and back to the hotel, wine tasting at the winery Polz, 7 course dinner including wine accompaniment, a small farewell gift – price p.p. in a double room € 145,-
You can view all of our bike tours in Europe or look at our featured bike trips, specials, and news.
Email or Call 800-951-4384 +1 570-965-2064
---