Slovenia by bike
Bike by day and relax by night in Slovenia's green destination
On this unique bike tour in Slovenia, you bike the beautiful country side during the day, and enjoy the thermal spa resorts at night! While biking you will also take some unforgettable side trips to Austria and Hungary. This bike tour will be an experience you can never forget.

Did you know that Slovenia is the first country in the world to be declared a "green destination", underscoring the ocuntry's commitment to sustainable tourism? This boutique destination is situated in the heart of Europe, between the Alps and the Mediterranean Sea, and its Pannonian Plain, which is rich in healthy water springs.

Enjoy a diverse scenery due to the variety of landscapes and pedal through quaint and charming villages.. Excellent wines and culinary highlights will further enhance this experience not to mention the thermal spas in Radenci, Moravske Toplice, and Lendava.

Bike by day, relax by night!

Looking for more bike tours in Hungary?

2019 Prices

Season 1: £ 489 $ 986 € 571 $ 868 NOK 5425 kr 5007 $ 651

Single room: £ 567 $ 1,142 € 661 $ 1005 NOK 6280 kr 5796 $ 754

Season 2:  £ 532 $ 1,073 € 621 $ 944 NOK 5900 kr 5446 $ 708

Single room: £ 609 $ 1,228 € 711 $ 1081 NOK 6755 kr 6235 $ 811

Season 1: June 1 to June 28, 2019
Season 2: March 30 to May 31 + June 29 to October 26, 2019

extra

options

Dinners included:

6 dinners: £ 33 $ 66 € 38 $ 58 NOK 361 kr 333 $ 43

Extra Nights 2019

Therme Radenci

Season 1: £ 45 $ 90 € 52 $ 79 NOK 494 kr 456 $ 59

Single room: £ 57 $ 114 € 66 $ 100 NOK 627 kr 579 $ 75

Season 2: £ 50 $ 100 € 58 $ 88 NOK 551 kr 509 $ 66

Single room: £ 62 $ 124 € 72 $ 109 NOK 684 kr 631 $ 82

Moravske

Season 1: £ 50 $ 100 € 58 $ 88 NOK 551 kr 509 $ 66

Single room: £ 62 $ 124 € 72 $ 109 NOK 684 kr 631 $ 82

Season 2: £ 54 $ 109 € 63 $ 96 NOK 599 kr 552 $ 72

Single room: £ 66 $ 133 € 77 $ 117 NOK 732 kr 675 $ 88

Lendava

Season 1: £ 42 $ 85 € 49 $ 74 NOK 466 kr 430 $ 56

Single room: £ 54 $ 109 € 63 $ 96 NOK 599 kr 552 $ 72

Season 2: £ 45 $ 90 € 52 $ 79 NOK 494 kr 456 $ 59

Single room: £ 55 $ 111 € 64 $ 97 NOK 608 kr 561 $ 73

Transfers
Transfer Lendava–Graz, (1-4 pers.): £ 94 $ 190 € 110 $ 167 NOK 1045 kr 965 $ 125 Transfer Lendava–Radenci, (1-4 pers.): £ 77 $ 155 € 90 $ 137 NOK 855 kr 789 $ 103 Transfer Lendava – Maribor, (1-4 pers.): £ 86 $ 173 € 100 $ 152 NOK 950 kr 877 $ 114 Transfer Graz – Radenci, (1-4 pers.): £ 86 $ 173 € 100 $ 152 NOK 950 kr 877 $ 114 Transfer own bicycle: £ 17 $ 35 € 20 $ 30 NOK 190 kr 175 $ 23
Transfer must be reserved at time of booking. All those transfers are payable locally.

please

note

Rates are per person based on double occupancy.

Information to read before you book.

We recommend purchasing bike trip insurance.

† Currency exchange rate set 90 days before travel.

Travel

Fly to Marburg (MBX), Ljubljana (Laibach) (LJU) , or Graz(GRZ) airports.

Local Travel

From the airport, you can take a train to Radenci.

Climate

The average high/low temperatures in °F for the Maribor area is: March 50/33º, April 57/40º, May 66/48º, June 72/55º, July 76/58º, August 74/56º, September 69/50º, October 59/43º.

---
Where
You'll Stay
4 nights in 4-star Thermal Spa hotels in Radenci and Moravske Toplice, 2 nights in 3-star hotel Lipa (Thermal Spa Levanda)
What's
Included
Hotel accommodations for 6 nights
6 x breakfast buffets
Luggage transfer
Detailed route descriptions (one packet per room)
GPS tracks available
Entrance fees to Thermal Spas: Radenci, Moravske toplice, Lendava
Free WLAN in all hotels
24-speed hybrid bicycle with pannier and handlebar bag
Service-hotline (also accessible on weekends)
What's
Not Included
Lunches and dinners (dinners can be included for a supplement)
Transfer from/ to airport (available by request)
Extra
Stay
Stay an extra night in Ptuj before the tour, or Moravske Toplice after the tour!
Tour
Dates
Arrivals every Saturdays from March 30 to October 26, 2019
Season 1: June 1 to June 28, 2019
Season 2: March 30 to May 31 and June 29 to October 26, 2019
Skill
Level
Easy to Moderate self-guided bike tour. Some of the cycling is flat while other parts can be hilly. You bike all on quiet field paths and country roads with very little traffic. Of course you may expect more traffic while entering the bigger towns.
Day-To-Day
Itinerary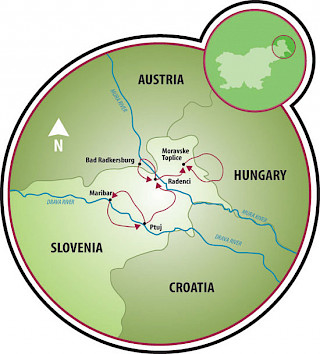 Day 1: Radenci
Individual arrival to Radenci.
Day 2: Radenci – Bad Radkersburg – Radenci, approx. 26 miles (42 km)
What about a short side-trip to Austria? Along the River Mur you depart from Radenci and cycle through the Nature Reserve of Goricko, visit the interesting town of Bad Radkersburg (Austria) and return to Radenci.
Day 3: Radenci – Moravske Toplice, approx. 25 miles (40 km)
Cycle to the "Granary of Slovenia", the fertile region of Prekmurje. Moravske Toplice. Today's final destination is one of the most lush and modern Thermal Spas of Slovenia. 
Day 4: Roundtrip to Hungary, approx. 33 miles (53 km)
Today's visit to neighboring country Hungary is a fascinating and beautiful distraction. You can visit a pottery shop and acquire souvenirs while admiring the Art of Pottery. Back in Slovenia relax at the Bukovnica Lake.
Day 5: Moravske Toplice – Lendava, approx. 31 miles (50 km)
Today you cycle through stork landscapes and the Pannonian Bassin along the river Mur. You can visit the famous island of love. A few other highlights of this trip is the castle Beltinci with the bicycle museum as well as the really popular stork village called Velika Polana.
Day 6: Three country trip: Lendava – Croatia – Lendava, approx. 31 miles (50 km)
Today you cycle along the traces of the former oil springs to Croatia and back along the river Mur to Slovenia. You can visit the following sights: the first oil spring of the world in Peklenica, oldtimer museum in Selnica, dear labyrinth, the ferry and mill on the Mur river at Marof, the martins church at Muri and the open air museum and oil industry in Petišovci. A day of impressions and places of interest.
Day 7: Lendava
Individual departure or extend your stay in Lendava.
If you're looking for a different flavor, check out our full list of bike tours in Europe or view all our featured bicycle tours, specials, and news.
Email or Call 800-951-4384 +1 570-965-2064
---