5

/

5

(

3

ratings)
Tuscany - Montecatini to Florence
Italy Bike Tours
Bike in Tuscany, a cyclist paradise!
Take a bicycle tour in Tuscany, where the landscape is like a painting! Stylish villas, castles and farmhouses are sporadically scattered atop hills and in cozy valleys. Vast vineyards bear fruit to the region's famed Chianti, and widespread olive groves and historic monuments with age-old mosaics have attracted even the likes of Goethe. Biking in Florence on the cobblestone streets, you will roam the beautiful city that bore such greats as Dante and the Medici's, whose rule made Florence a powerful force during the Italian Renaissance. Giotto, Michelangelo, Leonardo da Vinci (who was born in the town of Vinci), Dante, and Raphael all had a hand in making Tuscany the unchallengeable master and treasure of art, science, trade and architecture.
As far as bucket list biking, Tuscany is on a short list of regions that should not be missed. It's beauty, history, and cuisine are spectacular and there is no better way to experience it than on a bike.
Looking for more bike tours in Italy?
Skill
Level
This self-guided tour is classified as difficult cycling, with sloping landscapes dotted with steeper inclines, but not overwhelmingly so. Average daily distance is about 30 miles. Though the daily routes are not too long, they can be strenuous, so we do recommend being in reasonably good physical condition for this tour.
Where
You'll Stay
Option A: Nicer 3-star and 4-star hotels some with swimming pools
Option B: 3 star hotels
Country hotels: Well chosen, Tuscan inns located on the outskirts of the towns. Every hotel has a swimming pool with the exception of Florence.
What's
Included
Hotel accommodations for 7 nights in your selected category
Welcome briefing
Tour information
Breakfasts
Luggage transfer
21 speed hybrid bicycle
Bus transfer Greve to Florence with bike
Sign posted route
Detailed route descriptions & maps (including places of interest)
7 day service hotline
GPS tracks available (must be reserved in advance)
Bicycle protection
What's
Not Included
Visitor's Tax (to be paid upon arrival) approx. €15-20 per person
Lunches
Extra
Stay
Extra night in Florence and Montecatini Terme available by request.
Tour
Dates
Arrival possible on Saturday from April 1 to Ocotber 14, 2017
Season 1: April 1 to April 28 and September 30 to October 14
Season 2: April 29 to May 26 and September 2  to September 29
Season 3: May 27 to September 1 
Day-To-Day
Itinerary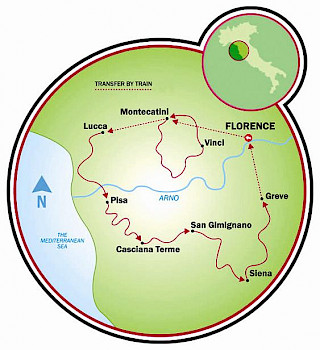 Day 1: Arrival in Montecatini Terme
Day 2: Montecatini Terme – Vinci – Montecatini Terme, 34 mi. (55 km)
Day 3: Montecatini Terme – Pisa, 25 to 56 mi. (40 to 90 km)
Day 4: Pisa – Casciana Terme, 31 mi. (50 km)
Day 5: Casciana Terme – San Gimignano, 34 mi. (55 km)
Day 6: San Gimignano – Siena, 31 mi. (50 km)
Day 7: Siena – Florence, 31 mi. (50 km)
Day 8: Departure from Florence.
All distances are approximate.
DAY 1: Montecatini Terme
Arrival in Montecatini Terme, the starting point of this bike tour in Italy. In the evening, there will be a tour review and additional tour materials and tourist information will be handed out.
DAY 2: Round tour, Montecatini Terme - Vinci - Montecatini Terme, 34 mi. (55 km)
Via small paths, you continue to cycle through Tuscany past the  vast agricultural plains and olive groves of the  Valdenievole Valley through Tuscan villages from Montecatini Terme to Vinci and back again to Montecatini Terme. Vinci is the birthplace of Leonardo da Vinci. Recommended  is a visit to the museum in the castle since it houses one of the largest and most original collections of machines and models of the inventor.
DAY 3: Montecatini Terme - Pisa, 25 to 56 mi. (40 to 90 km)​
On your way to Lucca, you will pass the small, medieval wine town of Monte Carlo where Tuscany's few white wines flourish. You can go by bike or train to Lucca. A bike ride on the historic city walls offers magnificent views of churches and towers that rise above the rooftops of the city. Then it is on to Lake of Massacciuccoli (also known as Lake of Giacomo Puccini) with a panorama of the sea and Pisa. 
DAY 4: Pisa - Casciana Terme, 31 mi. (50 km)
Many fertile fields line the way on the route from Pisa along the River Arno as you continue the tour through the hills. The gentle slopes are draped with grape vines, olive groves and peach trees. Quiet paths lead through medieval villages until the final destination is reached, the spa town of Chianni.
DAY 5: Casciana Terme - San Gimignano, 34 mi. (55 km)
Cycle past vineyards and over soft hills in the direction of San Gimignano, the landscape today is like cycling through a Fattori painting. In earlier times here, each noble family owned his own tower - these towers now give San Gimignano it's unique flair.
Day 6: San Gimignano - Siena, 31 mi. (50 km)
Today your bike tour in Tuscany will take your through the wonderful landscape and architectural paradise of Siena. Each hill top view en route makes you forget the ascent. Once you reach the small fortified village of Monteriggioni, you will feel as if you have been transported back to the Middle Ages. The tour ends in Siena, a city that sits on three hills. The heart of the city, the huge piazza known as Il Campo, is where the Roman forum used to be.
DAY 7: Siena - Florence, 31 mi. (50 km)
Through the hilly Chianti-region, where the Chianti Classico comes from, you'll then head towards Greve, first passing through the charming wine village of Castellina.  From here follows a bus transfer to Florence (cost is included).
DAY 8: Departure
You can view all of our bike tours in Europe or look at our featured bike trips, specials, and news.
Email or Call 800-951-4384 +1 570-965-2064
---