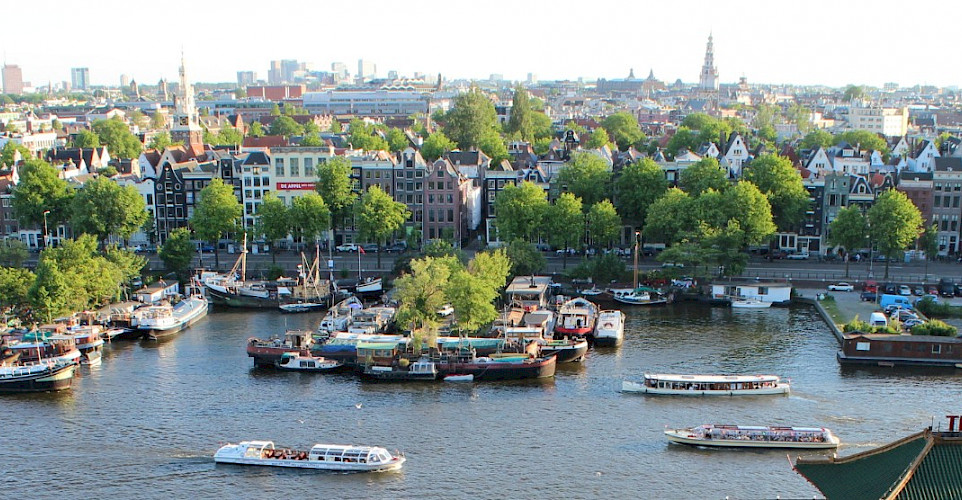 Overview

This small ship cruise in Europe reveals a different side of Holland, apart from tulips, windmills, and cheese. On a luxurious riverboat, you will cruise historic waterways, exploring the Netherland's road to liberation, from the German bombing of Rotterdam, to complete German occupation in 1940, to the total surrender of German forces in 1945.

This is a story of hope, courage, and the triumph of the human spirit in the face of near-impossible odds.

Onboard the enchanting Aurora, a 5-star ship, you will enjoy an understated elegance. Bring your family, friends, or special group, and enjoy exclusivity, tailored to your interests. From the professionally prepared food served in style, to the fresh flowers that adorn the tables, and the all-inclusive life on board with a touch of class, this will truly be a memorable experience.

Highlights

Rotterdam
Nazi concentration camp, Kamp Vught
Atlantikwall Museum and fortress
Corrie Ten Boom House
Fort Island
Amsterdam
Anne Frank House and Dutch Resistance Museum
Jewish Culture Quarter
Bevrijdende Vleugels/ Wings of Liberation Museum
Flexible itinerary can accommodate the most discerning adventure seeker or art and history buff
Lovely and luxurious accommodations
Professionally prepared food and drink

If history is not your thing, take a look at our other small boat cruises!

Itinerary

Day 1: Schiedam & Rotterdam
Day 2:  Schiedam – Delft – Leiden
Day 3:  Leiden – Haarlem
Day 4: Haarlem to Zaandam
Day 5:  Zaandam – Amsterdam – Alphen a/d Rijn
Day 6:  Alphen a/d Rijn – Gouda
Day 7:  Gouda – Schiedam

The activities and excursion within this itinerary can be tailored to your specific requests. Do you cycle? You can! Would you rather play golf on any given day? That is possible as well. Perhaps you want a day or two relaxing on board, soaking in the surroundings with a good book and a glass of great wine (yes, there is a jacuzzi on deck)! Each and everyone, regardless of your interests, will find that this is the trip of a lifetime.

Day 1: Schiedam & Rotterdam
Please arrive in the early afternoon as there is much to do and see! Schiedam, situated on the outskirts of Rotterdam, is quaint and fascinating in and of itself.

Upon arrival on board, you will be greeted by the crew and enjoy a champagne and canape welcome. Once settled in, an afternoon trip to nearby Rotterdam is on the agenda.  You tread a once war-torn city, whose medieval center was bombed by Germans on May 14, 1940, and almost completely destroyed. The strategy was to hastened Dutch surrender. As the city burned and people fled,  Holland was forced to surrender the next day.

You will visit The Destroyed City - a war memorial dedicated to those horrific days sculpted in bronze by Ossip Zadkine. The anguish captured is reminiscent of Picasso's Guernica, a painting immortalizing another German bombing and senseless carnage in Spain.  Zadkine commented about his work that it was, "A cry of horror against the inhuman brutality of this act of tyranny." 

You will also visit Grote of Sint-Laurenskerk, Rotterdam's only surviving late Gothic building. After the bombing of Rotterdam in the Second World War, the image of the heavily damaged church and the reconstruction work that followed became a symbol of all that the city and its people had endured. Here you will see before and after pictures of the bombing of the church and city.

You will also visit the palatial City Hall Rotterdam, an edifice that survived the bombing but whose scars, the bullet holes, are still evident. A stop at Museum Rotterdam '40-'45 Now transports you back in time, to the Rotterdam of May 1940. Personal stories, intense images, and dramatic sound immerse you as if you too lived the moment when life turned upside down.

Day 2:  Schiedam – Delft – Leiden
The morning will find you navigating to Delft. Breakfast and lunch will be on board and then disembarkation in Leidschendam. You will then experience an excursion to the Atlantikwall along the coast starting from Hoek in Holland with its Atlantikwall Museum and fortress. You will learn in chronological order about the history of Atlantikwall, bunker construction, labor, communications, and effects on the local population. You will gain  an understanding of the structure of this line of defense as it was implemented here, and along with other major parts of the European coast. The Germans considered the fortification in Hoek to be the most important position in all of the Netherlands as it denied invaders access to the Rotterdam port and the land behind it.

If you prefer, we can offer a walking route (wandelroute) along the Atlantikwall Noordwijk.

Day 3:  Leiden – Haarlem
Today features a cruise through the beautiful lake district of Kaag. In the spring, you will have extra color as you navigate the tulip fields. Final destination is the spectacular town of Haarlem. After lunch, there is a scheduled visit to the Corrie Ten Boom House. During the Second World War, the Ten Boom home became a refuge, a hiding place, for fugitives and those hunted by the Nazis (estimated 800 Jews and refugees were saved). By protecting these people, Casper and his daughters, Betsie and Corrie, risked their lives. This non-violent resistance against the Nazi-oppressors was the Ten Boom's way of living out their devoted testimony of Christian faith and active social work in Haarlem.

From here you can walk through the beautiful streets of the center until you get to Ripperda Barrack buildings and past the Former House of Hannie Schaft (who was very active in the resistance during World War II). Her story is a fascinating and inspiring read.

Day 4: Haarlem to Zaandam
You depart from Haarlem via a Spaarndam lock and onto the big North Sea Canal until Zaandam, the mooring place for the night. After lunch, there is an opportunity to visit IJmuiden – full of points of historical interest such as bunkers, museums, monuments, and cemetery. Fort Island IJmuiden (Dutch: Forteiland IJmuiden) is situated at the estuary of the Noordzeekanaal and is part of the Defence Line of Amsterdam. This sea fort island was built in 1885 as the most important advanced defense post of the entrance to Amsterdam. The beautiful, half underground fort is the biggest of the Defence Line and a UNESCO-World Memorial. During the Second World War, the Fort island was part of the Atlantikwall ( fortifications along the coast of Europe)  which explains the presence of the later built bunkers.

Day 5:  Zaandam – Amsterdam – Alphen a/d Rijn
You cruise through the heart of Amsterdam early in the morning to disembark and spend most of the day learning about Amsterdam and how it was impacted by the Second World War. There are a couple of options:

A)
Now converted into a museum, this is where Anne Frank lived in hiding with her family for two years. You will to learn about the horrors of war and Jewish persecution as portrayed in this young girl's diary. Through Anne's eyes, one learns the history of the eight people in hiding and those who helped them. Also, on the agenda is a visit to the Verzetsmuseum or Dutch Resistance Museum, chosen as the best historical museum of the Netherlands. This tells the story of the Dutch people in the Second World War. From the 14th of May, 1940 to the 5th of May 1945 the Netherlands was occupied by Nazi Germany. The choices and dilemmas facing the population became more and more far-reaching. How did Dutch people respond? Who resisted? Why and how? You'll see, hear, and read fascinating stories about the exceptional, as well as about everyday life.

OR

B) Jewish Culture Quarter
The Jewish Culture Quarter is located in Old Amsterdam and was the Jewish neighborhood (Jodenbuurt) at the time of WWII. Several institutions are located here,  preserving the memory of  past Jewish life and culture of the area. All these institutions are located in the vicinity of the Waterlooplein and the Plantage Middenlaan area. You can visit the Jewish Historical Museum, Portuguese Synanogogue (one of the most beautiful synagogues in the world), Ets Haim Jewish Library, Ets Haim Livraria Montezinos, the world's oldest functional Jewish library,  and the Hollandse Schouwburg, a theater which during the German occupation served as the concentration place for Jews before their deportation to the Nazi concentration camps. Today, it is the main Holocaust monument in the city along with the Anne Frank's House.

Also located here is the National Holocaust Museum but this is currently closed due to renovations.

Day 6:  Alphen a/d Rijn – Gouda
Gouda is your destination today.  Apart from being a mecca for cheese lovers, possible options here would include a visit to a Nazi concentration camp, Kamp Vught near 's Hertogenbosch. The camp was opened in 1943 and held 31,000 prisoners. 749 prisoners died in the camp, and the others were transferred to other camps shortly before the camp was liberated by the Allied Forces in 1944. After the war, the camp was used as a prison for Germans and Dutch collaborators. Today there is a visitors' center with exhibitions and the memorial Nationaal Monument Kamp Vught remembering the camp and its victims.

From Kamp Vught, there are three options.

A) Uden Cemetary (with 703 fallen allied soldiers from British Commonwealth) 

OR

B) Bevrijdende Vleugels/ Wings of Liberation Museum 
A museum with an impressive story about the period 1930-1945. Completely renovated and on a central location between Best and Son. The museum is located near a former landing-zone used on the 17th of September, 1944 during Operation Market Garden. In several halls, the occupation, the German repression, and the liberation of the Netherlands are told. Shown are vehicles, weapons, photographs, and 3D-movies.

OR

C) General Maczek Museum + Memorial on Polish War Cemetery in Breda
This museum is dedicated to the brave men and women of the 1st Polish Armoured Division who, under command of General Stanislaw Maczek, liberated parts of Dutch land from German occupation and oppression during 1944 and 1945. The Polish soldiers brought freedom and nourishment and gave the Netherlands the possibility to start the reconstruction of the country. As you return to Gouda, you will pass by the beautiful and very informative Biesbosch Museum with its freely accessible outdoor museum De Pannekoek.

Day 7:  Gouda – Schiedam
A very early morning cruise through Dutch countryside down the winding IJjsel through the port of Rotterdam and to the  final stop in Schiedam. Guests have final breakfast aboard the Aurora during the cruise and in the late morning hours, you will disembark and be taken back to airport/hotels of your choice.

Boats

---

Deluxe Class Motor Yacht

Onboard the Aurora, an ultra-deluxe vessel, you can enjoy a unique bike and boat or luxury river cruise peppered with various activities in style, enjoying professionally prepared quality food, personalized service, and itineraries as unique as you are. Read More

Inclusions

What's Included

Accommodation for 6 nights in king suites with large, private bathroom
All meals with beverages included
Open bar with a large selection of delicious wines and cocktails
Airport transfers
Use of bicycles
Daily attractions with entrance to museums

What's Not Included

Flights
Gratuities
Extra activities
Travel insurance (mandatory)

Dates & Pricing

Dates

2021

Please let us know which Sunday you would like to begin your experience and we will check availability for you!

Please Note

Rates are based on double occupancy

Pricing

King/twin suite

$

6653

£

3650

$

6,328

€

3995

$

7002

kr

41623

$

4,835

Single supplement
On request

 

Extra Info

Airport Info

Fly to Amsterdam International Airport, also known as Amsterdam Schiphol Airport (AMS).

Local Travel

Airport transfers are included in your tour price. All you need to do is arrive and you will be welcomed at the airport and transferred to Schiedam.

Climate

The Netherlands has a temperate maritime climate influenced by the North Sea and Atlantic ocean. Please see below for Average Monthly Weather.

Remarks

Before you arrive, you will be sent a questionnaire requesting details to help the captain and crew prepare for your arrival. What are your interests? Art, history, food, wine, architecture, flowers, cycling? Any special diets or restrictions? What type of wine do you prefer? Dry or sweet? When you step on board you will find the bar has stocked your favorites and the chef is waiting to prepare his specialites. The guide and crew will be ready to assist in organizing museum visits and town walks or to book a special excursion.

Important to know

Travel Documents

It is each traveler's responsibility to ensure that you are in compliance with the country or countries you plan to visit.  This includes and is not limited to passport validity, visa requirements, and acquisition, blank passport pages required for your destination (s), etc.

US citizens:  A good website to research the requirements of the Schengen Agreement and entry into other countries is travel.state.gov.
Non-EU and EU residents: Please research the requirements of your country of residence for international travel and your destination country or countries.

*Important note: Please check on the  European Travel Information and Authorization System (ETIAS) status as once implemented, this will be required to visit any of the 26 Schengen-member countries for tourism, business, medical, or transit. This is an additional check on security rather than a visa.

Life on board

Food & beverages

All food is freshly prepared by your private gourmet chefs. You will be offered an extensive list of his specialties to enable you to choose your menu. All guests have the choice to eat their favorite food or experience new flavors based on a la carte menus. Products used are local and many times organic, bought daily to ensure freshness. Each meal is accompanied by a selection of the finest wines from France and all over the world.

Daily included excursions

You will have the opportunity to visit many museums during your time on board and to enjoy walking excursions with the guide, shopping in the towns, and much more.  A support vehicle is available to provide transportation and to cater to the varied interests of the guests onboard.

Extra activities

Besides golf, other activities that are possible are biking, tennis, shopping, antiquing, museum hopping, exploring the local culture...just ask!

Photos
Have you been on this tour?
Please leave your feedback