4.9

/

5

(

20

ratings)
Southern Dalmatia
Croatia Bike + Barge Tours
An island hopping Croatia Bike Tour
Dalmatia is a region located along the eastern coast of the Adriatic Sea in Croatia. It has become the new hot place to travel to. Tourism in Dalmatia has been rising due to its many spectacular beaches, the tempting waters of the Adriatic, the many coves, islands and channels as well as national parks and favorable climate. This great Croatia bike tour, specifically located in Southern Dalmatia, the smallest and most sparsely populated region, will take you past unique little towns and through the beautiful island countryside. This bike tour in Croatia let you experience the beautiful island of Korcula with its picturesque old town, the wine growing peninsula of Peljesac and to the south of the peninsula, the island of Mljet with its impressive national park. The tour guide will guide you through the towns of Trogir, Hvar, Stari Grad and Korcula, which are almost all protected as UNESCO World Heritage Sites.

Check out our other incredible bike and boat tours in Croatia.

2019 

Romantica: 
April 20, May 4, and October 12 departure: £ 1106 $ 2,228 € 1290 NOK 12255 kr 11312 $ 1,471 All other departures: £ 1191 $ 2,401 € 1390 NOK 13205 kr 12189 $ 1,585 Surcharge for cabin on or above deck: £ 129 $ 259 € 150 NOK 1425 kr 1315 $ 171 Surcharge for single cabin below deck: £ 429 $ 864 € 500 NOK 4750 kr 4385 $ 570   Surcharge for single cabin on or above deck: £ 600 $ 1,209 € 700 NOK 6650 kr 6138 $ 798

San Snova:
March 31, April 21, April 28, May 4, May 12, and October 5 departures: £ 1106 $ 2,228 € 1290 NOK 12255 kr 11312 $ 1,471 All other departures: £ 1191 $ 2,401 € 1390 NOK 13205 kr 12189 $ 1,585 Surcharge for cabin on deck: £ 129 $ 259 € 150 NOK 1425 kr 1315 $ 171 Surcharge for single cabin below deck: £ 429 $ 864 € 500 NOK 4750 kr 4385 $ 570 Surcharge for single cabin on deck: £ 600 $ 1,209 € 700 NOK 6650 kr 6138 $ 798

Kapetan Jure 
All departures: £ 934 $ 1,883 € 1090 NOK 10355 kr 9558 $ 1,243 ​Surcharge for cabin on deck: £ 86 $ 173 € 100 NOK 950 kr 877 $ 114 Surcharge for single cabin below deck: £ 343 $ 691 € 400 NOK 3800 kr 3508 $ 456 Surcharge for single cabin on deck:  £ 514 $ 1,036 € 600 NOK 5700 kr 5262 $ 684

extra

options

2019

Electric bicycle rental: £ 69 $ 138 € 80 NOK 760 kr 702 $ 91 (please reserve at time of booking as electric bikes are limited)

Hybrid bicycle protection: £ 9 $ 17 € 10 NOK 95 kr 88 $ 11

Electric bicycle protection: £ 17 $ 35 € 20 NOK 190 kr 175 $ 23

Parking space (in the event that you are bringing your own vehicle): €50 to €100

3-Day Post tour Extension in Plitvice Lakes and Zagreb

3 Star Double Room: £ 643 $ 1,295 € 750 NOK 7125 kr 6577 $ 855

3 Star Single Room: £ 729 $ 1,468 € 850 NOK 8075 kr 7454 $ 969

4 Star Double Room: £ 677 $ 1,365 € 790 NOK 7505 kr 6928 $ 901

4 Star Single Room: £ 763 $ 1,537 € 890 NOK 8455 kr 7805 $ 1,015

Discount on above prices without the need of transfers: £ 326 $ 656 € 380 NOK 3610 kr 3332 $ 433

Extra nights in Trogir

3 star Hotel Concordia:
Twin/double: £ 43 $ 86 € 50 NOK 475 kr 438 $ 57 Single room: £ 69 $ 138 € 80 NOK 760 kr 702 $ 91 Twin/double with sea view: £ 51 $ 104 € 60 NOK 570 kr 526 $ 68 Single room with sea view: £ 77 $ 155 € 90 NOK 855 kr 789 $ 103 3 star Hotel Pasike:
April and October:
Twin/double: £ 43 $ 86 € 50 NOK 475 kr 438 $ 57 Single room: £ 69 $ 138 € 80 NOK 760 kr 702 $ 91 May, June, and September:
Twin/double: £ 51 $ 104 € 60 NOK 570 kr 526 $ 68 Single: £ 81 $ 164 € 95 NOK 903 kr 833 $ 108 July and Auguts:
Twin/double: £ 60 $ 121 € 70 NOK 665 kr 614 $ 80 Single: £ 90 $ 181 € 105 NOK 998 kr 921 $ 120 3 star Hotel Tragos:
April 1 to June 15 and October 2:
Twin/double: £ 43 $ 86 € 50 NOK 475 kr 438 $ 57 Single: £ 86 $ 173 € 100 NOK 950 kr 877 $ 114 June 16 to October 1:
Twin/double: £ 60 $ 121 € 70 NOK 665 kr 614 $ 80 Single: £ 86 $ 173 € 100 NOK 950 kr 877 $ 114 Extra nights in Split:
3 star Hotel Peristil
April and October:
Twin/double: £ 69 $ 138 € 80 NOK 760 kr 702 $ 91 Single: £ 107 $ 216 € 125 NOK 1188 kr 1096 $ 143 May to September:
Twin/double: £ 81 $ 164 € 95 NOK 903 kr 833 $ 108 Single: £ 129 $ 259 € 150 NOK 1425 kr 1315 $ 171

please

note

Reduction per person in combination with another Island Hopping trip: £ 43 $ 86 € 50 NOK 475 kr 438 $ 57   This tour is possible to book on a 'willing to share' basis
Reduction from the basic tour price for third person in a cabin (not possible on Kapetan Jure): -50%
Reduction from the basic tour price for children up to 16*: -25%
*Not possible to combine with the 50% discount

Rates are per person based on double occupancy.

Information to read before you book.

We recommend purchasing bike trip insurance.

† Currency exchange rate set 90 days before travel.

Travel

Fly to the airport of Split which is about 6 km from your port of embarkation in Trogir.

Local Travel

From the airport you can take a taxi to the ship at Harbor Trogir, approx. 6 km away for 15 Euro (± $25). We also can book the transfer for you, on embarkation and disembarkation days only. Cost is €15/person/per transfer. Reservation necessary.

Climate

Please check local conditions before arrival. The average high/low temperatures in °F for the area are: April; 63/48°, May; 71/56°, June; 79/63°, July; 85/67°, August; 84/67°, September; 78/61°, October; 69/54°

Recommended

Extra time in Trogir. The medieval town of Trogir is almost like a museum and well worth visiting. The primal reason is its marvelously preserved old town (built on an island) and also a World Heritage Site. Furthermore, countless cafes invite you to relax with some coffee, ice cream or a piece of cake. Trogir is also an ideal starting point for excursions to neighboring Split where you can also spend a night or two.

Remarks

Electric bikes available (maximum of 3 per ship). Please be aware that you will be part of an international group of people.

---
Tour
Dates
2019
Comfort Plus class boats:
Romantica: April 20, May 4, May 18, June 1, June 15, June 29, July 13, July 27, August 17, August 31, September 14, September 28, and October 12, 2019
San Snova: April 20*, April 27*, May 4*, May 25*, June 1, June 8*, June 15*, June 22*, August 24, August 31*, September 7, September 21*, and October 5*, 2019 
Comfort class boat:
Kapetan Jure: April 27, May 11, May 25, June 8, August 24, September 7, September 21, and October 5, 2019  
*THESE DATES CAN ALSO BE TAKEN AS A MOUNTAIN BIKE TOUR!
Skill
Level
This tour is rated moderate to difficult and feedback has indicated mostly difficult! Total distance is 220 km / 138 miles total.
This tour in Croatia requires a good level of fitness from participants, ideally acquired from steady, consistent cycling on varied elevation. Route conditions may include variations in height of between 200 and 500 m above sea-level. The day-tours from 20 to 50 km will take you through hilly and mountainous terrain and will be completed without any time-constraints. Participants will also need to master long and steep climbs, during which they are, however, also permitted to push their bikes. You are free to set aside a half or full day to swim or spend on board the boat, instead of taking a planned cycling day. Roads are mostly asphalted roads, which are rarely traveled on outside the holiday seasons.
Where
You'll Stay
Aboard the Comfort Class boat, the Kapetan Jure or the Comfort Plus boats, the Romantica, the San Snova.
What's
Included
Accommodations for 7 nights on board
4 days with all meals included and 3 with breakfast and either lunch or dinner
English-speaking tour guide
21-speed hybrid bike with bicycle bag or full-suspension bike from Cube
7 guided cycling tours as described in itinerary
Bed linen & towels
Overview maps for the daily tours on board
What's
Not Included
Visitor's tax, local charges, and unlimited water on board and during cycling: €40 (€20 for children 16 and under) to be paid on board
Drinks on board (tally sheet)
Tips for crew & tour-guide (optional)
Individual arrival to the ship
Bicycle Protection (€10 to €20/bike)
3-Day Post-Tour Extension in Plitvice Lakes National Parks and Zagreb (see Extra Stay below, pricing listed on the right under extra options)
Optional rafting adventure on Day 6 (€30 per person)
Extra
Stay
3-DAY POST-TOUR EXTENSION in Plitvice Lakes National Park and Zagreb
Saturday
After breakfast and disembarkation from the boat, a transfer will take you from Trogir to Plitvice Lakes, the most well-known of the Croatian National Parks. Upon arrival, you will have time to enjoy lunch and can then explore the park throughout the afternoon and evening. Night spent in a hotel near the park.
Sunday
After breakfast, a transfer will bring you to Zagreb, where you can spend the day exploring Croatia's amazing capital city. The old town, built by the Austro-Hungarian Empire, will charm you at every turn. A 3-hour guided tour will take you to the Kaptol (center of the Roman Catholic Church in Croatia) and Gardec (the upper old town). In the evening, enjoy dinner at a specially selected restaurant offering local cuisine. Night spent in a hotel in Zagreb's town center.
Monday
After breakfast, a transfer will take you to Zagreb airport for your journey home.
Extension Package Includes:

Transfer from boat in Trogir to Plitvice Lakes (3 hours)
Entrance fee into Plitvice Lakes National Park
3 or 4 star hotel near Plitvice Lakes National Park
Transfer from Plitvice Lakes to Zagreb (2.5 hours)
3-hour guided sightseeing tour in Zagreb (entrance fees to sights not included)
Dinner in a local restaurant in Zagreb
3 or 4 star hotel in Zagreb city center
Transfer from Zagreb hotel to Zagreb airport
Taxes
*Optional add-on: Sightseeing Bike Tour in Zagreb: €15 per person
EXTRA NIGHTS: In Trogir, at the 3-star Hotel Adria located 3 km outside of Trogir or stay at the 3-Star Hotel Concordia located in the old town of Trogir.
Day-To-Day
Itinerary
Day 1: Trogir (Embarkation) – Island of Šolta
Day 2: Islands of Sôlta and Hvar, 12 mi. + 12 mi. (20 km)
Day 3: Islands of Hvar and Korčula, 14 mi. (22 km)
Day 4: Korčula Island, 38 mi. (60 km)
Day 5: Brač Island, 17 mi. (27 km)
Day 6: Omiš - Split, 15 or 27 mi. (25 or 44 km)
Day 7: Split - Trogir, 9 mi. (15 km)
Day 8: Trogir (Disembarkation)
DAY 1: Trogir (Embarkation) – Island of Šolta
Individual arrival by car to Trogir or by plane to Split airport, which is about 3 miles or 5 km away from the boarding harbor of Trogir. After check in on the ship between 2 pm - 2:30 pm, the first small cruise begins at 3 pm from Trogir to Šolta Island. In the tranquil harbor of Stomorska, you spend the first night of the trip.
DAY 2: Islands of Šolta and Hvar, 12 mi. + 12 mi. (20km)
After crossing over to Stomorska on the island of Šolta, you commence the first tour. Walled fields, numerous olive groves, locust bean, and fig trees line the roads. The herbal scent of lavender and rosemary accompanies you along the tour across the island. Your visit to a local beekeeper offers an interesting impression into the production of local honey. After cycling around the island, you return to the ship in Stomorska. Your afternoon cycling tour on the Island of Hvar leads through the quaint harbors of Jelsa and Vrboska. Afterward, you return to Stari Grad, which has become a Mecca for artists and art lovers in the past few years.
DAY 3: Islands of Hvar and Korčula, 14 mi. (22 km)
Today's tour leads along the almost traffic free pass road through nicely set small villages to the island's capital, Hvar, where you will visit the magnificent Renaissance Square and enjoy the view from the Spanish Fortress, situated high above the city. After today's tour, the boat takes you to the Island of Korčula. Overnight stay in Vela Luka.
DAY 4: Korčula Island, 38 mi. (62 km)
Today discover the island of Korčula by bicycle and enjoy our lunch break in one of the local restaurants. The calmness and remoteness of the vast vegetation and cypress gardens have given the shape to the probably most beautiful Dalmatian island. Your cycle tour leads via the village of Blato, which like Rome was built on seven hills, and finally to Korčula town, where you have time to take a walk through the wonderful old town with its narrow "fishbone-like" alleys. Overnight stay in Korčula town.
DAY 5: Brač Island, 17 mi. (27 km)
Cruise to the island of Brač, which is famous for its shining white marble which was also used for the White House and the Reichstag in Berlin. After a lunch break, you start your bicycle tour from Sumartin to the lovely fishing village Povlja or to the picturesque town Pučišća. Overnight stay in Pučišća
DAY 6: Omiš - Split, 15 or 27 mi. (25 or 44 km)
After a morning crossing to Omiš, cycle through the valley of the Cetina River which is surrounded by steep rocks. After 11 mi./18 km you have the choice to take part on a four hours rafting tour on the Cetina River (not included in the tour price) and afterwards a small cycle tour of about 4 mi./ 7 km back to the boat - or to expand the cycling tour (no rafting) to 27 mi./44 km along small side roads and versatile landscapes until reaching Omiš and its pirate castles. In the afternoon your ship takes you to Split. The old town of Split, built adjoining the famous palace of the Roman Caesar Diocletian, is a world heritage site. Overnight stay in Split.
DAY 7: Split - Trogir, 9 mi. (15 km)
In the morning, you prepare for the last bike ride to Mount Marjan. A popular recreational site for the residents of Split, which offers fantastic views of the city and the surrounding islands. Afterward, you board the ship and enjoy the last crossing to Trogir. There is still plenty of time to visit the Old Town, listed as a World Cultural Heritage site. The last evening aboard the ship is celebrated in traditional fashion. While enjoying the communal dinner in a celebratory atmosphere, you will have the chance for a last get-together with the crew and tour guides.
DAY 8: Trogir (Disembarkation)
After breakfast, disembarkation by 9 am,  individual trip home, or extended stay in Dalmatia/Croatia.
Please note, minor itinerary changes are possible in 2019. 
*All distances are approximate. The above-planned itinerary is subject to change due to changing wind and weather conditions and other unforeseen circumstances having to do with mooring requirements, etc.
**There are times depending on weather conditions and organizational requirements that will necessitate the tour being conducted in reverse order.
If you're looking for a different flavor, check out our full list of bike and boat tours or view all our featured bike trips, specials, and news.
Email or Call 800-951-4384 +1 570-965-2064
---
Southern Dalmatia
Boats + Barges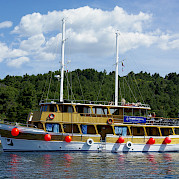 Kapetan Jure Croatia Comfort Class Boat Captain Anton and his crew form an experienced and friendly team, who know how to pamper their guests with delicious specialities. With its 15 cabins, the Kapetan Jure offers place for 30 guests. 11 of the cabins are on deck. 10 of these are furnished with 2 beds arranged side by side, while one cabin has bunk beds.The remaining 4 cabins are below deck and are furnished with a French bed (140 cm wide).
Romantica Croatia Premium Class Boat Captain Jure's Romantica, our brandnew ship in Croatia, was launched in May 2007. The ship is 32 m long and 7.6 m wide and possesses solid structural steelwork which, as the name says, connects romance with modern design and functionality.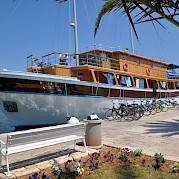 San Snova Croatia Premium Class Boat This ship, constructed entirely of oak, took 3 years to build by the Scherka familiy in their own carpentry workshop as a family project. The ship, 31m long and 8m wide, meets the highest expectations in regard to comfort, elegance and style, combining romantic seafaring with modernity and functionality.