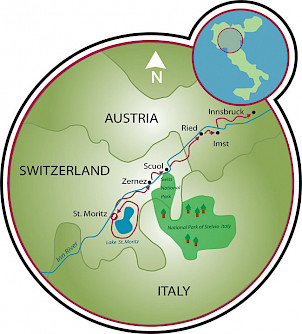 The Inn Cycle Path
This bike tour in Austria and Switzerland takes you through the lush Engadin region. In Romansch, which is the indigenous language of the area, "Engadin" literally translates as "the garden of the Inn River". The Engadin valley includes the entire area of the Inn River valley, its tributaries and the surrounding mountains. The Engadine region is stunningly beautiful. Its quaint villages, meadows full of wildflowers, valleys with gurgling brooks, and high rugged mountains take your breath away. An artist equipped with brush and colors would need weeks to capture the essence of this tour. The sensual impressions are too complex and the panorama in the villages of the Engadin are simply magnificent. The Inn cycle path leads through this outstanding landscape as the Engadin merges into the big forests of the Swiss National Park. Suddenly the scenery changes: the Austrian Bundesland Tyrol welcomes you with warm hospitality. The tour ends in Innsbruck where your stay in the Olympic city is one of the highlights of the Inn cycle path.
Be sure to check out all our bicycle tours in Austria and Switzerland, too!
tour
dates
Arrival every Friday (8 day / 7 night tour) and Saturday (7 day / 6 night tour) from May 8 to September 19, 2015
Season 1: May 8 to June 20 and August 30 to September 19
Season 2: June 21 to August 29
our contact information
Mailing Address
Pack & Pedal Europe, Inc.
218 Hunter Rd
Springville, PA 18844-9578
USA
Telephone
Toll Free in the USA/Canada: +1 800.951.4384
Phone: +1 570.965.2064
Fax: +1 570.965.0925
E-Mail
St. Moritz to Innsbruck
Make a Reservation
Before you book, please read this important information regarding our reservation and booking process.