5

/

5

(

5

ratings)
Tulip Tour - Bruges to Amsterdam
Bike Bruges and then see the beautiful spring flowers!
This cycling vacation takes you through the Belgian pearls of Antwerp, Ghent and on top of that, Bruges! In April and May all of Holland is blooming. Furthermore, this tour shows you some lovely old Dutch towns like Dordrecht and Gouda, famous for their delicious cheese! Highlight of this tulip themed bike and boat is a visit to the world famou Keukenhof! Though you will not cycle through the Bulb fields on this itinerary, the Keukenhof will be ablazed with colors.



All of our other bike and barge tours in Belgium can be found here.

2018

Merlijn:  £ 1278 $ 1,988 € 1320 NOK 13420 kr 12388 $ 1,610 Single supplement on request

Clair de Lune: £ 919 $ 1,429 € 949 NOK 9648 kr 8906 $ 1,158 Single supplement: £ 213 $ 331 € 220 NOK 2237 kr 2065 $ 268

extra

options

Tandem or electric bike rental on the Merlijn: £ 24 $ 38 € 25 NOK 254 kr 235 $ 31

please

note

Rates are based on double occupancy.

Information to read before you book.

We recommend purchasing bike trip insurance.

† Currency exchange rate set 90 days before travel.

Travel

Fly to Amsterdam.

Local Travel

Fly to Amsterdam or Brussels International Airports. Train from Amsterdam airport to Bruges, approx. 3¼ hr. at ± €40. Train from Brussels airport to Bruges, approx. 1.5 hr at ± €21.

Climate

Check local weather conditions prior to departure. Average high/low temp in °F for Amsterdam: April 53/40º and May 61/46º.

Remarks

Please note: tulip season in Holland extends from the end of March to the middle of May but is dependent on temperatures and the weather. Going early or late in the season may affect what is in bloom.

---
Tour
Dates
8 Day Tour:
On Comfort Plus boat:
Merlijn​: May 12, 2018 Sold out.
On Standard Plus boat:
Clair de Lune: April 14, and April 28, 2018
Skill
Level
Easy, guided bike & boat tour. Bicycle routes follow mainly flat bike paths & country lanes with little traffic. Occasionally heavier traffic is encountered when entering the bigger cities. Daily cycling distances range from approximately 16 to 25 miles (25 to 40 km). Guide bikes with the group but it's also possible to cycle on your own.
Where
You'll Stay
Click barge information for further details about the classes of boats.

What's
Included
On the Merlijn
Accommodations for 8 days/7 nights on board
Welcome drink
All meals: breakfast, packed lunches, and three-course dinners (excluding one dinner)
Entrance fee to the Keukenhof
24-gear tour bike, incl. water bottle, universal sized helmet and bike bag
Tour guide
Unlimited coffee, tea and hot chocolate during the trip on board and ice water during meals
Harbor fees
On the Clair de Lune:
Accommodations for 8 days/7 nights on board
Breakfasts, packed lunches, and three-course dinners
7 gear hybrid bicycle rental
Bicycle protection
Tour guide
Entrance fee to the Kinderdijk
Entrance fee to Keukenhof
Horse and carriage ride in Bruges
Train ride Ghent - Bruges - Dendermonde
Bus transfer from Amsterdam Airport to Ghent
What's
Not Included
On the Merlijn
Excursions not mentioned
Drinks on board
Biking maps (for sale on board)
1 dinner
Bicycle protection
Trip insurance
On the Clair de Lune:
Drinks on board
Trip insurance
On the Quo Vadis:
Insurances
Local transportation and airfare
1 x dinner
Entrance fees/excursions other than mentioned
Wine tasting
Drinks other than mentioned
Bicycle protection
Gratuities
On the Zwaantje
Insurances
1 x dinner
Drinks on board
Bike protection
Trip insurance
Entrance fees and excursions
Extra
Stay
We can always assist you with arranging extra days in Amsterdam or Bruges.
Day-To-Day
Itinerary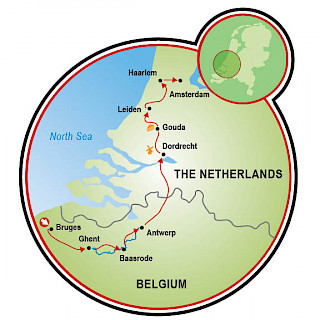 Aboard the Merlijn 
Day 1: Arrival in Bruges, cruising to Ghent
Day 2: Ghent - Baasrode, 24 mi. (40 km)
Day 3: Baasrode - Antwerp, 15 to 33 mi. (25 to 55 km)
Day 4: Antwerp - Tholen - Willemstad - Dordrecht, 15 mi. (25 km)
Day 5: Dordrecht - Gouda - Leiden, 21 mi. (35 km)
Day 6: Leiden - Keukenhof - Haarlem, 18 mi. (30 km)
Day 7: Haarlem - Amsterdam, 18 mi. (30 km)
Day 8: Amsterdam
Day 1: Arrival in Bruges, cruising to Ghent
The Merlijn, your sailing hotel, awaits you in Bruges. Check-in begins at 1 PM. Bruges, also called the Venice of the North, is probably the most beautiful of all Flemish cities. Its old center, dating from the Middle Ages, is almost completely intact. At that time, Bruges was a metropolis, the center of trade and art.  Please be sure your arrival time in Bruges gives you enough time to explore this charming city.  The Merlijn will leave for Ghent at 2 PM. You are welcome to leave your luggage on board before 2 pm so that you can explore the city. The crew will welcome you onboard and while you enjoy a welcome drink you will be informed about the barge and daily tours. During the cruise to Ghent, you will enjoy your dinner. 
Day 2: Ghent - Baasrode, 24 mi. (40 km)
Following breakfast on board, you will have time to explore Ghent. This is a lively university city with a rich history. This city has a rich past originating in Roman Times and is located at the place where the rivers, Leie, and Schelde converge. This favorable situation brought a great deal of prosperity over the years, which had its peak late 13th, early 14th century. The textile industry brought great wealth. In the city center, many old patrician houses have been preserved. In the Clothmakers' Hall (1425) textile merchants used to meet. The major church is St. Baafs' Cathedral, built in various ages and in various styles. In the cathedral, you can admire a number of medieval paintings, including, 'Adoration of the Lamb' by Jan van Eyck. After your lunch break in Ghent your biking tour to Baasrode will begin. Cycle along the river Zeeschelde, and follow this beautiful but capricious tidal river downstream to our destination Baasrode, a small village on the Schelde river.
Day 3: Baasrode - Antwerp, 15 to 33 mi. (25 to 55 km)
Today's tour follows the river Schelde further downstream via Temse to Rupelmonde. There is a beautiful bike path along the river and the landscape around the Schelde is magnificent. In Rupelmonde, board the Merlijn and cruise to Antwerp. This is not only known as the diamond city but also as the native city of the painter Rubens. In the Rubens House, you can admire his work. In the heart of the city, you will see the Cathedral of Our Lady and beautiful townhouses from a rich past are situated around the Market Square. Tonight you will enjoy your dinner on your own in one of the many local restaurants in Antwerp.
Day 4: Antwerp - Tholen - Willemstad - Dordrecht, 15 mi. (25 km)
After breakfast, you will have more time to explore the city of Antwerp. Your bike begins in Tholen, across the Oesterdam in the river Oosterschelde. This dam connects Tholen with Zeeland Flanders. Tholen was once an island in the middle of the large Zeeland streams, where many people were fishermen by trade. Today, Tholen is connected to the mainland in various ways, but it is still a picturesque village with many relics of an eventful past. From Willemstad, the Merlijn cruises to Dordrecht, one of the oldest towns of Holland. After dinner, you may want to stroll through this historic city.
Day 5: Dordrecht - Gouda - Leiden, 21 mi. (35 km)
Enjoy a walking tour through the charming old city of Dordrecht and later the barge cruises to the Kinderdijk. world famous for its impressive row of large windmills. They were built to drain the Alblasserwaard. You have the opportunity to take a tour inside one of the mills. From here, your cycling tour begins en route to Gouda, the city of cheeses and candles. Before cruising to Leiden you can stroll through the center of Gouda.
The barge takes you through one of the most beautiful parts of Holland, know as "the Green Heart of Holland". Leaving Gouda you pass Boskoop, famous for its horticulture, particularly woody plant, and perennial nurseries. Along the way, you pass small cities and villages such as Alphen aan den Rijn.
Finally, you reach Leiden. While exploring this city you will notice that its rich history still seems very much alive. This is where Rembrandt was born and developed his painting skills. Holland's first university is located here, dating back to 1575. It has since developed into a world-famous center of science and its many students contribute to the lively atmosphere of the city. After dinner, there is time to explore the charming center.
Day 6: Leiden - Keukenhof - Haarlem, 18 mi. (30 km)
While you enjoy your breakfast, the Merlijn takes you to Lisse, which is near the Keukenhof, a famous flower exhibition. Here you can admire all the beautiful tulips and other flowers that are cultivated in Holland. After your visit, cycle to the city of Haarlem, passing flower fields and great Dutch scenery. After dinner, take a stroll through the historical city of Haarlem and end your trip drinking the famous local "Jopen" beer in one of the many bars.
Day 7: Haarlem - Amsterdam, 18 mi. (30 km)
In the morning, explore the historical city of Haarlem a little more before your cycling tour starts. Its history goes back to the 10th century. Your tour ends in Amsterdam, the capital of the Netherlands. There is time to explore the city and you might want to include a ride through the canals. Later on, you may want to visit the Rijksmuseum or the Van Gogh museum. Enjoy a farewell dinner on board and city walk through the beautiful illuminated lively center of Amsterdam.
Day 8: Amsterdam
​Breakfast, check out, and departure.
Aboard the Clair de Lune
Day 1: Arrival 
Day 2: Ghent - Bruges - Dendermonde, 9 mi. (15 km)
Day 3: Dendermonde - Antwerp, 30 mi. (50 km)
Day 4: Antwerp - Willemstad, 28 mi. (45 km)
Day 5: Willemstad - Gouda, 24 mi. (40 km)
Day 6: Gouda - Oude Wetering, 15 mi. (25 km)
Day 7: Oude Wetering - Amsterdam, 18 mi. (30 km)  
Day 8: Departure
*All distances are approximate.
Day 1: Arrival 
After your arrival to the Amsterdam airport, a bus will be waiting to transport you to Ghent where you will meet  the barge and begin your cycling vacation. In the evening, a short guided walk or bicycle tour in the beautiful center of Ghent is on the agenda.
Day 2: Ghent - Bruges - Dendermonde, 9 mi. (15 km)
In the morning, you will travel by train to Bruges. Upon your arrival, a horse carriage ride and a short guided walk past the many historic monuments in the center of Bruges is planned. The rest of the afternoon is yours to further explore the city and visit the many highlights. You return by train to Dendermonde and in the evening, your tour guide will take you for a walk across the town center.
Day 3: Dendermonde - Antwerp, 30 mi. (50 km)
This morning, the barge departs for Antwerp. Cyclists will hit the road and enjoy the flat Flemish countryside. In Antwerp, the tour guide will invite you on a short walk through the town. For the rest of the afternoon and the evening, you are free to explore Antwerp's lively town center.
Day 4: Antwerp - Willemstad, 28 mi. (45 km)
In the morning we will cycle from Antwerp over the Belgian-Dutch border to the large Kreekrak locks. From there a sailing trip over the wide waterways of Zeeland takes you to the beautiful walled town of Willemstad.
Day 5: Willemstad - Gouda, 24 mi. (40 km)
During the first stretch of today's route you will sail aboard your hotel ship. On bike you visit the beautiful old Dutch town of Dordrecht and the world famous windmills of Kinderdijk. The overnight stay is in the cheese town of Gouda, where you may wish to join your tour leader for a short city walk in the evening.
Day 6: Gouda - Oude Wetering, 28 or 15 mi. (45 or 25 km)
You enjoy an easy bike ride right through some real Dutch meadowlands and end your trip in a small village called Oude Wetering. At most departures in April and May this day a visit to Flowerpark Keukenhof is planned (see: exclusive), the cycling itinerary will be shorter. You may enjoy the quietness of the rural Dutch countryside before you arrive in busy Amsterdam tomorrow.
Day 7: Oude Wetering - Amsterdam, 18 mi. (30 km)
This morning, you cycle to Amsterdam following the Amstel river all the way to the port. After arrival, you will have free time to explore Amsterdam.
In the evening, there is a guided city walk and you may wish to take a boat ride on the famous Amsterdam canals.
Day 8: Departure
Check out and departure after breakfast.
Important note for passengers aboard the Clair de Lune: Due to restrictions by Belgian naval authorities, passengers are no longer allowed to remain on board while the barge motors the Belgian waterways. Noncycling participants will be required to take a taxi or public transportation at their own expense. The tour leader will provide details on board. 
If you're looking for a different flavor, check out our full list of bike and boat tours or view all our featured bicycle tours, specials, and news.
Email or Call 800-951-4384 +1 570-965-2064
---
Tulip Tour - Bruges to Amsterdam
Boats + Barges
Clair de Lune France Standard Plus Class Boat In May 2014, Marco Pouw and his wife Astrid assumed ownership of the ship Clair de Lune. In the winter of 2014, the ship was renovated and made ready for a new bike and boat adventure in and around Paris, launching in the spring of 2015.Marco has great experience as a skipper on freighters in the Netherlands, Belgium and Germany and looks forward to this venture with great anticipation and enthusiasm.
Merlijn Germany, Netherlands Comfort Plus Class Boat The Merlijn has 12 luxurious cabins with two comfortable airbeds that can be pushed together or separated, a desk, a wardrobe closet, a hairdryer, and a safe. The lounge is comfortably furnished in a modern style with a restaurant area and lounge near the bar. You can enjoy fresh air, water, and nature in all weather on the sun deck. The entire ship is climate controlled and you can adjust the temperature in your own cabin.