3.8

/

5

(

9

ratings)
Tyrrhenian Sea
Italy Bike + Barge Tours
Bike Italy and the Amalfi Coast! See the country by land and sea…
This Italian cycling adventure takes you along the Amalfi Coast and Gulf of Naples, and inland to Pompeii, Sorrento, Ravello, and more.

The tour in Pompeii is especially profound, as you relive the terrible eruption of the volcano Vesuvius that buried thousands in poisonous ash.

Atop the majesty of Ravello whose dreamlike gardens inspired Wagner, you will gaze out upon the Amalfi coast. Explore the mystery of the impressive cathedral, the venerable Duomo, dedicated to San Pantaleone whose blood is a treasured relic and according to locals, liquefies every year.

Stand atop the mountain peak at Cimbrone and feast your eyes on what has been described as the most beautiful sight in all the world. A sight that legend claims was used to tempt Jesus himself.

Check out all of our bike tours in Italy.

2018 Prices

Price £ 1206 $ 2,144 € 1435 NOK 14470 kr 13357 $ 1,736

Single supplement: £ 630 $ 1,120 € 750 NOK 7563 kr 6981 $ 908

extra

options

Electric bicycle rental: £ 76 $ 134 € 90 NOK 908 kr 838 $ 109

Extra Night Prices

Naples (4* Hotel)
Per person/night: £ 57 $ 102 € 68 NOK 686 kr 633 $ 82 Single supplement: £ 104 $ 185 € 124 NOK 1250 kr 1154 $ 150

Transfer Prices

To or from Naples airport or train station: £ 76 $ 134 € 90 NOK 908 kr 838 $ 109 (total for 1-4 pax) 

To or from Naples airport or train station: £ 101 $ 179 € 120 NOK 1210 kr 1117 $ 145 (total for 5-8 pax) 

To or from Castellammare Circumvesuviana Central Station: £ 21 $ 37 € 25 NOK 252 kr 233 $ 30 (up to 8 pax) 

please

note

Rates are per person based on double occupancy.

Information to read before you book.

We recommend purchasing bike trip insurance.

† Currency exchange rate set 90 days before travel.

Travel

Fly into Naples airport. It is located 3.7 miles (5.9 km) north-northeast of the city in the Capodichino district of Naples

Local Travel

From airport, take the Alibus (€4) to Naples train station (15-20 minutes). From the station, take the Circumvesuviana train and exit at the Castellammare Centrale station (€2,8, 40-45 minutes). Then take a taxi to the Marina di Castellammare di Stabia.Private transfer available (with advanced reservation and payment) from/to the airport in Naples to/from boat. (4 people: €90 total, 8 people: €120 total, each way).

Climate

Please check local conditions before arrival. The average high/low temperatures in ° F are May: 72/55°, June: 79/62°, July 85/66°, August: 85/66°, September: 80/61°, October: 71/55°

Recommended

Soft luggage recommended.

Remarks

Please note that you will be touring with an international group.Also note, due to the nature of this tour, it is particularly vulnerable to adverse weather. During calm seas, the boat will anchor in "roadstead". It might be necessary during rough seas, to request entry into ports and the payment of docking fees. Tour participants will be responsible to share the costs of these fees.

---
Skill
Level
This Italy bike and boat tour is considered moderate with daily biking distances ranging between 19 to 25 miles (30 to 40 km). Terrain is hilly and each day there will be climbs to conquer on narrow roadways, sometimes with traffic. Difference in elevation is between 40 and 700 m per day. This tour requires a very good fitness level and command of the bike. On Day 2, you will cycle mostly on country roads, Day 3 and Day 4, you will ride the Amalfi Coastal Road which is open to traffic. There are no bike paths on the coast. On Day 5, you will hike on paths that overlook the sea. Day 6 will be a combination of secondary and coastal roads (open to traffic). Day 7 consists of hiking on secondary roads or paths.
Where
You'll Stay
Aboard the Turkish gulet, the Deriya Deniz. A gulet is the traditional design of a two-masted wooden sailing vessel from the south-west coast of Turkey. Though this is traditionally a sailing vessel, the sails will not be relied upon for wind power but the motor will always be utilized. For chartered dates and doubled departures, the Caique Mariagiovanna is used.
What's
Included
Accommodation in double cabin with private bath
All meals (except 1 x dinner in Amalfi)
21 speed bike rental
Italian/English speaking guide
What's
Not Included
Transportation to/from harbor
1 x dinner in Amalfi
Beverages (including water)
Entrance fees and excursions (museums, parks, monuments)
Unexpected docking fees due to adverse weather (Approximately €150 to be split among tour participants)
Gratuities
Extra
Stay
Extra nights possible in Naples
Tour
Dates
2018 Dates
Departures every Saturday from April 28 to June 23 and August 25 to October 13, 2018
Tour
Boats
Day-To-Day
Itinerary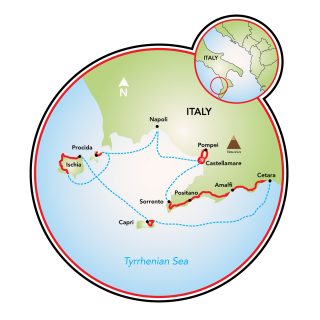 Day 1: Arrival and embarkation, Marina di Castellammare
Day 2: Pompeii, 9 mi. (14 km)
Day 3: Sorrento - Positano - Amalfi, 21 mi. (34 km)
Day 4: Amalfi - Minori - Vietri - Cetara or Salerno, 17 mi. (27 km), alternate route: add Ravello, 23 mi. (37 km)
Day 5: Capri
Day 6: Island Ischia, 15 mi. (25 km)
Day 7: Procida and Napoli
Day 8: Departure
*All distances are approximate. The above planned itinerary is subject to change due to changing wind and weather conditions and other unforeseen circumstances having to do with mooring requirements, etc.
DAY 1: Arrival and boarding at Marina di Castellammare
Embarkation at 6 PM at the Marina di Castellammare di Stabia. Welcome drink, dinner, and presentation of the program.
DAY 2: Pompeii, 9 mi. (14 km)
Cycle trip to Pompeii and visit of Pompeii and the Villa dei Misteri. It is the biggest open-air archaeological site of the world. A great example of past human life, where the huge eruption of the Vesuvius in 79 A.D fixed forever under ashes and lava men in their daily activities. Return journey to the Marina di Castellammare and departure with the caique towards Sorrento. Walking visit of the town and return to the boat. Overnight on board in Marina di Cassano in roadstead or in the port in case of bad weather conditions. 
DAY 3: Sorrento - Positano - Amalfi, 21 mi. (34 km)
Depart on your bicycle along the Sorrento coast. You cross "Colli di Fontanelle" and you enter in the Amalfi coast, where you will cycle along the wonderful road overlooking the sea up to Positano. Its colourful houses have been built in amphitheatre shape, overlooking the sea, giving a unique and picturesque aspect to the village. After Positano you continue towards Amalfi, the most powerful Mariner Republic at the end of X century. We suggest the visits to the cloister of Paradise and the church and a walk along the main street that is connected with many narrow streets between white fisherman's houses. Return to the gulet. You are free for dinner. Overnight in port in Amalfi. 
DAY 4: Amalfi - Minori - Vietri - Cetara or Salerno, 17 mi. (27 km), alternate route: add Ravello, 23 mi. (37 km)
From Amalfi you continue your bike along the coast, cycling on the coastal road with some ups and downs overlooking the sea, crossing the villages of Minori, Maiori and Cetara. It is possible to make a deviation and go up towards Ravello. From the village dominating the sea from 300 mt. above sea level, you can enjoy a view beyond the Gulf of Salerno and up to the Cilento mountains. You return on the road along the coast to finally reach Vietri. You come back on board. Dinner and overnight in the small fishing port of Cetara. 
DAY 5: Capri
Navigation to Capri and disembarkation with the tender in Marina Piccola (Capri). You visit the Island on foot, you reach the village of Capri with its famous "piazzetta" and continue to the Faraglioni. From above the cliff you can enjoy a wonderful panorama on the Gulf of Naples dominated by the Vesuvius. In the afternoon embarkation and navigation to Ischia. Overnight in the port of Ischia Casamicciola. 
DAY 6: Island Ischia, 11 mi. (18 km )
Cycling from Ischia port you will cross by bike the west part of the island among the scents and flavors of the Mediterranean sea, crossing little villages with the possibility of visiting little museums along the stage. Overnight in the thermal village of S. Angelo.
DAY 7: Procida and Napoli
The boat takes you to Procida where you'll enjoy a walking visit of the town and San Michele Abbey. Return to the boat to continue to Pozzuoli, in the bay of Naples. Transfer to reach the "Solfatara" site, a shallow volcanic crater part of the Campi Flegrei volcanic area. It is a dormant volcano, which still emits jets of steam with sulfurous fumes. The name comes from the Latin, Sulpha terra, "land of sulfur", or "sulfur earth". After the visit, return of foot to the boat. Navigation up to Marina di Castellammare di Stabia (Alternatively, reach Castellammare with public means). Overnight in the Marina of Castellammare di Stabia. 
DAY 8: Departure
This cycling adventure will end after breakfast.
You can view all of our bike tours in Europe or look at our featured bike trips, specials, and news.
Email or Call 800-951-4384 +1 570-965-2064
---
Tyrrhenian Sea
Boats + Barges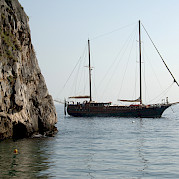 Caique Mariagiovanna Italy Comfort Class Boat The Mariagiovanna is a caique, a traditional Turkish vessel built with mahogany wood. It has all the functionality of a modern boat but the antique charm of an "ancient vessel".
Deriya Deniz Italy Comfort Plus Class Boat Deriya Derniz is a solidly built gulet, finished with precious mahogany woods. Great care was taken in designing the interiors and external areas to provide charm and comfort. All cabins have complete bathrooms with separate showers and 1/4 tub, air conditioning with independent regulation, and portholes that can be opened to enjoy the sea and air. There is a spacious dinette with bar on board. Guests can also take advantage of a large solarium complete with beach mattresses to relax, lounge and take in the sun and sea. There is a covered back deck as well with a table for breakfasts and dinners.