Montenegro
Cycle Croatia and Montenegro along a stunning coast line!
Explore the beautiful country of Montenegro by bike. On this tour you will discover some picturesque towns as well as the fantastic coast of Montenegro. Your departure point is Cavtat, Croatia, just outside of Dubrovnik, one of the most beautiful cities in the Adriatic and a World Heritage site. Because of its historical importance it is often called the "Athens of Croatia".

Montenegro, one of the youngest states in the world, is our main destination. On this guided tour, you'll discover the bay of Kotor whose steep limestone cliffs make it one of the most impressive landscapes in the entire Adriatic. Also visited are the coastal cities of Budva and Montenegro's former capital, Cetinje.

Maybe you prefer a different style of touring? Be sure to check out all of our bike and boat tours in Croatia.

2019 Prices

Tour: £ 1106 $ 2,228 € 1290 $ 1961 NOK 12255 kr 11312 $ 1,471

Single Supplement:  £ 116 $ 233 € 135 $ 205 NOK 1283 kr 1184 $ 154

extra

options

Electric bicycle rental: £ 69 $ 138 € 80 $ 122 NOK 760 kr 702 $ 91

Hybrid bicycle protection: £ 9 $ 17 € 10 $ 15 NOK 95 kr 88 $ 11

Electric bicycle protection: £ 17 $ 35 € 20 $ 30 NOK 190 kr 175 $ 23

Extra nights in Dubrovnik available upon request.

please

note

Reduction per person in combination with another Zeitreisen trip:  £ 43 $ 86 € 50 $ 76 NOK 475 kr 438 $ 57

Rates are per person based on double occupancy.

Information to read before you book.

We recommend purchasing bike trip insurance.

† Currency exchange rate set 90 days before travel.

Travel

The best option is to fly to Dubrovnik airport.

Local Travel

From the Dubrovnik airport, take a taxi to your first hotel in Cavtat.

Climate

Check local conditions prior to departure. Average high/low temperature in °F for the Dubrovnik area is: Jan 46°, Feb 47°, March 51°, April 56°, May 64°, June 71°, July 76°, Aug 76°, Sep 70°, Oct 63°, Nov 54°, Dec 49

Recommended

Extra nights in Dubrovnik!

Remarks

On this journey the tour guide does not accompany you by bike, instead a support vehicle is used, which is close to the cycle group at all times. You will receive important information about the country, its people, and service for your bikes whenever you need. If the cycling tour becomes too exhausting you may ride in the support vehicle at any time.

---
Skill
Level
This is a moderate to difficult guided bike tour (electric bikes available!). The bike routes require a considerate level of fitness from participants, ideally acquired from steady cycling. The trips reach altitudes between 1,640 to 4,920 ft./500 – 1,500 m. The day trips of 12.5 to 31 ft. / 20 – 50 km on average traverse without time pressure hilly and mountainous terrain. Participants will also need to master long and steep climbs during which they are, however, also permitted to push their bikes. The route is mostly asphalted roads, which are rarely traveled on outside the holiday seasons.
Where
You'll Stay
Accommodations in 3 and 4 star hotels
What's
Included
Accommodations for 7 nights in 3 and 4 star hotels
7 x breakfast (also for groups of 6 or more, 7 x half board)
21 speed hybrid bicycle with Ortlieb pannier
Luggage Transport
Tour leader that drives support vehicle
City tours in Herceg, Novi, Budva, Cetinje, and Kotor
Route descriptions and maps
What's
Not Included
Arrival to Cavtat (transfer available for €20)
Lunches
Drinks in the hotels
Gratuities
Water for cycling tours: €20
Entrance fees to museums
Boat excursion in Virpazar
Excursion to Dubrovnik on arrival day
Extra
Stay
We can recommend a great hotel in Dubrovnik if you wish to book extra nights!
Tour
Dates
2019
This tour is only available for groups of 8 or more booking together. Please contact us with your preferred travel dates. 
Day-To-Day
Itinerary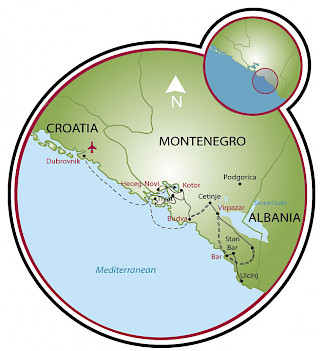 Day 1: Cavtat
Day 2: Cavtat - Herceg Novi, 28 mi. (45 km)
Day 3: Herceg Novi - Budva, 31 mi. (50 km)
Day 4: Cetinje - Virpazar, 25 mi. (40 km)
Day 5: Virpazar – Rijeka Crnojevica, 28 mi. (45 km)
Day 6: Cetinje - Lovćen – Kotor, 31 mi. (50 km)
Day 7: Kotor - Cavtat, 12 + 25 mi. (20 + 40 km)
Day 8: Cavtat
*All distances are approximate. 
Day 1: Cavtat
Individual arrival to Cavtat and check-in in the first hotel. Afterwards we have the opportunity to stroll around the laid back little city or visit the nearby Dubrovnik. Here we also have the possibility to join a guided tour through the city in the evening, before we return to the hotel in Cavtat.
Day 2: Cavtat – Herceg Novi (biking route approx. 45 km/28 mi., 800 m/2630 ft of elevation)
From Cavtat, cycle through the region of Primorje to the border of Montenegro. The route offers spectacular views above the deep azure sea and the fertile vegetation. After passing the border, the terrace like bay of Kotor opens up. Along the promenade, continue biking to Herceg Novi, which lies in the entrance to Kotor Bay. Use the opportunity and take a swim on the promenade of Herceg Novi. Later, after checking-in to your hotel, a guided tour through the sights of Herceg Novi is offered on a guided tour of the city. Overnight stay in Herceg Novi.
Day 3: Herceg Novi – Budva (biking route approx. 50 km/31 mi., 900 m/2950 ft of elevation)
In the morning, cycle along the coastal road of Kotor before reaching the ferry from Leptane to Kamenari. From here, your cycle tour takes you to Tivat and then on a near traffic-free panoramic road with spectacular views as far as Budva. In the afternoon, there is time to explore the picturesque old town of Budva on your own. Before dinner is an opportunity to join a guided city tour through Budva, a city almost completely destroyed by an earthquake in 1979. Tonight is spent in Budva.
Day 4: Cetinje – Virpazar (biking route approx. 40 km/25 mi., 500 m/1640 ft of elevation)
After a short transfer, including a stop at the famous island of Sveti Stefan, you reach the former Montenegrin capital of Cetinje. From here, take a beautiful cycle tour to Virpazar. You reach the town after approximately 35km/22 mi. You can enjoy your picnic lunch along the shores of Lake Skadar.  It offers a welcome resting place for the migratory birds on their journey to the south. In 1983 it was declared as a national park. Good weather offers the opportunity to take an afternoon boat trip through this natural paradise. Overnight stay in Virpazar.
Day 5: Virpazar – Rijeka Crnojevica (biking route approx. 45 km/28 mi., 1100 m/3610 ft of elevation)
After breakfast, jump back on your bikes and cycle on an almost traffic-free road as far as Rijeka Crnojevica. The place is known for its architecture and typical stone houses of the 17th and 18th century. Then you can return to Cetinje by support vehicle or discover the last 20 km/12 mi. and 700 m of elevation/2296 ft by bike. On the city tour in Cetinje, explore the most important sights, for example the Montenegrin president's residence. In addition, a lot of other government buildings and former embassies testify Cetinjes past as the capital city. Overnight stay in Cetinje.
Day 6: Cetinje - Lovćen – Kotor (biking route approx. 50 km/31 mi., 900 m/2952 ft of elevation)
After breakfast a transfer bus brings you up to Lovćen. You have the opportunity to leave the shuttle earlier in order to cycle a part of the ascent yourself. From the highest point (more than 1,500 m above sea level)m you can expect a rapid descent with spectacular views of the Bay of Kotor, surrounded by mountains reaching heights of up to 1,700 m. It is the largest and best-protected bay in the entire Adriatic. Today's cycle tour ends in Kotor. The town is almost 2,000 years old and famous for its medieval center listed under UNESCO World Heritage protection. Here, a guided city tour is offered and you may end the day with a leisurely walk through town and visit one of the numerous cozy cafès or bars.
Day 7: Kotor – Cavtat (biking route approx. 20 + 40 km/12 + 25 mi., 800 m/2630 ft of elevation)
The last cycle tour leads along the bay of Kotor until reaching the ferry in Kamenari. Cross the impressive bay of Kotor for the last time and board the shuttle bus on the other side. It will take you back to Croatia, where you stop at one of the most beautiful and popular restaurants in the area. You have pnly a few more kilometres by bike until the end of the cycling journey.
Day 8: Cavtat (Return home or extended stay in Croatia)
After breakfast hotel check-out or an extended stay in Croatia.
Looking for more?  View all of our featured bike and boat tours, or view our full list of bike trips.
Email or Call 800-951-4384 +1 570-965-2064
---