3

/

5

(

1

rating)
Istria
Croatia Bike + Barge Tours
Bike Istria along a stunning Croatia coast
"The heart of Europe" is what the Istrians call their peninsula, inspired by its shape and its position at the crossroads of European cultures and nations. And what better way to experience this than biking in Istria, where Central Europe and the world of the Mediterranean meet. On this Istria bike tour you will cycle in the most popular part of the Croatian coast.
Starting the bike in Pula, the ship goes further north every day, and the tour guides will show you the most beautiful routes of the whole coastal region. You will visit the paradise of nature on the islands of Brijuni, the Lim-channel with its caves, the coastal cities of Porec, Rovinj and Pula, as well as the Istrian hinterland, a famous wine and truffle region.
The Istria bike tour is certainly a crown jewel of all of our bike and boat tours in Croatia.
Skill
Level
Easy to moderate guided tour. The bike routes require a basic level of fitness, ideally acquired by occasional or daily cycling. The routes reach a maximal height of 300 m. The daily routes of 16 km (25 mi.) on average, cover slightly hilly terrain and can be completed without time restraints. You can, however, also choose to skip a bike tour and spend the time sunbathing on the ship instead. The roads are mostly asphalted and there is little traffic outside of holiday periods. Unpaved or gravel roads will be cycled at times, during which participants are able to push their bicycles.
Where
You'll Stay
On the Comfort class ship, the Tarin.
What's
Included
8 days/7 nights on board
7 x half board (breakfasts and either lunch or dinner)
English speaking tour guide
21-speed trekking bike with bicycle bag
7 guided cycling tours as described in itinerary
Bed linen & towels
Maps for the daily tours, on board
Limited number of helmets available, advanced reservation required
What's
Not Included
Lunches or dinners
Visitor's tax, local charges, and unlimited water on board and during cycling: €40 (€20 for children 16 and under) to be paid on board
Drinks on board (tally sheet)
Bicycle Protection: €10
E bike protection: €20
Gratuities for crew & tour-guide (optional)
Meals ashore
Individual arrival to ship - transfers can be arranged
Trip insurance
2 or 3-day Extension tours (see extra stay for details)
Extra
Stay
A 3-day pre tour extension is possible Zagreb and Plitvice Lakes. The price includes the following: Transfer from airport to hotel and hotel to Plitvice Lakes, 2 nights in a 3 or 4 star hotel, a guided sightseeing tour in Zagreb (3 hours incl. entry fees), dinner in a local restaurant, entry fee for Plitvice Lakes National Park (transfer Plitvice Lakes – boat in Pula additional partial fee, on request).
Also possible is a 2-day pre tour extension in Zagreb. The price includes: Transfer airport to hotel, 1 night in a 3 or 4 star hotel, guided sightseeing tour in Zagreb (3 hours incl. entry fees), dinner in a local restaurant (transfer hotel – boat in Pula additional partial fee, on request).
Tour
Dates
2017 DATES  
April 30, May 7, May 14, May 21, May 28, June 4, June 11, June 18, June 25, August 27, September 3, September 10, September 17, September 24, October 1, October 8, and October 15, 2017
Tour
Boats
Day-To-Day
Itinerary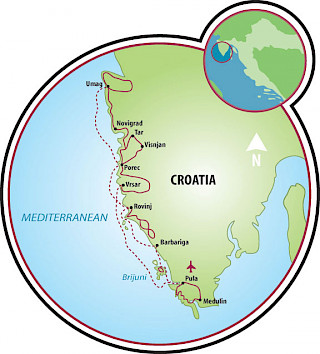 Day 1: Arrival in Pula. Loop ride, 9 mi. (15 km)
Day 2: Vrsar - Poreč , 22 mi. (35 km)
Day 3: Poreč  - Visnjan - Umag, 31 mi. (50 km)
Day 4: Umag - Grožnjan - Novigrad, 34 mi. (55 km)
Day 5: Novigrad - Poreč, 16 mi. (25 km)
Day 6: Rovinj, 19 mi. (30 km)
Day 7: Rovinj - Fažana - Vodnjan - Pula, 19 mi. (30 km)
Day 8: Disembark in Pula by 9 AM.
*All distances are approximate. The above-planned itinerary is subject to change due to changing wind and weather conditions and other unforeseen circumstances having to do with mooring requirements, etc.
There are times that the tour is conducted with a reverse itinerary. The tour of Brijuni may be conducted without bicycles.
Day 1: Arrival in Pula. Round-trip tour, 9 mi. (15 km)
Individual arrival in Pula, the secret capital of Istria, a town full of impressive remains from its Roman past. Between 2 pm to 2:30 pm you can check in to your cabins on the motor yacht. The first leg of your Istria bike tour will start around 3 pm and takes you in a large circle around Pula and back to the ship. You might get the chance to have a closer look at the famous amphitheater. After your tour, you will go on your first cruise just a couple of miles north to a quiet bay for your overnight stay.  
Day 2: Vrsar - Poreč, 22 mi. (35 km)
After breakfast, the ship will start on a 3 hour cruise to Vrsar, the town where lady killer Casanova found temporary refuge from lovers pursuing him. Starting from Vrsar, you cycle along the Limski canal to Klostar in the hinterland. After a break, long enough to taste some fresh suckling pig, takes us our route to Poreč. On a guided walk, you'll encounter the evidence of the town's eventful past at every step along the way. While strolling through the charming historical centerTt, with its beautiful buildings of many different periods as well as the bustling shopping lanes, you will not miss the famous Euphrasian Basilica, with its gorgeous early Christian mosaics.
Day 3: Poreč  - Visnjan - Umag, 31 mi. (50 km)
Today's cycle tour takes you from Poreč through extensive vineyards to Visnjan, home of the famous white Boskarin-Cattle. After a coffee break, you continue cycling through the gentle hills of the hinterland to Vizinada. After a lunch break, you cycle back to Poreč. You will not want to miss visiting Baredine Cave on this cycle tour. The excursion takes you through five amazing halls which are beautifully illuminated. It leads us 60 m underground to a subsurface lake and if you are lucky you'll meet a native – the famous amphibian (Proteus anguinus): the olm. This little cave dweller is a unique one. It is endemic to this karst area. Back at the ship you hop back on the boat and enjoy a lovely cruise to Umag.
Day 4: Umag - Grožnjan - Novigrad, 34 mi. (55 km)
After breakfast, the cycling  begins  north starting at the headland and further on along the coastline. After a climb, you can visit the artist's village of Grožnjan. Strengthened by a long relaxing stop, continue cycling to Novigrad passing the river valley of Mirna. The Mirna river valley is well known as an area where white truffles can be found. A gourmet's heart will jump for joy. Getting to Novigrad, you'll find the impressive city wall as well the 7th century Pelagius Basilica. Around the pretty harbor, you can stop at one of the many cafes and bars. Dinner on board.
Day 5: Novigrad - Poreč, 16 mi. (25 km)
After breakfast, leave Novigrad and cycle along the coast all the way to Poreč. There is time to take a stroll through the beautiful old town and to enjoy the regional cuisine for lunch. The boat awaits you in the harbor of Poreč and will take you into the direction of Rovinj. 
Day 6: Rovinj, 19 mi. (30 km)
In the morning, the ship brings you to Rovinj, which really is an Adriatic gem. Your mid-morning cycle tour allows ample time for a refreshing swim in the Adriatic Sea. You have time in the afternoon for a stroll through the winding alleyways of this picture perfect town. It'll leave you enchanted. The night is spent in Rovinj.  
Day 7: Rovinj - Fažana - Vodnjan - Pula, 19 mi. (30 km)
A longer crossing takes you to Fažana. Once on shore, stop for some lunch and hop on your bicycles. Your cycle tour leads you via Vodnjan back to Pula, the port of departure. There is enough time to take a walk through the town and to visit the many heritage sites which the city has to offer. A celebratory evening meal with guests, guides, and crew brings a fantastic week to a happy end. 
Day 8: Disembark in Pula
Departure after breakfast by 9 AM.
*3-day or 2-day extension module in Zagreb and Plitvice Lakes - transfers included (please see extra stay for details)
If you're looking for a different flavor, check out our full list of bike and boat tours or view all our featured bike trips, specials, and news.
Email or Call 800-951-4384 +1 570-965-2064
---
Istria
Boats + Barges
Tarin Croatia Comfort Class Boat With its dark green hull and distinctive white stripes, the Tarin is an eyecatcher in each port. Bright wood, curtains on the large windows and the nicely decorated cabins will immediately make you feel right at home on the Tarin!