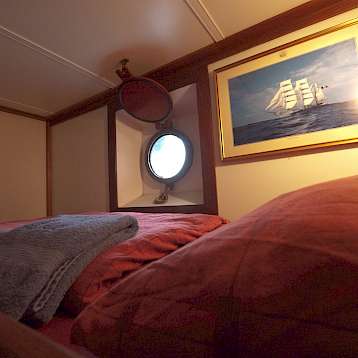 Thalassa
Comfort Class Boat for Bike Tours
At 47 m long, 8 m wide and a mast height of 35 m this three mast tall ship is an eye catcher in every harbor! Picture the sight when 800 m² of sails are hoisted out at sea.
The hull of the Thalassa was built in the Netherlands in 1980. Originally named, Relinguenda, she operated as a fishing vessel until 1984 before running aground in Holland. In 1994 the hull of the boat was rebuilt, transforming the trawler into a barkentine. With the installation of modern safety equipment, the boat meets all regulations, and is recognised internationally, enabling you to feel safe and well cared for on board.
The Thalassa is fitted with 15 functional double cabins with bunk beds. The cabins are equipped with a private shower and wash basin. Toilets are found in the hallway.
The salon is tastefully decorated and offers a comfortable place for people to gather, as well as a large dining area where meals on board can be enjoyed. The covered deck area offers a great space to relax in good weather, catching the sea breeze while reading a book or looking through a telescope for signs of rare birds, whales, or dolphins. Even the meals can be enjoyed on-deck with a quiet sea, and a pleasant sunset.
The accommodating and friendly crew consist of a captain, the first mate, a cook and two sailors. It is of importance to the crew on board the Thalassa that the team on board consists of both male and female workers. Years of experience has proven this system to provide the best atmosphere on board.
Boat Specifications:
Year of Construction: 1980
COMPLETE REBUILDING: 1994
Size of boat: 47 x 8 m
Number of cabins: 15 guest cabins (30 beds in total), all cabins are located below deck and equipped with A/C
Bed: Bunk beds in every cabin
Bathroom features: Shower, wash basin in the cabin
Service: Making of the beds & daily cabin cleaning, changing of the towels in the middle of the week
Special on board features: 3 masts with sails (800 sqm sail area), quiet generator, deck chairs & big tables on deck, spacious saloon
Thalassa
Photos
---